Andhra Pradesh Smart Card Project
Implementing Agency: Department of Rural Development, Andhra Pradesh
www.rd.ap.gov.in

The project has brought about financial Inclusion of MGNREGA wage seekers  and social security pensioners by means of smart cards with biometric finger 

print authentication through banks and business correspondents. Due to this prompt and accurate payment of government benefits has been duly facilitated. The leakages have been eliminated and the ghost beneficiaries have been  removed to a large extent.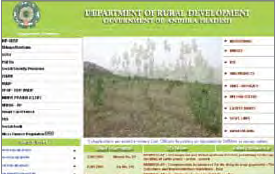 Under the project banks reach out to the poor. The  enrollment of the beneficiaries is done at the door step and a smart card is  issued to every person. The payments are made at the door step with a PoS machine. Local Self Help Group act as Customer Service Providers. Identification and payment is done by biometric authentication. Print outs of the transactions are given to  the account holders.
The project has enrolled 1,40,66,631 persons in 21965 Villages. Bank Accounts have been opened and Smart cards have been issued to 1,01,29,210 persons.  Services have been commenced in 15,091 villages and Rs 2286 Crores  disbursed through smart cards. Over 12 banks, DoP and 8 other service providers are partnering in this project.
The banks and service providers had no previous knowledge, experience or capacity. Reaching out banking services to the poorest of the poor,  coordination of huge number of operators over a large area across districts,  stablishing Banking outposts at village point in unbanked areas have been a  gigantic task. Cash management involving the movement of huge cash several  times to every village has been really challenging. The project has become a national model being copied by other state governments.
e-Inclusion
Implementing Agency: Financial Inclusion Network & Operations Limited
www.fino.co.in
FINO's technology solution for financial inclusion is a complete end-to-end  suite of products that enable institutions such as banks, microfinance 

institutions, government entities, insurance companies to take their financial  products and services to the doorstep of millions of unbanked and under- banked households at bottom of the pyramid, through hand held devices,  biometric Point of Transaction (PoT), biometric smart cards, mobile  technologies and managed backend database.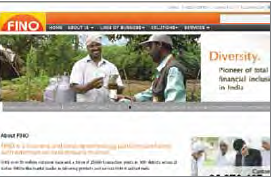 The platform reaches out to more than 34 million of BPL people, which is close  o 35 per cent of total BPL population. FINO caters to this set of customers by  acting as a formal channel, linking them to large and well-regulated financial entities. FINO processes five million financial transactions per month and  enrolls new customers at an average rate of 50,000 per day.
The FINO technology platform includes smart cards as the medium for   authentication & storing information; PoT (Point of Transaction) a secure,   biometric handheld device used to carry out transactions; SWITCH – the PoT   talks to the switch to transmit data captured on the field; CBS: the Core Banking   System, which has been built as a shared back end banking engine that provides  accounting, MIS, reporting and monitoring facility for all asset and liability  products that the micro sector requires. The core component comprises of  three sub units: Channel interfaces, Product Engines and Data Repository,  enabling centralised data processing and data management of remotely  captured transactions in the field.
Follow and connect with us on Facebook, Twitter, LinkedIn, Elets video