Use of Geoinformatics in the implementation of Forest Rights Act 2006 in Maharashtra
Implementing Agency: Tribal Research and Training Institute (TRTI), Maharashtra
trtimah.gov.in
The Scheduled Tribes and Other Traditional Forest Dwellers (Recognition of  Forest Rights) Act, 2006 (Forest Rights Act, in short) to formalise the 
relationship between genuine forest right holders and forest land/resources.  The number of claimants of Forest Rights in Maharashtra State is approximately 3,30,000. The process of finalisation of forest rights required that each plot of  forest land under forest rights claim be measured as per claimant's application.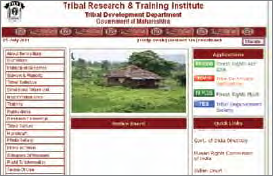 Every claimant was assigned a 13 digit alphanumeric unique ID. To accelerate  the measurement output, GPS machines have been used. After the area is  measured, the GPS data is downloaded and processed in the computer at the  SDO office. The file created is uploaded on to the TRTI website along with claimant's details. The website generates a measurement report which contains  area polygon with latitude/longitude, area in various units, and claimant's basic  data. Simultaneously, reports get generated and automatically updated  (Village/ Taluka/District/State level) showing total number of claimants, area  under claim for various categories of claimants etc. The claimant details and  measurement data can be viewed and downloaded by the concerned offices for  case processing. For temporal trend analysis, Cartosat-I Satellite imageries of  two time series (2005-06 and 2007-08) are used. Web-based SMS services on  TRTI server are used to contact GPS handlers, SDOs, Collectors etc.
A total of  about 1.77 lakh cases have been processed using the above system till now and  forest rights have been recognised in 1.04 lakh cases.
e-Housing
Implementing Agency: Center for Development of Imaging Technology (C-DIT),Kerala
www.cdit.org
The SC Development Department of Kerala gives financial assistance for  construction of houses to the families of Scheduled Caste communities. The 

houses are constructed by the beneficiaries themselves and the amounts are  being released to the beneficiaries in installments on the construction of the house reaching certain stages.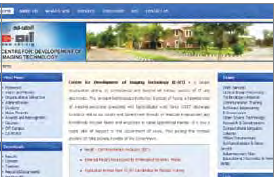 The e-Housing system computerises all the  stages of fund distribution. Every beneficiary is provided with a post office savings account and the amounts are disbursed directly to these accounts  online. The application processing, execution of agreement, disbursement etc  are done online through the system.
Disbursement of housing assistance  totaling Rs 35.62 lakhs to almost 16,500 beneficiaries has been done through  this system. The system has reduced paper works in the Scheduled Caste  Development Office (SCDO) and SC District offices. The beneficiaries can  monitor the present status of their application and fund details through the  online software without going to the department. The system is being accessed  from 999 gram panchayats, 53 municipalities and 5 corporation offices across  the state. The beneficiary submits the application to the SCDO who verifies the  application and supporting documents, conducts a detailed enquiry on the  applicant and thereby enters the details in the application in the e-housing system. The system generates a unique number to the case and forwards the  application to the district office.This communication is subsequently passed  back to the SCDO who carries forward the next steps.