Online Passport Verification, Missing Person and Complaint Monitoring System
Implementing Agency: NIC District Unit, Jharsugda, Orissa
jharsuguda.nic.in/police

The Online Passport verification status, missing person, unidentified dead  bodies and complaint monitoring system of Jharsuguda Police enables citizens 

to file complaint to District Police and get the reply online. Other features  include status of their complaints, crime statistics, mahila and sishu desk, registration requirements and related acts for foreigners, various acts and rules  relating to Police Department etc.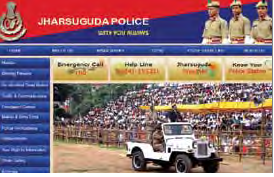 The system enables to log a message/  complain online with Jharsuguda Police; to check the reply of the complaints and passport verification status online.
Currently all the Police Stations of  Jharsuguda district are using this online application and feeding the data of  missing person, unidentified dead bodies and DIB, Jharsuguda is using this to  update passport verification status of the applicants. The web based software  helps to know crime statistics Police Station wise. The website has also help line  numbers, various Acts and Rules of Police department and links to Orissa  Police, BPRD, NHRC, NCRB.
At the onset of the project none of the documents were in digital form in Jharsuguda Police. The Superintendent Police,  Jharsuguda took the initiative to train the staff of the various Police Stations to  be trained in ICT tools. NIC was invited to develop a web-based software. It  took around six months to digitise major datasets and hosted on Internet.
e-dhaRani e-Registration Project
Implementing Agency: Orissa e-Governance Services Limited
igrorissa.gov.in
e-dhaRani is the e-Registration project implemented in the state of Orissa. The  Project has been implemented at all 177 Sub-Registrar offices in the State. A 

significant capacity in terms of physical and technology infrastructure has  therefore been built to implement e-dhaRani in a competent manner, with a  holistic perspective and with speed.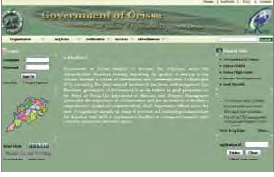 E-dhaRani deploys a five step system for  deed registration comprising of  helpdesk, verification/validation, data entry,decision and archival. It's a centralised and web based application software encompassing all 64 kinds of deeds. All types of deed registration  facility is available as per the Registration Act. Automatic valuation through benchmark valuation configuration is done by the system. The system captures  biometric data through webcam and signature pad for secured transaction.  Data is archived in compressed format to save disk space. The deed is integrated with agreement and power of attorney. Important checks like SC/ST  and sale, undervaluation, workflow management etc have all been incorporated  into the system. Various online queries and reports are catered to. The system provides an instant issuance of Encumbrance Certificate and  vertified Copy. It also gives the facility to enable anywhere registration. The final output to the citizen is in the form of a One Page Registered Deed.
A registration  deed could be registered and delivered to citizen in less than an hour. More  than four Lakh Documents have been registered through e-Registration System.  All plots and masters have been configured in the database to get correct valuation of property. A significant increase in the number of land  registrations has been witnessed due to the advent of this system.
Follow and connect with us on Facebook, Twitter, LinkedIn, Elets video