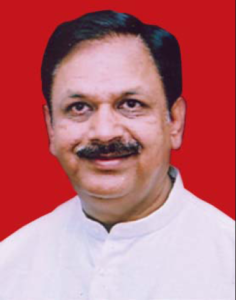 "Many transactions take place between governments and the citizens and business which include   receipt of revenue, enforcement of regulations, delivery of products (licenses, passports etc.), provision of grants and benefi ts and procurement of goods and services. ICT can play an  important role in decreasing the transaction costs and improving effi ciency and transparency of government service provisions", Suresh Pachouri, Hon'ble Union Minister of State for Personnel, Public Grievances and Pensions, says this and more in an interview in egov magazine"
The Ministry of Personnel, Public Grievances and Pensions (MoP) has taken several  initiatives to make administration more accountable and citizen centric. How, in  your opinion, Information and Communications Technologies (ICT) can fulfi ll you  ministry's goals in an effi cient manner?
The mandate of MoP in context of administrative reforms is to act as a facilitator, in  consultation with central ministries/ departments, states/union territories, administrations, organisations and individuals, to improve government functioning through administrative  reforms in the spheres of restructuring the government, process improvement, organisation  and methods and grievance handling. We consider ICT to be a very important tool in this  endeavour and can support the operation of the different facets of government.
ICT helps in improving the internal operation of the government– this includes setting up  workfl ow management systems, facilitating electronic communication, institutionalising  decision support systems and improving access to knowledge databases. The e–Offi ce project  for automating work fl ows being piloted by my ministry is an effort in this direction.
Government is probably the biggest collector, processor and custodian of information of any  sector of society. This information has commercial interest since it can pertain to corporate  rights, responsibilities or regulations and also of societal interest.
The role of government as information provider thererfore, becomes critical and ICT provides  the wherewithal for timely, widespread and cost-effective dissemintation of information to citizens and business.
Many transactions take place between governments and the citizens and business which  include receipt of revenue, enforcement of regulations, delivery of products (licenses,  passports etc.), provision of grants and benefi ts and procurement of goods and services. ICT  can play an important role in decreasing the transaction costs and improving effi ciency and  transparency of government service provisions.
ICT has the potential of reinforcing the democratic instituions. Providing access to  information databases, relevant research, notes, parliamentary committee proceedings etc,  in a user friendly manner, electronically, to the elected representatives can potentially  improve the quality of scrutiny and debate of policy and bills in the Parliament. Another  potential consequence of greater use of ICT within legislatures would be to stimulate the  growth of communities of interest among members, facilitated by on-line discussion forums  and dedicated websites, etc. As digital penetration increases, the elected members can keep in  touch with their constituency from a central location. Many proponents of ICT view its  potential to 're-invigorate democracy' by facilitating greater public participation in the  democratic process, as being the most important new development of government in the 'information age'.
However ICT does not work in vaccum and other supporting infrastructures like process re-engineering of government, setting up of standards, digital penetration and bridging the  digital divide are critical for ICT to succeed in making government more citizen centric and  accountable.

As the formulator of policy and the watch dog of the government in ensuring that    certain accepted standards and norms are followed in governance issues, your ministry has recently issued certain guidelines for information seekers under the Right to Information (RTI) Act, 2005. Could you please elaborate upon some of the major guidelines?
As a nodal Ministry in the government dealing with the implementation of the RTI Act 2005,  we have been receiving a number of references from the general public on the various issues  pertaining to seeking information from public authorities. In this context it was thought  appropriate that detailed guidelines be issued elaborating certain provisions of the Act which  are pertinent for the information seekers. Such guidlines were issued in November 2007 and  elucidate the method of making application for seeking information from the public  authorities under the Central Government, the procedure for preparing appeals and the steps  for fi ling complaints in the matter and other related issues. It is expected that these guidlines  will enable smooth exercise of the Right to Information (RTI) as enshrined in the RTI Act.

How is Right to Information Act helping the cause of accountability in government administration? How is your ministry using the RTI in the context of  e-Governance?
The Right to Information is based on the premise that information is the property of the people  and reinforces the fundamental right of speech and expression by making information  at the disposal of the people. The Act goes a long way in putting together a comprehensive  mechanism for citizens to secure information under the government's control and thereby,  promotes 'transparency and accountability in the working of every public authority'. Hon'ble  Prime Minister, Manmohan Singh has described the Right to Information (RTI) Act as  a means to fi ght corruption and ineffi ciency in the government at various levels.
The effectiveness of the Right to Information Act will depend substantially on how prepared  the central and state governments are in implementing it – in both letter and spirit. Issues  which have come to the fore from our experiance in the implementation of the Act include the  procedural and capacity aspects of the government agencies to respond to the demand for  information. Ministry of Personnel is in the process of commissioning a study on  'Understanding the Key Issues and Constraints in Implementing the RTI Act'. The outcome of  this review is expected to be two fold. First, identifying the main problem areas and  suggesting actions to be taken vis-à-vis governmental structure, systems, processes, and  people which can help strengthen the delivery system.
Secondly, understanding the extent of awareness and familiarity with the Act amongst the citizens. Information technology will be a key tool in ensuring that citizens have access to  relevant information that they seek. Computersation of records and use of Internet are specifi  ed in the Act. A dedicated portal on Right to Information has already been setup. Central  government ministries are providing voluntary disclosure of information through their websites. It is realised that accessing information through archived physical records is tedious  and time consuming and eventually digitisation of government records will have to be considered to aid retrieval of information.
Do you think ICT has a role wider than just the means to improve the delivery of government services? How can ICT be leveraged to reach the rural masses in the remote corners of the country?
While not being a panacea for all development problems, ICT can be a powerful enabler of  development goals because its unique characteristics dramatically improve communication and the exchange of information to strengthen and create new economic and social networks.  ICT fosters dissemination of information and knowledge by separating content from physical  location even allowing remote communities to become integrated to national and global  networks. ICT's power to store, retrieve, sort, fi lter, distribute and share information      seamlessly can lead to substantial effi ciency gains in production, distribution and markets. ICT facilitates disintermediation, as it makes it possible for users to acquire products and services directly from the original provider, reducing the need for intermediaries. The  increase in effi ciency and subsequent reduction of costs brought about by ICT is leading to the creation of new products, services and distribution channels within traditional industries, as well as innovative business models and whole new industries. Indian experience indicates that ICT can be effectively leveraged for provisioning health services, increasing reach of  education, providing economic opportunities, promoting empowerment and participation etc., which has direct impact on achieving the national development goals.
Given the low digital penetration in rural areas leveraging ICT to reach the rural masses  would require a creative approach. The e-Panchayat initiative of Ministry of Panchayati Raj  and the proposed setting up of Common Service Centres in rural areas under the Natinal  e-Governance Plan (NeGP) are some of the intiatives proposed for bringing benefi ts of ICT to the rural masses, as envisaged in NeGP.
Does your Ministry support any pilot project to showcase the ICT for improved administration in any part of India? How do you plan to upscale these pilots?
The Department of Administrative Reforms and Public Grievances, MoP, has the mandate to  identify, incubate, document and disseminate the best practices on reforms in public service  delivery and would also include those where ICT has been used. In pursuance of this mandate,  under the DFID (UK Department for International Development) funded capacity building for  poverty reduction being implemented by DARPG, MoP, an initiative on modelling best  practices has been initiated.
An analysis of the last one decade of successful innovative experiences in public  administration and governance reveals a number of practices and experiments, some of  which have substantial ICT inputs such as Bhoomi, Khazane in Karnataka, e-Sewa,  e-Procurement and Health call centres in Andhra Pradesh etc. However, there has been  marginal effort at systematically developing these or other successful experiences into  replicable models so that such reform can be undertaken in more states to eventually become  a pervasive practice.

Absence of such models has also been a constraint for some of the states to even attempt replication. It is for this reason that the department is now seeking to play a more proactive and pioneering role of piloting select best practices across the country. More importantly, the  endeavour is to develop a methodology or protocol for developing replicable models from successful reform experiences.

Ministry of Personnel is implementing the 'Capacity Building for Poverty Reduction Programme'. How does this programme fi t into the overall mandate of your ministry? Is there any ICT component in it?

Capacity Building for Poverty Reduction (CBPR) Programme is funded by DFID and is being  implemented by the Department of Administrative Reforms, Ministry of Personnel. The basic    premise of the programme is to intiate reforms in public administration, which had direct impact on improving basic service delivery. It is expected that improvement of basic services provisioned by the state agencies will improve access and quality of such services to the poor. The initiatives under the program are designed to enhance the control/infl uence of the citizens/client over the service (creating pressure) and strengthen the organisations and processes related to service delivery (improving the service delivery entity). Many innovative projects are being implemented under the CBPR programme, including setting up  of a fund for piloting innovative ideas from the states for innovations in public service delivery.
Under the CBPR programme the Governance Knowledge Center portal is being upgraded in  collaboration with the Center for Law and Governance, Jawahar Lal Nehru University.  Further a number of innvovative projects have been suggested by the state governments  including piloting of smart cards for NREGA benefi ciaries in Tamil Nadu, virtual classroom for competitive exams in Meghalaya etc.

What are the specifi c ICT initiatives taken up by your Ministry?

A Centralised Public Grievance Redress and Monitoring System, a web-based complaint  registration and tracking software has been introduced in the ministries and departments of  the Central Government. The software allows the citizens to lodge grievances online and get  immediate acknowledgement, scanning of manual grievances, routing of grievances directly  to the concerned department/ministry and online tracking of the status of the grievance.  Training of public grievance offi cers of ministries/departments is going on.
A pensioner's portal has been designed and made operational to provide updated information  on pension issues and to monitor grievances redressal at central level in department of  pension and pensioners welfare, at central ministries/department level and at  pensioners'associations level.The pensioners' portal aims to put in place a single window  facilitation mechanism through a specially designed website; to engage Pensioners'  Associations in implementation and continuing operation of the mechanism with limited government inputs and to charge department of pensions with responsibility of centrally  monitoring of mechanism for timely sanction of pension/gratuity and effective redressal of grievances.
As mentioned, the Governance Knowledge Centre portal has been setup, which acts as a  repository of reform related knowledge and best practices in governance. The GKC is presently  being upgraded in collaboration with the Centre for Law and Governance, Jawahar  Lal Nehru University, Delhi. Department of Administrative Reforms and Public  Grievances is implementing the e-Offi ce initiative, which is an attempt to improve the  operational effi ciency of central government offi ces by shifting to a less paper offi cer. It is  being piloted at four different locations in which frameworks and toolkits for successful  implementaiton of e-Offi ce environment would be developed for a larger roll out later.