eShakti ICT enabled MNREGA
Implementing Agency: Department of Rural Development, Government of Bihar

The e-shakti Project has streamlined MGNREGS by fast tracking execution and    instituting transparent and accountable management systems in the state of

Bihar. Under the project close to 1 million polycarbonate smart cards each with 80 kb chip have been handed over directly to individual rural beneficiaries. The  demographic and biometric data of 5 million rural beneficiaries has been   collected. A central data center has been installed at the state head quarter with all 534 blocks in the state. A software application module for management of   MGNREGS – from project creation to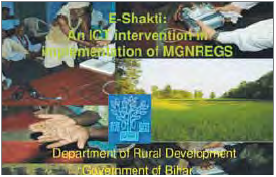 registering attendance of workers at project sites, measurement of project work, computation and disbursement of wages has been deployed. An integrated grievance redressal mechanism with a  24×7 call center has also been established. UIDAI of GoI has opted for e-Shakti to provide the Proof of Concept for Aadhaar in India.
The major objectives of the project were to undertake a green field project with the commitment to  implement it on a population base scaled in a low resource setting in Bihar. The imperative of working in active partnership with a government machinery which is only trying to catch up with progressive ways and standards of professionalism; the heightening of stakes of MGNERGS functionaries in partnering to implement the project notwithstanding the fact that the same would make them increasingly more accountable in the process. Negotiating  local power equations to suit project execution needs at local and other levels; and the integration of diverse stakeholder nodes at various levels (like  the  government departments, banks, local functionaries, communities, etc.) into a   programme framework optimised for timebound delivery were some of the key  challenges of the project.
Online Voting System
Implementing Agency: State Election Commission,Gujarat
State Election Commission (SEC), Gujarat has developed an Online Voting   System (OVS) for its Local Body Elections. The SEC had implemented OVS in

General Elections of 6 Municipal Corporations and is extending its outreach subsequently.
The entire system is designed and the procedures amended thereof keeping in  mind the privacy of the voter and privacy of the ballot. It ensures completeness  and adherence to the voting protocol as applicable to Internet  based voting system; ensures availability and reliability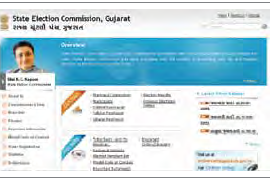 of the voting system  (i.e. protection against denial-of-service attacks, hacking, and phishing  attempts); ensures authenticity of the voter (or the voting client acting on  behalf of the voter, respectively); ensures authenticity of the vote caste and  digital non traceability of the casted votes by citizen; supports the concept of  secret ballot; maintains integrity of the digital ballots and ensures  Non-duplication of the ballots and votes.
OVS has been planned and  implemented so that it is scalable to accommodate future elections and large  voter participation, deployable with the minimum efforts, secured, reliable,  flexible, completeness and soundness of voting protocol, and adherent to  principles fairness, secrecy and anonymity.
The various challenges posed by  the project have been low awareness about OVS; voters' faith in OVS; physical  verifi- cation of voter identity; high availability of systems during polling  timeframe; maximum 6 votes are cast from a client machine; risk of DoS attack,  phishing & intrusion attacks.
Follow and connect with us on Facebook, Twitter, LinkedIn, Elets video