Srei Sahaj State Data Centre, West
Implementing Agency: Srei Sahaj e-Village Limited
 www.sahajcorporate.com



Srei Sahaj has one of the largest network of around 23,000 VLEs or Common  Service Centers setup under the National e-Governance plan of Government of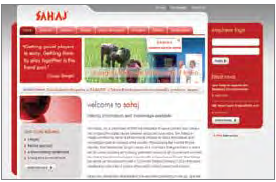 India. Srei Sahaj built this tier-III data center in partnership with CISCO and HP. The major objective is to provide sustainable digital access to rural population  by means of IT enablement. With an area of approximately 2000 sq.ft, the  datacenter houses racks and equipment with an ability to cater to 25,000 CSCs.  Some of the salient features of the data centre are CISCO powered network with  99.5% availability, connectivity with multiple ISPs, 24×7 NOC monitoring, IDS and IPS installed, Smoke detection and fire suppression integrated with Building  Management System, 24×7 onsite security all round the year and  motion-detection for lighting and CCTV coverage. One of the other major  objectives of this data center was to have secure transactions. Right from the  inception, the company wanted to have in-house capability to serve the end  customer, uninterrupted. This would ensure better control and predictability of  services offered to VLEs. In line with the above, an in-house team of System  Administrators and Network Administrators was developed. Today there is the  capability to manage, maintain and enhance Data Center capabilities and ensure uptime of 99.5 per cent.
State Data Center, Gujarat
Implementing Agency: Gujarat Informatics Limited
www.gujaratinformatics.com/gov/projects/SDC_Gujarat.htm

Setup in October 2008, Government of Gujarat has set up Gujarat State Data  Center (GSDC) at Bureau of Economics and Statistics operational in  Gandhinagar. GSDC includes 2600 sq.ft of server and storage area, 600 sq.ft of  connectivity zone and 1300 sq.ft of control room & utility area. GSDC has been  connected to all the Government offices through GSWAN infrastructure. Gujarat State Data Centre acts as a mediator and convergence point between  open unsecured public domain and sensitivegovernment environment. The  GSDC has been equipped to host systems such as web servers, application  servers, database servers, SAN, and NAS. Gujarat State Data Centre (GSDC)  under NeGP is the first SDC made Operational in India. Currently, applications  running at State Data Centre are IWDMS-Integrated Workflow & Document  Management System, IFMS-Integrated Financial Management System, Land  Record Information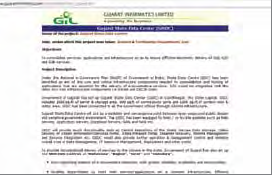 System, Registration of Documents (Revenue Department), HMIS-Hospital Management & Information System, Labour & Employment,  GSBTM-Guj State Bio-Tech Mission, GADGeneral Administration Dept., SWAN  e-Mail service, Other departmental dynamic websites hosted on web server etc.  The State Data Centre, connected to the State Wide Area Network (SWAN),  shall provide the access to the e-Governance applications & Services to  Government employees through Intranet and to the citizens through public  Internet/CSCs etc. Through such a Shared Service Centre implemented and  managed by a competent Implementation Agency, the individual departments can focus more on the service delivery rather than on the issues surrounding  the Infrastructure.