Maharashtra signs up ABM for e-Governance project
ABM Knowledgeware has recently announced that it has bagged a Rs 63.62 crore e-Governance contract from the Municipal Corporation of Greater Mumbai (MCGM).
The scope of work would include supply and implementation of SAP licenses along with post implementation support. The contract has to be executed in the financial year 2011-12 and involves a lot of projects under the Municipal Corporation.
leadership
Ajai Chowdhry awarded Padma Bhushan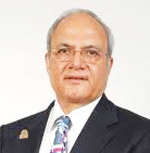 Ajai Chowdhry, co-founder, HCL & chairman, HCL Infosystems, was awarded the Padma Bhushan, by the President of India, Pratibha Devisingh Patil. Ajai Chowdhry is one of the six founder-members of HCL, India's IT garage start-up founded in 1976. It is has grown into a global enterprise of over ` 24,000 crore with a global headcount of 79,000 people.
Ajai took over the reins of HCL Infosystems, the flagship company of the group, as President and CEO in 1994. He was appointed Chairman of HCL Infosystems in November 1999. Under Ajai's stewardship, the company's turnover has grown to `12,221 crore from `400.6 crore in 1994. Employing over 7,200 people, it has emerged as the country's information-enabling powerhouse.
Reacting on the same, Ajai Chowdhry said, "When I got together with my friends 34 years back to start HCL, all we had was a barsati, some money and tons of passion. What we needed were people who will believe in this dream and join hands to take India on the world stage. We have come a long way and I would like to dedicate this recognition to my great country, my family of 79,000 colleagues, numerous friends, partners and well-wishers who have stood by me all these years."
HCL Infosystem Chairman Ajai Chowdhry led the list of this year's awardees named for the government's civilian "Padma Bhushan"award, among the representatives of trade and industry.
power
HCL signs 138 crore deal with Jharkhand Electricity Board

The Jharkhand State Electricity Board (JSEB) has signed an ` 138crore deal with the HCL Infosystems for implementing IT infrastructure project for power sector reforms in the state under the centrally-aided Restructured- Accelerated Power Development and Reform Programme (R-APDRP).
It would cover 30 towns including 66 sub-divisions and 354 offices of the JSEB. JSEB Chief Shiv Basant said the project would help the power utility company from 'concept to commissioning' for facilitating reduction of aggregate technical and commercial (AT&C) losses through strengthening and upgradation of the transmission and distribution network.
This project will work towards establishing reliable and automated systems for sustained collection of accurate base line data, and the adoption of Information Technology in the areas of metering, billing, energy accounting and customer care to provide the right information and experience to customers.
The modernisation of the IT systems will also help curb revenue leakages and ensure increase in overall revenues and thus contribution to the exchequer, he added.
HCL Infosystems recently also bagged a ` 300 crore order from the Indian Air Force to deploy a portable wireless network covering many air force stations across India. The new network will be integrated with the existing air force network and will provide it the backbone connectivity and ensure video interactivity for video calls and other communication platforms.
Semi-conductor market grew by 143 percent in 2010: Gartner
The worldwide semi-conductor equipment market grew 143 percent in 2010 to nearly $41 billion as the market recovered from the industry slowdown of the previous two years, according to final results from Gartner.
All major market segments grew significantly in 2010 with automatic test equipment (ATE) sales up by 149 percent, Wafer Fab Equipment (WFE) sales up by 145 percent and sales of Packaging Assembly Equipment (PAE) up by 127 percent. "The semi-conductor equipment market soared in 2010. Driven by the pent-up demand from the 2008 and 2009 downturn, and a stronger economy than projected, 2010 just kept getting better and better," said Klaus Rinnen, managing Vice President, Gartner.
"Memory and foundry spending were the key drivers, although all areas showed significant growth," he added. The share of the top 10 semi-conductor capital equipment companies rose nearly 2 points in 2010, accounting for 63.4 percent of total revenue, up from 61.6 percent in 2009. The recent earthquake in Japan is going to have a near-term impact on the industry, depressing quarterly revenue in the second quarter of 2011. However, Gartner analysts said semiconductor equipment manufacturers should be able to recover in the second half of the year.