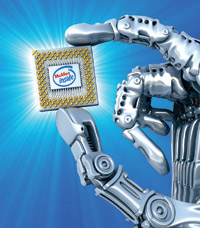 Intel's acquisition of McAfee literally amounts to packing security as a component on the chip. How will it work?
By Deepak Kumar
Intel's co-founder Gordon Moore penned down an empirical observation in 1965, noting that the number of components that can be packed in an integrated circuit would double every year. Later he made a revision stating that the doubling would happen every two years.
The statement has since been formalised into one of the most venerable laws in the technology industry.  It's been a yardstick for setting targets at semiconductor companies, particularly at Intel. It has held ground for nearly half a century now and doesn't show any definite signs of aging yet.
Moore's law has served as an unwritten policy statement for Intel and has played an important role in steering the company to a formidably dominant position, so much so that the chipmaker's performance today serves as a barometer of the IT industry.
That, however, will not be enough to take Intel far and beyond in an era where industry dynamics are rapidly shifting from PCs to mobile devices and from hardware to software. This is the premise that sets a basis for acquiring companies that can bring robust software capabilities to the chipmaker.
Does that fully explain Intel's big-ticket McAfee acquisition at US$ 7.7 billion? Or are there elements of disconnect and ambiguity? Let's view the announcement in the backdrop of some prior acquisitions.
Some prior moves

Indeed, Intel has known the risks of sticking only to the PC and server segments for long. As early as 1999, it made serious attempts to extend its dominance to segments other than PC and server segments. With the objective of foraying into the mobile phone segment, it acquired DSP Communications for around US$ 1.6 billion, an investment that did not pan out as expected and led to an impairment charge of US$ 600 million later in 2003.
Intel's energies have since remained largely focused on making PC chips better and better. Most of its acquisitions too
Follow and connect with us on Facebook, Twitter, LinkedIn, Elets video