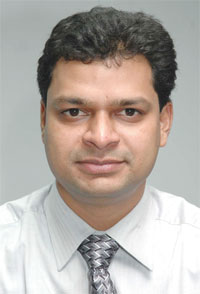 Pratik Chube
Country General Manager – Product Management and Marketing Emerson Network Power (India) Pvt. Ltd.
How is your company catering to the needs of the government in its mission of State Data Centre creation across the country?

Penetrating into government infrastructure for building State Data Centre, SWAN and other e-Governance processes are more or less similar to working with SMEs. Both are mission critical infrastructures and are based on clustering effects and co-related systems. Today, Emerson is backing various government projects of SWAN and State Data Centres through its unique:
Adaptive architecture

Energy efficient product technologies

Best Total Cost of Ownership (TCO) in Industry leadership
What is the USP of your company's power and cooling solutions? How do they have an edge over other market players in this domain?
Emerson is an industry pioneer and technology leader in all the product  categories. We are driven by deep understanding of customer needs and provide solutions accordingly. Our solutions are based on adaptive architecture that provides scalability, effi ciency and lowest TCO in all our products
Our products globally, ensure maximum uptime for all business critical applications.

There is a trend towards centralised UPS systems for mission critical applications. What is your take on this? How is Emerson meeting up towards this requirement?
The centralised UPS system for applications is gaining popularity. But we need to provide redundancy and ensure adaptive architecture is in place before designing any business solution. The redundancy will ensure uptime at system level and thus, uptime of business critical applications.
Tell us about your Data Centre Infrastructure solution. How critical it is to have a redundancy for an enterprise.
Emerson is pioneer in Data Centre infrastructure solution. Our services include:
Design and consultation
Products and technologies
Monitoring and control
Emerson has built country's most admired data centers and follows all principles of energy effi ciency.
Please elaborate on Emersions Convergent Communications.
Convergent's expertise lies in conceptualising, designing, implementing, and maintaining mission-critical networks (both in the wired and wireless domain) requiring voice, data, and video convergence and also in providing complete IT infrastructure maintenance services. It has more than 500 man-years' experience in wired networks and 300 man-years' experience in the wireless domain.
Emerson constantly provides Convergent with support, access to highly technical personnel and various other benefi ts. All this helps Convergent improve upon client experience. Having Emerson as a key brand in its portfolio, has given Convergent's business a defi nite boost. \\