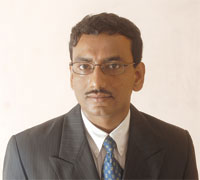 Debraj Dam
Sales Head
"We are among the first to take "Green Initiative" in Structured Cabling System (SCS) industry in India which provides superior quality products with RoHS compliant which can improve our customers network life cycle. We always keep doing research for new technology and now time has come to opt for the newest adaptation in SCS technology."
DIGILINK is a globally recognised brand providing end-to-end range of structured cabling solutions. Tell us about some of your products in this regard.
DIGILINK is front runner in providing Compact Product line, which can save space and keep adequate empty fl oor and overheads for future expansion and thus reduce Total Cost of Ownership (TCO). Our initiative and product reliability save down-time, increase redundancy and feature like Intelligent Manageability serve for better monitoring and eliminate human error.
We also provide fl exible Structured Cabling System (SCS) solution like MPO, ODF, Factory crimp customised length fan-out copper and fi ber solutions and 10G copper and fi ber solution apart from Intelligent BMS and Infrastructure solutions. We are among the fi rst to offer, the world's fi rst laseroptimised multimode fi bers, Clear Curve OM3/OM4 fi bers. Some of the features include:
Industry leading macro bending performance below 10 mm radius
High performance minEMBc certifi ed bandwidth to support 850 nm transmission at data rates of 10 Gb/s and beyond
Higher data aggregation in the backbone, riser and high-speed parallel interconnects (HSPIs)
Fully backwards compatible and ideally suited to current and future broad range of laser-based Protocols and applications
Industry-leading CPC coatings for superior micro bend and environmental performance
DIGILINK recently rolled out its latest DIGILINK P800 cabling solution designed for augmented Category 6 performance, for termination of horizontal and backbone cabling. The DIGILINK P800 Product Range exceeds the latest Cat6A 10G standards by a comfortable margin. These RoHS Compliance patch panels with a robust construction are designed to provide excellent cable management.
And in fi ber ODF, the ODFs are fi ber management units, which organise fi ber and fi ber cable connections. The RoHS Compliance OptiPlus ODF, Optical Fiber Distribution Frame. A part of the Data Centre Solutions, the ODF comes in different compact versions such as – 12-Port, 24-Port, 36-Port, 48-Port and 72-Port. Our patented design RoHS compatible RJ-45 Keystone has contact terminals and a built in Booster Spacer mechanism that has designed profi led path and specifi cally fi ne tuned path lengths to refl ex back while plugging and unplugging for connection giving a very good and reliable electrical contact. Thus minimises the cross talk to a great extent.
What are the various government projects you are working on?
The government projects include: Orissa State Data Centre, ESIC, National e-Court, Common Service Centres (CSC), HPSWAN, Assam SWAN, OSWAN, FCS, Jharkhand Prison, Bihar Prison, e-Municipality, e-District, e-Offi ce, Urban Local Bodies (ULBs), and Rajiv Gandhi Sarva Shiksha Mission projects. Some standalone government clients include: PMO, Defense, ONGC, Durgapur Steel Plant, Bokaro Steel Plant BSNL, MTNL, UBI, DoP and GBBN.
How do you see Data Centres deployment in terms of good governance?
It will open up better transparency in government operation and will be providing the citizens a perfect view and awareness of government policies. It will also create right governance, High citizen awareness like e-Governance related services in rural area through Voice/ Video/Data capable service in  faster and better manner, assessment of different government services in the  area of health, education, utility, agriculture, employment exchanges, land  record, income tax, etc and different institutional mechanism. It will improve  the delivery of public service for private sector and private sector can utilise all  these services in much more effi cient manner.
How is DIGILINK meeting the evolving Digital Information needs of today and tomorrow?
SCS acts as a Blood vessel in the IT Infrastructure. In a Human body if Blood  vessels are not circulating the blood properly to the Brain then we face medical  problems. Similarly SCS holds the same equation in IT the infrastructure. We  are among the fi rst to take "Green Initiative" in SCS industry in India to which
provides superior quality products with RoHS compliant which can improve  our customers network life cycle. We always keep doing research for new technology and now time has come to opt for the newest adaptation in SCS technology like In-Mold Decoration and Customised graphics multimedia I/O  for Residential Cabling systems, GxPON technology for Campus connectivity  and 5th generation IPLMS for our Data center solution.
Where does DIGILINK stand in structured cabling solution in the Indian as well as the global market?
DIGILINK is Declared as No 1 brand by CRN and PC Quest. In terms of User and Channel Preference.
DIGILINK stood steady in no 2 position in SCS for Entire Calendar Year 2008 based on Revenue (As per IDC Q4'08 report) as well as current release of IDC Q1'09 report.
DIGILINK is the 1st Indian SCS Manufacturer to introduce "Green Initiative" and "RoHS" Compliant product line.
Globally we are present in 22 Countries and are gaining Brand popularity in other European country and American states.

What are your future plans in cabling solutions domain?
We have taken a number of measures of new product performance, rather than  just the single measure continuum; this resulted in a performance map with  multiple major and quite independent underlying dimensions of performance.  A typology of performance was then developed – a classifi cation of new  product projects by how well they performed, evidence supports the notion that the new-product process – events, actions, and directions that take place in a new-product project from idea to launch through this we are reiterate our commitment to all our stake holders, partners and esteemed customer. We are currently working on FTTH and GxPON technology apart from that we are  working indigenously various other new product development projects for Data  Centre solution,10G solutions and beyond and Residential Cabling  Solutions.