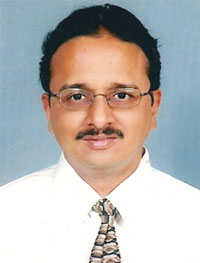 Moiz Vaswadawala H
General Manager, Wipro Infotech
Wipro Infotech forayed in Data Centre space in May 2009. How is this move aligned with the Government of India's goal of create State Data Centre for seamless service delivery for the citizens?

We are addressing the State Data Centre needs in two ways
We have expertise in building and managing Data Centres to the respective state governments who wish to own their Data Centres

Wipro Enterprise Data Centre Services are positioned to serve those states that are open to considering outsourced DC services. This could also include states that own their Data Centres and would like to explore setting up their Disaster Recovery (DR) at a third party Data Centre.
Wipro's expertise and experiences in Data Centre lifecycle management covering design, build, deployment and operations of Data Centres would be an excellent proposition to the State Data Centre initiative.
What is the vision of Wipro's Data Centres?
Our vision is to offer complete Data Centre Lifecyle Management services to our Enterprise customers and enhance our leadership position in Managed IT Infrastructure and Data Centre services.
What are some of the IT infrastructure and applications that are deployed at the Wipro Enterprise Data Centres?

Wipro Enterprise Data Centre services addresses multiple industry segments in running their core business applications and DR services, some of which are listed below:
Industry Applications

Banking, Financial Services and Insurance Core Banking, Micro Finance and Insurance applications

Telecom Core Telecom equipment and Applications for Telecom operations

Manufacturing ERP
What are the key highlights of the Wipro Managed Hosting Services.

Our Data Centres are specially designed to meet the needs of our enterprise customers. Some of our key differentiators are:
a. Single point ownership for complete Data Centre lifecycle (design, implementation and management)
b. Green Data Centres resulting in energy efficiencies
c. High density cooling (Maximum power rating per rack = 6KW to 12 KW) which helps Customers take maximum benefits of server consolidation and helps to reduce their CAPEX and OPEX costs.
d. Fully automated Monitoring and Management of each of our Data Centres to ensure proactive alerting and reporting. This helps us achieve the highest levels of service to our Customers in line with Tier 3 recommendations
e. Our IT infrastructure management services are delivered using best in class tools along with a strong Service delivery process framework.
What are the Best Practices for IT infrastructure management in Data Centres?

Some of the best practices that have been adopted in the Wipro Data Centres are:
Enabling audit logs

Patch management process

Structured repeat call analysis

Extensive Performance reporting

Capacity Planning

Self Help for Password reset / Account lockout

Reviewing access privilege

Backing up & validating configuration changes

Preventive Maintenance calendar

Automating mundane activities
Tell us about the optimisation techniques, like virtualisation and interoperability and their importance for the Data Centres.
Industry


---

Banking, Financial Services and Insurance


---

Telecom


---

Manufacturing

Applications


---

Core Banking, Micro Finance and Insurance applications

---

Core Telecom equipment and Applications for Telecom operations

---

ERP
With enterprises focused on getting more out of the existing investments, virtualization techniques have been very useful. The key aspects that highlight their importance are:
Controls IT investment

Optimised utilisation of available resources

Enhanced administration efficiency through logical grouping of IT Infrastructure

Energy efficiency in running Data Centres
Wipro is working in partnership with a number of government agencies and projects such as APSCAN, Indian Customs and Excise Gateway and Computer-aided Administration of Registration Department. What are your suggestions for the Government in implementing quality Data Centres?
Some of suggestions are:
a. Design Data Centres keeping future in mind with maximum power per rack ranging between 6 KW to 12 KW
b. Data Centres should be of Tier 3 standards at a minimum
c. 65% of the Data Centre running expenses are towards energy costs and hence Data Centre design should focus on energy efficiencies. PUE is a very important factor, which should be monitored and Data Centres should be designed to operate within a PUE range of 1.6 to 1.8
d.      Focus on operations and maintenance to achieve higher uptimes and operating costs efficiencies
e. For smaller capacity requirements and DR services government can also look at outsourcing their Data Centres needs to organisations such as Wipro
Wipro Infotech is ranked among the top five green companies in the world. How important is Green IT for Data Centres in reducing cost and increasing efficiency?
Green Data Centres are important to us from multiple aspects. First and foremost, it helps us to reduce our carbon footprint and helps towards building a better environment. Secondly, it helps us to reduce our operational expenses between 10-20%. Implementing Green IT infrastructure helps in reducing energy consumption required for running the IT equipments and also brings down associated cooling requirements.
Tell us some of your eco-friendly technologies. 'Going green is extravagant, what is your take on this?
We have implemented various green initiatives while building our DC facilities, particularly in the following areas:
Usage of appropriate building material

Reduction of water consumption through Waste water recycling and rain water harvesting

Using Water cooled chillers rather than Air cooled chillers to reduce energy consumption

Taking advantage of the ambient temperature during winter and reduce energy consumption

Segregate cold aisle and hot aisle through customized design

Use energy efficient lighting systems
The benefits of 'going green' outweigh the investments and contributes to a better environment as well. Hence, Wipro considers Green a strategic imperative that is adopted by us in our Data Centres as well.
How do you see the growth of Indian IT sector market, in general, and Indian Data Centre market, in specific? How is Wipro set to optimise this opportunity?
Based on the trends observed in the economy, we believe that Indian IT sector market has the potential to grow by 20-25% in the next two years and the Data Centre market upwards of 30%.
Wipro's presence in Data Centres covers the entire lifecycle including:
Enterprise Class DC Facilities build

DC IT infrastructure architecting and Systems Integration

Management Services for Data Centre

Outsourced Managed DC services
This range of expertise gives us a strong position in this space. We would leverage on our technical and service management competencies and experience to deliver high quality services to our customers. This is backed up by our strong process orientation on ITIL V3 standards and best in class tool adoption.