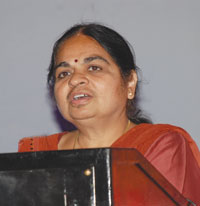 Challenges in setting up of Data Centres starts as soon as you start looking out for the right place. It is important that the Data Centre is setup at a location which is not disaster prone, can be physically secured, robust surveillance and capability of post activity data analysis and has room for growth. Other challenges to be kept in mind while setting up of DC are sizing of storage.
Please give your views on the importance of Data Centres in State. How do you correlate this technological intervention with good governance?
Data Centre is one of the most important elements of the core infrastructure for supporting any large IT Implementation. Almost all large enterprises which have IT enabled their Internal Processes / CRM / Supply Chain Management have setup their own Data Centres or outsourced such a facility from IDCs. Since e-Governance is also moving into the phase of maturity, a state-of-art, stable, secure Data Centre has become a necessity today.
Under NeGP, it is proposed to create State Data Centres (SDCs) for the States to consolidate services, applications and infrastructure to provide efficient electronic delivery of G2G, G2C and G2B services. These services can be rendered by the States through common delivery platform seamlessly supported by core Connectivity Infrastructure such as State Wide Area Network (SWAN) and Common Service Centre (CSC) connectivity extended up to the village level. State Data Centre would provide much functionality and some of the key functionalities are Central Repository of the State, Secure Data Storage, Online Delivery of Services, Citizen Information/Services Portal, State Intranet Portal, Disaster Recovery, Remote Management and Service Integration etc. SDCs would also provide better operation and management control and minimise overall cost of Data Management, IT Resource Management, Deployment and other costs.
What is the status of the Data Centre implementation, under National e-Governance Plan, in the state? When do you expect it to complete?

Gujarat has been one of the first states in the country to setup a state-of-art Data Centre to support e-Governance initiatives. This Gujarat State Data Centre, set up in Gandhinagar, includes 2600 sq.ft of server and storage area, 600 sq.ft of connectivity zone and 1300 sq.ft of control room and utility area. GSDC has been connected to all the Government offices through GSWAN infrastructure.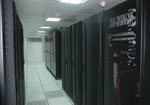 Gujarat SDC
Under NeGP, Government of Gujarat is currently in the process of augmentation of this State Data Centre by State-of-art Servers, Storage System and Security Systems. For this purpose, Government of Gujarat has selected Wipro Ltd. and expects completion of this project by the end of March 2010.
To provide decentralised delivery of services to the citizens in the state, Government of Gujarat has also set up three Mini Data Centres at Mehsana, Rajkot and Vadodara. Fourth Mini Data Centre is being planned at Surat.
Features of Gujarat State Data Centre
Civil Infrastructure

Building Management System

Fire detection/suppression

Access control System

Close Circuit Surveillance system

Rodent Repellent System

Intruder Alarm System

Public Address System

Electrical System

Un-interruptible Power Supply System

Air Conditioning System
Gujarat State Data Centre has following different Zones
Secure Storage Zone

Application Zone

GSWAN equipment room

Utility Room

Security Control Room
Your state already has data centres, for quite some time. What are your plans for migrating to this new infrastructure?

The migration of the old Servers to the New Data Centre building has already been completed, so all available centralised SWAN resources are fully operational from the new Data Centre only. Once the new IT Infrastructure is implemented by March 2010, Gujarat State Data Centre would be able to cater to most of the State Department requirements in terms of much higher performance / response / Secure Data Storage / Huge mail storage and and it's 24/7 availability.
Please name some of the mission critical applications running on DC. How do you ensure maximum uptime for these operations, in particular and resilience in IT systems in general?
Some of the Mission Critical Applications running at State Data Centre currently are IWDMS, IFMS (partially operational), Agriculture soil and health application, SWAN e-Mail service and other departmental dynamic websites hosted on web server etc. Some of the other applications which would be hosted at SDC in near future are:
Land Record Information System

Registration of Documents (Revenue Department)

State Wide Attention on Grievances by Application of Technology (SWAGAT)

Gujarat Ration Card Computerisation (GRCC) System

Property Card Information System (PCIS)

Integrated Financial Management System

Value Added Tax (VAT) System

Health Management and Information System (HMIS)

HDIITS (Application for Home Department)

Gujarat Portal and Service Delivery Gateway
Gujarat State Wide Area Network (GSWAN), which connects over 3600 District and Taluka level offices, also operates out of State Data Centre.
The State Data Centre has been designed to meet Tier II standards and has high availability built into all the components like Power Availability, Servers, Networking Equipments, Security Equipments, Cabling, etc. This would ensure 99.74% uptime for all the applications hosted at the Data Centre. The Data Centre Operator's payment is being completely linked to the maintenance this uptime.
Public data is invaluable. What is your roadmap to ensure maximum data security?
The SDC and the Mini Data Centres are designed to provide an end-to-end security blanket to protect applications, services, data and the IT infrastructure from malicious attacks or theft from external (through internet) and internal (through intranet) hackers. Already there are multiple levels of security which has been deployed to stay away from external threats with well planned security infrastructure. Using high-end, high capacity and scalable Firewalls and Intrusion detection and prevention systems such attacks and theft would be controlled and well supported (and implemented) with the security policy and also well governed by expertise. The virus and worms attacks would be well defended with Gateway level Anti-virus system, along with workstation level Anti-virus mechanism. To securely cover up the entire and increasing SWAN users, the anti-virus licensing count also would be raised for workstation level security.  SDC / Mini Data Centres would also make use of the SSL / VPN technologies to have secured communication between Applications and its end users.
The new Data Centre Operator being appointed has a mandate to comply with ISO27001 standards and is expected to get the ISO 27001 certificate for the SDC within three quarters from the date of completion of current augmentation of the Data Centre. The Data Centre operator's payment is also linked to the SLAs defined for Security and Incidence Management.
How do you perceive virtualisation in Data Centres? Has the state taken some initiatives in this reference? Also, how do you tackle with interoperability issues with the IT systems?

Virtualisation brings the potential to deliver dramatic savings in terms of server count, footprint, power consumption and cooling requirements for Data Centres. Although currently our State has not considered virtualisation in the current plan of Data Centre Implementation. The State would definitely consider it as one of the options during future upgration.
In order to tackle with interoperability issues, Government of Gujarat has already issued notifications to the various departments to follow Government of India published standards for Portal for publishing and collaboration on standards developed and the portal address. We are also in process of finalising the Meta Data and Data Standards for Application Domains and Communication Protocols, which are fundamental for Interoperability.
Please throw some light on the need of redundancy in Data Centres. How do you mitigate risks that come along redundancy channels?

With more and more dependence on the IT Systems for the Internal Working of Government Departments and for Delivering Citizen Services, Data Centre downtime would mean disruption in departmental functioning, loss of credibility in citizens and even loss of revenue. It is thus necessary that there is no single point of failure in the Data Centre to bring down the System Availability. This can be ensured through redundancy in the various critical components like Power Availability, Servers, Networking Equipments, Security Equipments, Cabling, etc. and off course by developing disaster recover site for mission critical applications and data.
Can you discuss about challenges in setting up and running DC?

Challenges in setting up of Data Centres starts as soon as you start looking out for the right place. It is important that the Data Centre is setup at a location which is not Disaster Prone, can be physically secured, robust surveillance and capability of post activity data analysis and has room for growth. Other challenges to be kept in mind while setting up of DC are Sizing of Storage, Designing right specs for various Active / Passive Components, Minimising the Carbon Footprint and Ensuring Scalability with least manipulation in all the critical components. Operational Data Centre also requires to get supervised in terms of each possible activity logs and maintenance of the same. Ensuring the right type of equipment placed at right place with calculated capacity / capability to avoid any abnormal occurrences within the DC.
It is also a challenge to identify the right Systems Integrator to design, implement the Data Centre and maintain it for the Government.
Once the Data Centre is up and running, to make it available for 24/7 and ensure the 100% security of data and IT equipments is still a bigger challenge.
How competent is your department to oversee the DC in the long run?

We would be forming a "Government Operation Team" (GOT) to oversee the day-to-day operations of the Data Centre. GOT would constitute members from Gujarat Informatics Ltd.  State NIC. We also intend to appoint a Third Party Auditor to supervise the operations of the Data Centre Operator to ensure the compliance of the SLA for operations and Management of the Data Centre.