Introduction
The 15th Lok Sabha (LS) General Election 2009 notification for phase 2B and 3A was announced on 28th March 2009 and 2nd April 2009. The last date for making nominations was 4th April 2009 and scrutiny of  nominations was on 6th April 2009. Likewise, the last date of withdrawal of candidates was 8th April 2009. Finally the poll date for phase 2B and 3A was 23rd April 2009 and 30th April 2009 respectively. As usual, counting of votes was uniformly fixed on 16th May 2009 for all Parliamentary Constituencies (PCs) in India. Seeing the above Poll events and anticipating all emergent situations much before (i.e. from 2nd March 2009) the District Samastipur geared up to take up the incoming challenges for conducting of the LS General Election 2009 for two Parliamentary Constituencies i.e. 022-Ujiyarpur PC and 023-Samastipur (SC) PC and one 140-Hasanpur Assembly Constituency falling under 25-Khagaria PC.
Samastipur District
Samastipur is a district in Bihar which is spread over an area of 2904 sq. kms. Samastipur is bounded on the north by the Bagmati River which separates it from Darbhanga district. On the west it is bordered by Vaishali and some part of Muzaffarpur district, on the south by the Ganges, while on its east it has Begusarai and some part of Khagaria district. Thedistrict headquarters is located at Samastipur.
The people of Samastipur mainly speak Hindi. According to the 2001 census, Population Density in the District was 1169 per sq. km. and the total population was 3.40 million. The District is lacking in educational infrastructure and the Literacy rate is only 45.13 % (male 57.59%, female 31.67%). The district comprises of 4 sub-divisions, and 20 Community Development Blocks. It has 5 towns and 1248 villages. Infrastructure wise Samastipur is very strong. It is the Divisional Headquarters of the North Eastern railway. Samastipur district has two Parliamentary Constituencies i.e. Ujiyarpur and Samastipur (SC).
Complexities and Challenges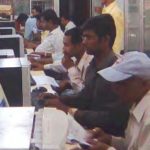 Besides all other complexities that are natural in the conduct of free and fair elections, there were two big challenges in this district. They were managing two PCs where the number of contesting candidates exceeded 16; as a result there was addition of one more Ballot Units at all polling stations except 23-Samastipur PC. Since LS General Election 2009 was already declared as 'Digital Chunaw' in all respect, hence the role of ICT tools and Electronic gadgets are to play a prominent role. Thus, it is obvious that NIC District Unit's role and responsibility will be of prime importance and District Informatics Officers (DIOs) have to exhibit their supreme ICT competence to provide ICT support as and when needed. Keeping in mind, the guidelines and order of ECI in these matters, strategies are being framed to accommodate the emergent requirements in the ICT solution developed by the NIC Bihar State Centre.
ICT Solution for the LS General Election 2009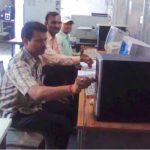 To cope up with all eventualities as per the ECI's orders, compendium of hand books and guidelines at every steps of Election process with complete analysis of the Election Process were done along with the work-flow vis-à-vis the aims and objectives i.e. goals to be achieved.    Analysis revealed that in terms of computerized systems we essentially need to have various segregated ICT solutions for facilitating smooth ICT support during the Election process. These ICT solutions were pertaining to Election Process, EVM Process, Force Deployment Process, Counting Process, and last but not the least, miscellaneous processes such as Communication Plan, Excessive use of E-mailing, candidates affi davits, fi nalisation of contesting candidates after withdrawals, etc. Keeping in view the above need, NIC Bihar State Centre developed and provided software solutions as follows :
EleCon Ver. 8.0
EVM Randomization Ver. 1.0
Force Deployment Ver. 1.0
Counting Ver. 1.0
Elecon Ver. 8.0 : Election Confi dential (EleCon) Ver.8.0 is the main software which deals with all the requirements of Election for the District Election Offi cer (DEO) at the district level. The software starts with initial setups in the File Menu like Election Setup, Tour advance setup, Segment setup. Thereafter, it needs some master fi le updation like Department, Block, Offi ce master, Employee master, Booth details, District and Assembly constituency.
The Data Entry modules also provides PCCPs tagged booths, Micro-observers tagged booths, and Tamila delivered. Also unique Serial Number wise photo upload facility has been provided to upload the digital photographs of the personnel.
The Processing module is very important as it incorporates all the instructions and guidelines of ECI in the following activities :
Polling Party formation
Reserve Polling Party Formation
Counting Party Formation
Magistrate Party Formation
Reserve Magistrate Party Formation
Micro-observer Party formation
Reserve Micro-observer Party Formation
Cameraman Party Formation
Reserve Cameraman Party Formation
This Module also has options like :
Booths Tagging (Polling Party)
Patrolling Magistrate Booths Tagging
Micro-Observers Booths Tagging
Cameraman Booths Tagging
Counting Table Allotment
The Report Module generates all kind of Appointment letters and reports to facilitate the DEO  in taking right decision at right time. The reports generated are as follows:
First Appointment Letter to all with receiving
Second Appointment Letters
Final Appointment Letters
Counting Letters
 First Appointment letter
 Table Allotment Letter
 List of Selected Counting Personnel
 Assembly Segment Allotment Chart
Table Allotment Chart to Counting Personnel AC wise
List of Personnel AC/ Table wise
 Duty wise Counting Personnel
Duty wise Counting Personnel
List of Offi cers
Personnel Status Report
Personnel Status (Duty not assigned)
Checklist of employee (Offi ce wise)
Photo ID Card
List of Booths
Party wise Booth Information
Misc. Reports
Conclusion
LS General Election 2009 for Samastipur district of Bihar was a tiring journey which started  from 2nd March 2009 and ended on 16th May 2009 with counting of Votes and result  declaration at the counting centre which was Samastipur College, Samastipur. NIC District  Unit, Samastipur had done all ICT support along with its associated Data Entry Operators who  did their jobs honestly and sincerely with all devotion for the cause of free and fair  election in the two PCs and one AC i.e. 022-Ujiyarpur PC and 023- Samastipur (SC) PC of the  district and one 140-Hasanpur AC falling under 25-Khagaria PC. At Samastipur District all  concerned worked and contributed their best for the conduct of LS General Election 2009 –  the biggest 'Mahaparva of Democracy'. And as a blessings of this worship, the LS General Election 2009 for this district ended very peacefully with no case for 'Repoll' or any untoward  incidence – which was nothing less than creating history. NIC has always been the proponent  of doctrine 'Work is Worship' and NICians have played the role of 'Karmaveer' – a silent  worker.
Follow and connect with us on Facebook, Twitter, LinkedIn, Elets video