The idea of using the Internet as a platform for political communication, Governance and  for election campaign is gaining Popularity among Politicians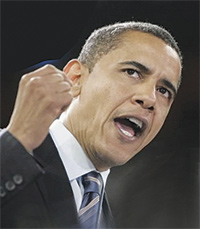 With Barack Obama's e-Governance agenda the movement from a so-called 'manufactured consent' in a government centric democracy, to an environment of  an 'enabled-consent' in a citizen-centric democracy, seems round the corner for the citizenry of America. Infact even the build-up towards his presidency i.e. in his presidential campaign Obama gave enough of proof of being firmly resolved to use IT for creating an e-Democracy. For example as per the reports on www.barackobama.com, more than 280,000 people created accounts, users created over 6,500 grassroots volunteer groups and organised more than 13,000 offline events using the website and over 15,000 policy ideas were submitted through the website. Obama has built a treasure database of more than 10 million supporters.

And now that Obama is in White House already, his most important aim is to transform this YouTubing-Facebooking-texting-Twittering grass-roots organisation that has put Obama in the White House in the first place, into an instrument of  government. Its a call for people who fought for change during the campaign to continue fighting for change in their communities in a new era of e-Governance. Towards the same a new group known as the 'Organising for
America' is being contemplated. The new group will work within the Democratic National Committee – led by Virginia Governor, Tim Kaine – to advance the Obama agenda through building a grassroots support for the administration's agenda. The main agendas of this new group would be to integrate citizens into the actual business of government using a number of measures like making government data available online in universally accessible formats to allow citizens to make use of that data to comment, derive value, and take action in their own communities; and lifting the veil from secret deals in Washington with a web site, a search engine, or other web tools that enable citizens to easily track online federal grants, contracts, earmarks, and lobbyist contacts with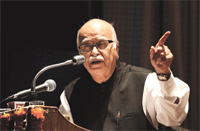 government officials.
 Indian Side

Now even Indian politicians are going hi-tech- mobile, SMS and now blogs.  Lal Krishna Advani, the 81-year-old prime ministerial candidate of the Bharatiya Janata Party (BJP), is the lattest entrant in the  blogosphere. In his first post, Advani had said he had launched the blog after accepting "the compelling logic" of his "younger colleagues" who told him that "a political portal without a blog is like a letter without a signature". The blog (blog.lkadvani.in) is part of a portal (lkadvani.in) created by the BJP.
---
"It has come to my notice that most of the comments are related to the functioning of Railways, where people have pointed out various deficiencies in the services.We are studying all the suggestions and will try to implement them"
Lalu Prasad Yadav
---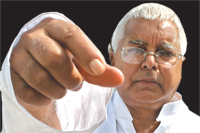 In his blog he had said, "I am excited by the idea of using the Internet as a platform for political communication and, especially, for election campaign."  Admitting that he was "technology-agnostic", he said: "My philosophy in this matter is simple: anything that works, deserves to be welcomed." In some sections on media it has also been written that Advani who is a self-acclaimed 'technology-agnostic' has gone to the extent that now google searches on Congress, Manmohan Singh, Sonia Gandhi, Mayawati and even Obama show sponsored links to Advani's website. Can there be better example of using an opponent's strength to one's own advantage than this, in an era of e-Governance?
In the blogsphere Advani is not a lone politician from India. He is in the company of  Railway Minister Lalu Prasad;  Jammu & Kashmir's new Chief minister Omar Abdullah; and Sachin Pilot, Member of Parliament from Rajasthan. While Abdullah stopped blogging after being heckled and abused by visitors, Prasad's is going slow on blogging .
Omar was hurt over a "heap of personal abuse" Omar while bidding  adieu to blogging, which he started in April wrote for the last time ,  "This blog was supposed to be about the serious, frivolous, happy and sad, the important and the completely pointless but somewhere along the way it lost its character." He said after almost 42 posts and more than 900 comments he was signing off.
"Those of you who found this a convenient place to abuse are welcome to keep posting comments. They won't be seen by anyone else but you will certainly feel like heroes and if not then go get your own blogs and try your luck there – may be, someone who will read what you have to say," he said.
Omar further wrote, "We truly are a bunch of intolerant people, who want to be heard but don't have the strength to hear. We want to have an opinion but don't believe anyone else is entitled to one."
He also said he was going back to being an old school politician. "You can read what I think in the newspapers."
From the clique of young  politicians, even Sachin Pilot,  can now be reached out on his facebook account. If you are lucky and he adds you to his friends list, then that creates another very convenient avenue for general public to reach out to their political leaders of today who are not only adopting e-Governance on paper, but are
also putting it in practise on a day-to-day basis.
---
"I want to be in touch with people. I would make sure that I see every comment, every complaint myself. I will write a blog on the website as well"
Omar Abdullah
---
Just in case if anyone is interested in dates 25th July, 2008 was the last time when Lalu posted on the blog but he has promised to get back to active blogging soon. Now a little bit of history Lalu Yadav said to a newspaper  that he planned to take up blogging after one of his friends from the media suggested him to do so. Lalu said it was pointed out to him how blog helps in connecting immediately with the general public and receiving feedbacks. As far as feedbacks go, Lalu's blog has been receiving them in huge numbers. Guess what! A lot of them are complaints regarding the Indian Railways, some are blessing and good wishes whereas few others are uncomplimentary too.
In is blog he has  thanked all those who have posted their comments on his blog. He said, "I thank all of you for the response. It has come to my notice that most of the comments are related to the functioning of Railways, where people have pointed out various deficiencies in the services. We are studying all the suggestions and will try to implement them."
---
"I am excited by the idea of using the Internet as a platform for political communication and, especially, for election campaign"
L K Advani
---
To all those who want to know about his personal life, he said, "I would like to tell them that it is like an open book. Through my blog posts I will be telling all of you about it, my family background, about my old attire and my present attire. I will also be talking about the turnaround of Indian Railways that was incurring losses during the National Democratic Alliance (NDA) rule."
In his blog (www.mypopkorn.com) he has written  on the Gujjar agitation demanding six percent reservation and according of Scheduled Tribe (ST) status to its community. Known for not mincing his words, Lalu is at his candid best as he singles out Rajasthan Chief Minister Vasundhara Raje for her  handling of the Gujjar stir. Lalu also wants out to reach out to younger audience by means of blogging. I guess , we all can look forward to fireworks in his forthcoming blogs