There are important network effects which magnify the economic impact of mobiles on development when the level of mobile penetration exceeds a critical mass of around 25 percent
---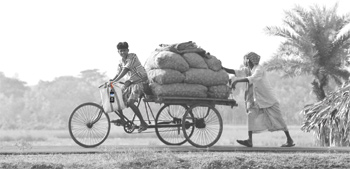 Mobile telephony which started nearly 15 years ago in India   has almost changed the communication landscape. This is quite evident from the the latest research which says increased penetration of mobile technology has contributed to higher and more inclusive economic growth.
A report titled India: The Impact of Mobile Phones published by Indian Council for Research on International Economic Relations (ICRIER) and funded by Vodafone Group, states that Indian states with high mobile penetration can be expected to grow faster than those states with lower mobile penetration rates.
The growth would be 1.2 percent a year more on average for every 10 percent    increase in the penetration rate. The report further states  that there are important network effects which magnify the economic impact of mobiles on development when the level of mobile penetration exceeds a critical mass of around 25 percent.This finding underlines the urgency of increasing teledensity across all states and especially in those numerous areas of India that are yet to reach this threshold level. "If Bihar's mobile penetration rates were similar to those of Punjab, for example, then it would enjoy a growth rate that is 4 percent higher than its current rate," said professor Rajat Kathuria, who led the research team.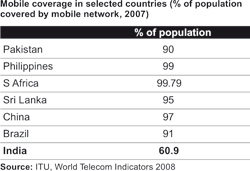 Access to mobile telecommunications is certainly not the only thing that matters to economic growth. In this regard, the research also highlights the vital importance of complementary skills and other infrastructure. Unless these are in place, the full potential of better access to telecommunications will not be realised. Report says, there is no benefit in farmers knowing the prices that their produce could be sold for in different markets if the roads are too poor for them to be able to transport the goods to those other markets.
While some parts of India are clearly reaping  the benefits of  access to telecommunications, other parts are still lagging behind. The recent  growth in telecommunication connections in India, which has topped 10 million per month in 2008, is a reality but there are some pitfalls also. Teledensity in India (31 percent) still lags well behind most other countries at similar stages of development like China, Pakistan and Sri Lanka which have achieved significantly superior penetration  rates of 77 percent, 60 percent and 61 percent respectively. Also, there is enormous variation within India, and many of the less developed states have average penetration rates of well below 20 percent, which  includes  Bihar, UP, Orissa, Madhya Pradesh and Assam.  The level of access to the Internet remains persistently low across the whole country (at about 5 percent) and in less developed states it is virtually non-existent, for example 0.1 percent in Bihar and 0.2 percent in Assam.
---
"If Bihar's mobile penetration rates were similar to those of Punjab, then it would enjoy a growth rate that is 4 percent higher than its current rate"
---
The report shows how putting a mobile in the hands of an individual is unlikely by itself to improve that person's livelihood. But when it is associated with education on agricultural techniques and tools, as well as with better roads and storage, easier access to information through telephony can infact become very valuable.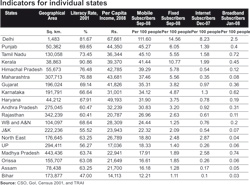 Perhaps it is obvious that there also needs to be investment in other,   complementary, infrastructure, but the impact of this interaction between telecommunications and other infrastructure in a developing country may have previously been underestimated. Poverty ultimately needs to be alleviated by improved labour productivity.
Mobile telephony has an important role to play because it provides a means for the exchange of information and learning, but it is only one element in the process of productivity growth. For example, 60 percent of the working population in India is engaged in agriculture and the barriers to raising agricultural productivity gains, go far beyond communications access.
Follow and connect with us on Facebook, Twitter, LinkedIn, Elets video