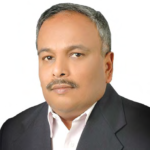 P K Gopalakrishnan
Senior Vice-President and Head, India Operations, MindTree
"India certainly is an emerging market for BI tools and we believe this would be the next big application, as most of the enterprises have completed their first and second wave of automation"
Tell us about the business intelligence solutions provided by MindTree. Do you think India has an emerging market for it?
Business Intelligence (BI) practice in MindTree is a 450 member strong consulting cum implementation practice.  We work with most of the software product vendors like SAP, SaS, Oracle and Informatica. We have developed our own framework called RUBIC for business intelligence applications.  We have 40 odd customers from the Fortune 500 list spanning various verticals like banking, capital markets, manufacturing, insurance and retail. Our approach is consulting led and we help architect the right frameworks to enable customers get intelligent information out of their data. MindTree also has very good expertise in providing statistical analysis.  Our work is in the area of customer management, master data management, supplier spend analytics.
India certainly is an emerging market for BI tools and we believe this would be the next big application, as most of the enterprises have completed their first and second wave of automation.  Manufacturing and Banking Financial Services and Insurance (BFSI) seem to be two big verticals apart from government which can leverage the power of BI tools. Government particularly today has huge data and statistics on citizens, landholdings, health care and education. Data available in multiple locations can be intelligently mined to support informed decision making. We see a good scope for the Indian customers to use BI frameworks.
MindTree has storage services under its Research and Development vertical. In this regard, are you betting big on the government for its data centres?
We have not been empanelled in the central government programme for data centres. However, we do have a fledgling practice for consulting on data centre design to operate and manage. We will be looking forward to participating in some of the consulting opportunities in the near future.
What are the projects MindTree is undertaking in various government departments of the country?
We have been active in the domestic government space for the last two years only and have done consulting assignments for few state governments.
This includes consulting for Government of Rajasthan for the e-Mitra project, which looks at citizen service centres as delivery channel for many of the government services.
In light of the current security crisis in the country, how do you think critical government data can be safeguarded?

We believe government is looking at this ab initio and holistically. There are multiple dimensions to this –  aspect of awareness, training and self control  by the users which need to be overemphasised as they are most critical. Well designed security policy and control procedures are essential. Regular self and third party audits are required to make sure processes are being controlled. I think Government should also build in-house capability in every vertical.
We have observed that negative bidding is becoming a trend in acquiring government tenders. What are your comments?
This is certainly not a healthy trend. While initially governments may feel happy to shift the CAPEX spend to the service providers, since the viability of the projects are not clear, eventually successful project completion and chances of meeting the end objectives are doubtful. In my opinion,  rational pricing criteria is not followed in most of these projects and only the intention to bag some prestigious projects, seem to be driving the pricing.   Some of the winners also look at possible future benefits, which atleast the past experience does not seem to be validating as a good practise. It will be good, if some agencies like Comptroller and Auditor General (CAG),  audit some of these projects from a point of viability and good governance objective.
What in your opinion are the major challenges in the sphere of e-Government in India?
I assume that the key challenges that will dominate e-Governance spehere will be programme management of e-Governance projects-this includes proper conceptualisation, selection of right implementing agencies, timely implementation of projects and participation and commitment of the end user.
Also leadership, capacity building and change   management in end user organisations will hold importance, along with win-win partnership between government  and private industry. Public Private Partnership (PPP) projects will be the order of the day, but private sector will have to invest in domain skills and government must look at a partnership relationship and not a vendor relationship. Profits are necessary to sustain the projects and there should be threshold values at which projects can be awarded. Attention should also be given to reforms in e-Governance procurement and contract administration. Most of the terms and conditions in government contracts are one sided and and have to be modified considering changing realities and corporate governance norms existing under various laws.
Where do you see the e-Government road map heading towards in the India in the next couple of years?

I see a bright future for e-Governance in the country.  There is visionary leadership at government level driving the NeGP and the private sector too is charged up to participate in the programme.
We do believe that the common infrastructure like the data centres, state networks and delivery centres will be in place in the next two to three years and once this is done,  there will be more pressure to develop user friendly simple applications.  It will can be a different India that one will see a few years from now, as far as application of technology is concerned for providing better governance.
Highlights
Business Intelligence (BI) practice in MindTree is a 450 member strong consulting cum implementation practice

We have developed our own framework called RUBIC for business intelligence applications

Our approach is consulting led and we help architect the right frameworks to enable customers get intelligent information out of their data

Manufacturing and Banking Financial Services and Insurance (BFSI) seem to be two big verticals apart from government which can leverage the power of BI tools

Data available in multiple locations can be intelligently mined to support informed decision making

We have not been empanelled in the central government programme for data centres

We have been active in the domestic government space for the last two years only and have done consulting assignments for few state governments
Nilakshi Barooah
nilakshi@egovonline.net