http://www.canon.co.in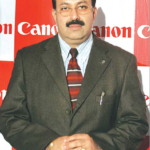 "Change of strategy on the part of the Indian Government has played a major role in increasing the government spendings on technology", Alok Bharadwaj Senior Vice President, Cannon India to Sandeep Budki and Tannu Singh of egov
In the recent past Cannon has shown a decent  growth. How has been your journey so far?
Our growth has been momentum oriented. One of the important directions in which the momentum has been significant has been in the area of acceptance of Canon as a brand by all segments. By segment, I mean customer segment comprising of mainly four categories, they are corporates, consumers, Small Office/ Home Office (SOHO), and government.
So due to this growth, you are looking at creating a government vertical.
In the last financial year, out of the total Canon's business of  INR 510 crore, INR 50 crore business i.e. 10 percent of the total Canon's business came from government. This year out of the total INR 700 crore business of Canon 15 percent, i.e. INR 100 crore business came from the government. Thus we are seeing a 100 percent  growth in business from government. Therefore, looking at  this increasing growth in business coming from the government sector, which is only expected to further increase in the near future, we felt confident enough to set up a separate government sub-division within Canon.
Do you agree that this increase in business from government is an outcome of strategic change on the part of the Government of India?

Surely change of strategy on the part of the Indian Government (eg. e-Governance) has played a major role in increasing the government spend on technology. The second reason for the increase in business from government is an increasing awareness amongst government officials that for a faster decision-making and smoother customer service intervention of technology is important. Thirdly,  the increased government business with Canon is also due around 100 strong dealer networks that Canon has established in more than 100 cities. Through these dealer networks we are in constant touch with various government departments and ministries, thereby consolidating our knowledge, understanding and penetration in the government.  Fourthly, the increase in business of government with Canon is also because of our products. We are one of the very few companies which provides entire gamut of digital imaging. So for any Information Technology (IT) operation we provide all kinds of business machine. Thus, for making any office / government department more effective and productive, one would always thinks of Canon.
"Document management system will mark the second generation of IT reforms, after all the government departments have already adopted digitised equipments"

Another big enabler for us has been our association with Directorate General of Supplies & Disposals (DGS&D). In the last three years, Canon has been really strong in reaching out to DGS&D. So much so that  moving from 8 products in 2006, next year i.e. 2009 we are planning to list 28 products on the rate contract covering almost all categories.
What are the main aims of new government sub-division which Cannon has created?
In this sub-division, the ultimate vision is to create a country-wide foot print. But just now we have been able to cover only three states of Maharashtra, Karnataka, and Tamil Nadu along with Delhi (which includes DGS&D, National Internet Exchange of India). Through the working of this sub-division we have identified around 275 decision-making bodies, with whom we are interacting on a regular basis through our dealer networks. By decision-making bodies, I mean those ground level officers, who after all the resource allocation and policy decisions which comes from the higher strata of government officials, ultimately take the final call on which brand to buy. But with thousands of decision- making bodies within government existing all over India, 275 is still a very small number.
We aim to  create, maybe in the next two years, machinery and infrastructure which can reach out to more than 1000 of these decision-making units covering all the states of India, and constantly keeping them updated about our products and services.
Our other main agenda is to climb on the value-chain with these decision making bodies, so that we can serve them over the entire range of value-chain covering the whole process. Now this value-chain comprises of two parts, one is the visible part comprising of tender, quotation, comparison of quotes, final order and installation.
The other is the invisible part of the value chain containing within it resource allocation, budget allocation, technology comparison and specking. Now for vendors in government buying, the invisible part of the value-chain becomes more important. And in order to engage strongly in this invisible part of the chain one has to have regular involvement with these decision-making bodies. Another advantage of  this constant involvement what has happened is that our focus has moved from order-chasing to keeping a constant update starting from the very first step of budget allocation which is very important. So this is our vision that with 1000 decision-making units we should  be able to handle an entire value-chain of purchase.
As one of your goals for this segment, will it also be looking at new developments in order to tap opportunities  arising in the government sector. For example birth certificate and death certificate being moved from analog to digitised system, or land digitisation which is also at a nascent stage, does all this excite you as an organisation?
The deeper you go into the government sector the more you realise that you are just looking at the tip of the iceberg. Initially, we looked at opportunities at the decision-making units (DMUs), then we started  looking at allocation, today we feel that the whole re-figuration of utilisation of these products for the efficiency and productivity of the government machinery can open up much bigger opportunities.
Just now we understand only the opportunity of hardware within government sector, but very soon there is going to be an equal or a bigger opportunity of document management system within the government departments. This demand of the document management system will mark the second generation of IT reforms, after all the government departments have already adopted digitised equipments. Within government or private enterprise, there are four points in paper movement, first is 'entry gate', then comes 'flow of paper across the organisation', third is the 'security point', and last comes the 'output'.  So there is a need for such a document management solution which can integrate paper movement in the form of electronic work-flow; so that it is visible to the people who matter, is secure from where security is necessary, and is printed out only at the point where a customer requires it.
This would be the future way of working even within the government where one distributes or sends  documents/ papers electronically and prints them only at the point where it is required. So within the government sector also printing would get decentralised and the work-flow would become electronic, thereby generating a much greater need for many more decentralised output systems.
So can we say that Canon is really banking a lot for its growth on the government's adoption of technology, which is indeed very slow?
Well, 100 percent growth in business that we are getting from government cannot be termed as slow. The speed should be such that there is higher degree of conformity, consensus, and acceptance, which to my mind is happening quiet fast in India. The important thing is that government should share this success story with more and more people, so that there is higher degree of momentum in terms of its acceptance.
Another reason for betting big on this high growth segment of the government is because this segment is treated as supposedly immune to recession. For one segment which does not stop buying even in recession is that of government. Thus, in this sense also this segment becomes important for the growth of Canon as  a company.
What is your view of government as a buyer?

Contrary to the conventional view, according to me government is the most intelligent buyer. Intentionally or unintentionally government makes the competitive process very transparent.
And on technology issue, government takes all the more safety, by keeping abreast with all the recent developments, and by making the tender very detailed if required. Thereby in case of a larger buy, through a very competitive process the government manages a purchase at the lowest price, with the least risk involved.
How do you plan to focus on state government and federal government?
In terms of physical coverage we have more people/dealers for bringing in information about opportunities within the government sector. We also plan to participate more in government events and forums, so that various government departments become aware of Canon as a brand and also understand the advantage of engaging with Canon.
Are you planning to set up any new Research and Development facility or planning to upgrade it?
For government and other enterprises we have created lounges in Bangalore, Mumbai and Gurgaon. These lounges showcase our business products in their networked and working order. Our technology is our biggest asset, but as it potable and needs to be showcased in its fully functional state, so these lounges are very important where we conduct seminars. Because then they can take their own unbiased view on whether to go for Canon as a brand or not. Besides that we have a R&D Software Design Centre in Noida. and  we have just opened another Hardware Design Centre
in Bangalore.
Apart from printers market what are the other opportunities you are looking in e-Governance segment?
Printers has to be seen as printers, scanners, faxes, all in one, opportunity for us would be visual communication devices. These will become important for government because with digitisation becoming the core in the government information machinery, for both government to government (G2G) and government to citizen (G2C) communication image capturing is going to become more and more digitised.
How are you planning to tap bigger organisations like Bharat Sanchar Nigam Limited (BSNL) and railways?
These are covered within the government sector only, so we give the responsibility to the same team from the government sub-division. In railways we connect to the central office. Then railways also has a number of decision-making units with whom we connect through our dealer networks spread in around 100 cities and covering almost 275 decision making units.
Even BSNL is covered in a similar fashion as the railways. But in case of BSNL our reach is not so deep as we have covered only the ministry level and have not as yet covered the national spread which BSNL has.
Have you worked with any Common Service Centres (CSCs)?

We cannot do it directly, but we have been involved with Common Service Centres (CSCs) and  State Data Centres (SDCs) through system integrators.
What are the major challenges you face when it comes to dealing with government sector?
The biggest challenge that we face in this sector is due to the absence of any mechanism through which one can get the information about the existing or upcoming opportunities within this sector. In a fixed    rate regime through the DGS&D rate contract, transparency and higher visibility amongst all the vendors is only going to ensure higher commitment and best services for the government.
Are you happy with the current tendering system?

No, because it is not serving its purpose of transparently ensuring the dispersion of information and thus allowing the participation of all bidders because of which government itself suffers as it does not get the best deal. Another important area of tender is 'specking', which is a very unproductive process. Due to this some brands get left out intentionally or unintentionally. In order to allow more competitors to participate, the tender should not be very tight. Another reason for keeping the tender a little open is because no company makes products to exactly suit the government specks.
Sometimes Canon also coordinates with government and helps it do the specking  then it might be that these specks are a little closer to Canon's specks and that might remove other's chances; or it might be the other way around. But, whatever said and done 'specking' is a very unproductive process.
Follow and connect with us on Facebook, Twitter, LinkedIn, Elets video