GDCO initiatives:
Gedaref Digital City Organization (GDCO) is a non-profitable NGO (Gedaref Sudan). It is the founder of the first digital city in Sudan (2005) and the first National Telecentre Academy in Africa and the Arab world (2008).  GDCO has strong partnership with the great people of Eindhoven through the digital city of Eindhoven (DSE) where 750 computers were donated to establish many Telecentres and ICT projects for community development in Sudan. http://gedarefcity.org/. GDCO became the winner of i4d 2007 award in the 'overseas' category and eINDIA2008 award in 'Best innovations at the Grassroots Telecentres' category.
GDCO is the only organisation in Sudan dealing with the people with special needs (disabled) through ICT. GDCO trains them for free, provides free computers to deaf to keep at home, GDCO work very hard in training these disabled. The academy will be a great tool for enhancing capacity of all disadvantaged groups.
Establishing SuNTA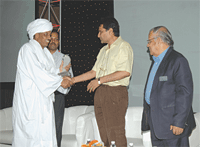 Though telecentres are not in the priority books of the Sudanese community, they have a great role in expediting development and enhancing capacity building of the community. The 5th East Africa Telecentre Leader Forum (9th to 10th June 2008; http://www.gedaref.com/5theatlf/) established the first national Telecentre academy, 'Sudan National Telecentre Academy (SuNTA)' in Gedaref (Sudan) to encourage community development through ICT and as a media for development.
The main objectives of Sudan National Telecentre Academy (SuNTA) are :-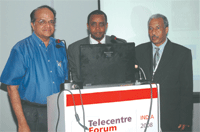 Utilising ICT4D in Sudan

Bridging the digital divide created by the information revolution

Fostering inclusion of the disabled within the society through information telecommunication technology

Initiating effective database systems for perfect planning to achieve a comprehensive development in Sudan

Seeking financial and technical support from funding institutions, including civil society organisations (national and international), governments and private sectors

Enhancing exchange of experience and knowledge with the global telecentre network and the information societies

Setting local programmes' contents as required for capacity building, implementation of specialised advanced training programmes in the fields of information technology and cognitive skills for practitioners in telecentres

Co-ordination between the working organisations and institutions in ICT to achieve the shared goals and to establish and operate telecentres

Utilising available infrastructure of partners to operate telecentres by securing funds according to regulations and priorities, securing logistics and basic subsidiaries

Providing the Government with technical support and consultancies to execute its technical programmes

Establishing Sudan Telecentres National Network, to include all institutions (public and private) and concerned organisations that work in the fields of digital technology and knowledge, beside having partnerships to support, exchange experiences and information
Launching the SuNTA website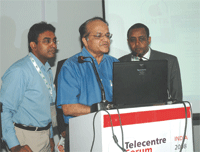 In eINDIA2008 conference and at the Telecentre forum V N Rajasekharan, the Vice Chancellor of Indira Gandhi National Open University (IGNOU), his Excellency Elbasheir Sahal, State Minister of Education (Gedaref state, Sudan) Dr Basheerhamad Shadrach, Senior Programme Officer, telecentre.org, Vignesh Sornamohan, CSDMS, members of Sudan Telecentre National Network and Ahmed Eisa, the Chairman of GDCO launched SuNTA web: http://sudantelecentreacademy.org/
Follow and connect with us on Facebook, Twitter, LinkedIn, Elets video