Medical Technology Conference
Interactive Partnership – Accelerating Sustainable Healthcare
15th April 2008, New Delhi
Indian healthcare is poised to become the largest service sector in the country, at INR 140,000 crore in five years. Medical equipment logically forms the backbone of the healthcare sector. Thus, the tremendous growth opportunity in the healthcare sector automatically translates into a similar and even greater opportunity for the medical equipment sector, which is now valued at over US$ 900 million.
The Confederation of Indian Industries (CII) recently organised a day – long conference in New Delhi on Medical Technology based on the theme of 'Interactive Partnership for Accelerating Sustainable Healthcare'.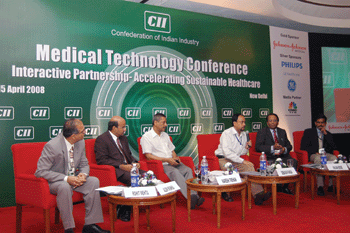 L to R: Mr. Rohit Mehta, Vice Chairman, CII Medical Equipment Division & General Manager, Larsen & Toubro; Mr. Alok Mishra, Chairman, CII; Medical Equipment Division & Area Manager International