Manipal Cure and Care (MCC), India's first retail health care centre, was presented the prestigious Golden Peacock Award for Innovative Product/Service Award 2007 in January this year.
This is the first time that the Golden Peacock Innovative Product/Service award has been bestowed to a health and wellness retail brand. Moreover the achievement comes just five months after the brand was launched.
The MCC Group was awarded the GPNQA in health care delivery in the year 2005 for the first time. The focus from the beginning was on offering innovative service under Xpresscare, harnessing of new medical technology; bringing in world-class health products – each having a USP, incorporation of international clinical practice guidelines, unique bottom up HR initiatives and IT technology, enabled the MCC to bag this prestigious award, said Somnath Das, Chief Operating Officer, Manipal Cure and Care. Manipal Cure and Care is an initiative of the Manipal Education and Medical Group (MEMG). Sub-brands include Mask, Smile, Xpresscare and Foot Solutions.
Xpresscare is a preventive health care service aimed at busy, working professionals with a demanding lifestyle. It is a set of health packages with a turnaround time of just 45 minutes from billing to completion of checking the diagnostic results by an Internal Medicine Consultant. The packages offered are: LiverCare, KidneyCare, LungCare, DiabCare, RheumaCare Post Exposure Care.
MCC plans to open 50 centres by 2011 and is looking at foreign markets too. MCC centres have consultant doctors in general medicine, dermatology, dentistry, paediatrics, gynaecology, opthalmology, endocrinology and laboratory medicine amongst others.
Its operations are spread across India, Middle East and several Southeast Asian countries. Plans are underway to open hi-tech Manipal Cure and Care centers throughout India beginning with cities such as Ahmedabad, Bangalore, Pune, Mumbai, New Delhi, etc. and gradually spreading to other parts of India.
The integrated Manipal Cure and Care (MCC) centres offer a mix of world-class products and services in preventive, wellness and beauty care. Comprehensive Health Checks are available for men, women and children that take less than half the usual time taken by other hospitals. Wellness services include immunisations, antenatal care, baby care, adolescent care, eye care, hormonal management, dietary counseling and sexual health advice.
Additionally, there are specialized dietary counseling and weight management services. Beauty services include skin care and dental care as well as skin piercing. They are the first in India to provide qualitative monitoring of health care driven by well-trained doctors and paramedical staff.
MCC offers health services that are customised, based on each individual's lifestyle and family medical history. It follows award winning protocols and processes along international best practices and employs staff trained by the Oscar Murphy Institute to deliver highly personalised in-store experience for each and every guest. The pharmacies are also well stocked.
A salient feature of MCC is that it offers a new product every 90 days and technologically advanced services every 180 days.
MCC has introduced many new things for the first time in India. These include A-M-P-L-E Card (Allergies, Medical History, Past History, List of Medication, Emergency Number), EMR (Electronic Medical Record), Integration of CIMS (Cumulative Index of Medical Specialties – pharmaceutical drug interaction alert) with EMR, Customer Charter and error proofing methodology to name a few. This is drawn from the rich experience of MEMG in health care delivery spanning over half a century and spread over three countries.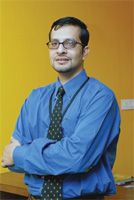 Somnath Das, Chief Operating Officer
Follow and connect with us on Facebook, Twitter, LinkedIn, Elets video