IICP opts for various methodologies, initiatives and interventionist strategies to mitigate the problems of the children suffering from neuro-motor disorders and multiple disabilities

IICP and cerebral palsy
Indian Institute of Cerebral Palsy (IICP), a leading national level Non Governmental Organisation (NGO)  recognised by the Ministry of Social Justice and Empowerment, Government of India, is a specialist resource centre for cerebral palsy. It is also a national resource centre for Alternative and Augmentative Communication (AAC). IICP has 31 years of experience in service delivery, research and training and has focused on inclusion using assistive technologies to empower access, education, communication, vocational training and leisure skills. The primary focus of IICP is to develop:
Multimedia educational tools

Language prediction and processing  tools

Communication hardware – Voice output communication aids

Access switches
The approach of IICP has been to develop and use technology that is pragmatic, affordable, easy to use, flexible, inclusive and responds to the users' individual and contextual needs. This has led to the establishment of the National Resource Centre, which aims to maintain, display, demonstrate and develop alternative and augmentative communication and inclusive technology resources and to provide training in the desired areas.
Responding to the communicative needs

IICP has initiated pioneering steps for the development of communication display boards, and culturally appropriate picture symbols to meet the wide range of communicative needs for the users with complex communication problems. This includes people with cerebral palsy, aphasia, ataxia, autism, strokes, spinal and brain injury, throat cancer and other neuro-motor problems. These display boards can be used extensively because these are versatile, non-expensive and easily made. Moreover, in a country where a major section of people are non-readers, the picture symbols can be extensively used by people with low literacy abilities. Obviously it is very important that these symbols relate to the environment of the persons interacting, which could not be met by commercially available Information Communication Technology (ICTs) of the west. This need culminated in the development of the software 'Indian Picture Symbols for Communication' to enable facilitators to replicate linguistically and culturally appropriate symbols to plan and produce communication displays for AAC users. There are 1956 symbols being used as the content of several types of software.
ICT initiatives in IICP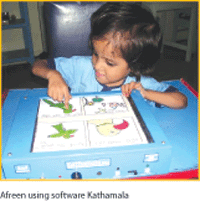 ICTs is assisting people, mainly children, with multiple neural disorders. ICTs have proved to play a major role in the lives of people with multiple disabilities and complex communication needs by providing support in many ways. Launching the UN initiative to standardise ICTs for People With Disabilities (PWDs), Kofi Annan, Ex-UN Secretary-General said, "Access to ICTs creates opportunities for all people, perhaps none more so than persons with disabilities" (December, 2006). But the reality of the day is that ICT is often created without regard to people with disabilities, creating unnecessary barriers to hundreds of millions of people and strengthening the digital divide on the basis of availability, accessibility and affordability of ICTs. So the need of the day is to create universal accessibility, a drive to develop inclusive technologies or technology for 'ALL'. Universally accessible technology yields great rewards to the typical user; while at the same time it caters to the need of the users with special needs
Follow and connect with us on Facebook, Twitter, LinkedIn, Elets video