eHealth Initiative and its Foundation
The eHealth Initiative and its Foundation are independent, non-profit affiliated organizations sharing the same mission – to drive improvements in the quality, safety, and efficiency of healthcare through information and information technology.
eHI engages multiple stakeholders, including clinicians, consumer and patient groups, employers, health plans, health IT suppliers, hospitals and other providers as also its growing coalition of more than 200 state, regional and community-based collaboratives, to reach an agreement on and drive the adoption of common principles, policies and best practices for improving the quality, safety and effectiveness of healthcare through Information and Communication Technologies.
Health information exchange (HIE) is defined as the mobilisation of healthcare information electronically across organisations within a region or community. The goal of HIE is to facilitate access to and retrieval of clinical data to provide safer, more timely, efficient, effective, equitable and patient-centered care.
Formal organisations are now emerging to provide both form and function for health information exchange efforts. These organisations often called Regional Health Information Organisations, or RHIOs, are generally geographically-defined.
They develop and manage a set of contractual conventions and terms, and arrange for the means of electronic exchange of information, and develop and maintain HIE standards.
The results of eHealth Initiative's Fourth Annual Survey (2007) of Health Information Exchange at the state, regional and community levels in the United States of America indicate that at least 125 communities across the U.S. are continuing to bring together multiple stakeholders to focus on the secure exchange of health data to improve health and healthcare for patients.
Of the 130 initiatives included in the 2007 survey, 20 are just getting started, 68 are in the process of implementation, 32 are operational, five are no longer moving forward, and five did not respond to the survey question regarding stage of development.
Need for information exchange
Many patients visit more than one provider at various sites of care over time. In order to make the best decisions for their patients, providers need accurate, complete and up-to-date data. In which case, well and securely managed health information exchange has the potential to increase efficiency, lower costs and increase safety and effectiveness.
Today healthcare costs are also on the rise, due to lack of up-to-date patient information which makes healthcare delivery inefficient and often unsafe, as also due to unnecessary costs stemming from factors such as duplicate testing.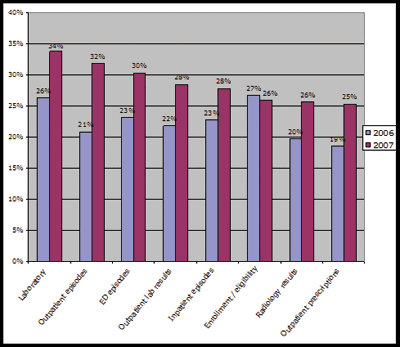 Health care spending in the United States as reached an all time peak. In the eHI survey, 99 percent of HIE organisations said healthcare provider inefficiency due to a lack of information to support patient care was a significant or moderate driver for the project. And more than half (60 percent) said rising healthcare costs were a significant driver for their activity. Standardisation, and secure information exchange would improve quality and safety of care while  eliminating costs.
Patient privacy and security concerns
Information exchange in the healthcare domain is a most sensitive issue, more so than even in the financial sector, since lives are at stake. Accuracy and timeliness are of paramount importance, as are the security of the data exchanged.  However, a key difference here is also, the multi-point accessibility requirements of this kind of data.
Planning for a safe, secure data exchange is therefore a priority for HIE efforts. Most place a priority on exchanging data that leads to better patient care first.
A majority of these HIE efforts are exchanging (or expecting to exchange within six months) data related to outpatient and inpatient episodes, laboratory results, emergency department episodes, pathology results, and enrolment and eligibility information. More than three out of four (76 percent) are employing the use of standards to exchange data electronically.
Primary focus of HIE initiatives
Overall, the percentage of health information exchange initiatives exchanging data is on the rise with 34 percent of 2007 respondents currently exchanging lab data and 32 percent exchanging data related to outpatient episodes, up from 26 percent and 21 percent respectively, in 2006. Exchange of emergency department episodes, inpatient episodes, outpatient laboratory results, and radiology results are also up from 2006, with 30 percent, 28 percent, 28 percent, and 26 percent, respectively, offering these services in 2007.
Supporting direct care delivery continues to be the focus of health information exchange efforts, but providing population health related services continues to be an emphasis for some