'Bumrungrad' is a Thai word pronounced as 'Bahm-roong-RAHT' – meaning 'care for the people'.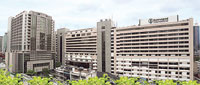 The Bumrungrad facility is run and managed by an American-led international management team . It has more than 2,900 employees on board, with 900 physicians and dentists (most of them having international training/certification) and over 800 nurses and paramedics.

Bumrungrad International is a globally recognised and accredited, multi-speciality hospital located in the heart of Bangkok. Founded in 1980, Bumrungrad is the largest private hospital in South-East Asia, with 554 beds and over 30 speciality centers. The hospital offers state-of-the-art diagnostic, therapeutic and intensive care facilities, working as a holistic one-stop medical centre.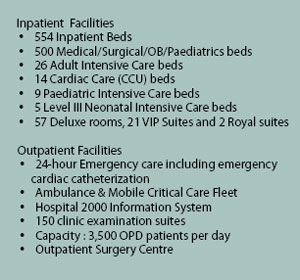 Bumrungrad serves over a million patients annually, of which over 400,000 are international patients. They  include thousands of expatriates who live in Bangkok and other neighbouring countries, and visitors from more than 190 countries across the world who come here for treatments. In order to cater to the special needs of international patients, the hospital has set up a medical coordination office, staffed by doctors, nurses and interpreters.
Accreditations
Bumrungrad has many firsts to its accreditation credits. It was the first hospital in Asia to be accredited by the US-based Joint Commission International (JCI) in February 2002 and re-accredited in April 2005. It was also the first private hospital in Thailand to be awarded Hospital Accreditation based on US and Canadian Standard, and the first hospital in Thailand to be re-accredited. In addition, it has an internationally certified laboratory and also the first one to be re-accredited outside the U.S.
Technological Infrastructure
The Red Cross gives Bumrungrad its top classification of "A"
Follow and connect with us on Facebook, Twitter, LinkedIn, Elets video