Rapid growth in healthcare services
Market for healthcare services in India is growing at a rapid pace, and a large number of healthcare entrepreneurs are setting up different types of healthcare facilities, right from super specialty hospitals to primary care clinics, and  alternate therapy units to specialized centers for wellness management – in the  process, investing more than US$ 2 billion every year on infrastructure alone !!
While the number of persons with private health insurance is small (around 22 million), this is growing at around 35-40 % per annum, and expected to cross 100 million in the next 8-10 years. This is likely to push the total number of persons covered under some form of third party payments to well over 200 million! At around  20% of the total population, this is significantly lower than in the developed economies, (where 70-80 % of the population is covered by some kind of third party payments), but in terms of absolute number of persons covered it will compare well with the largest third party payment driven market, which is the US, where close to 250 Million People are covered under health insurance programs. This will further fuel the growth in healthcare facilities.
Despite such explosive growth on both sides (healthcare services, as well as third party payments), a large percentage of the population will still have problems accessing even basic healthcare, there will be wide variations in the quality of healthcare services, and healthcare costs could go up significantly. Addressing problems relating to access, quality and cost requires data, and data is best collected, stored, shared and analyzed using information technology, which will help to reduce costs, improve quality and increase coverage. The current landscape provides us pointers to the effective use of IT.
Current landscape poses several challenges
Since independence, India has done well in areas like improving the general health status, developing high-end hospital services as well as a world class pharmaceutical industry. But there are still areas of concern:
Public spending on healthcare is stagnant and most of this is by the states. There is an enormous variance across states, and the overall result is that healthcare infrastructure, utilization, and disease burden compare unfavorably with the average of even low income countries. Availability of physicians and hospital beds are low, despite the fact that India accounts for 20 % of the global disease burden.
The poor still depend on the public health system for major health services. Non-existent, poor, or underutilized medical facilities and a shortage of medical staff often force patients to travel large distances to get specialist care.
Almost 80 % of spending on healthcare is out of pocket, and hospitalization often results in financial catastrophe for poor patients, many of who end up borrowing money or selling assets to pay for health services.
Information based healthcare systems will result in better quality
Examples of responses to current challenges could be grouped as follows:
Operational efficiency
Improving the efficiency of third party payers by using electronic records

Improving efficiency in the procurement and distribution of materials and drugs

Using hospital management systems
Health management and planning
Monitoring for identifying epidemics at an early stage

Planning using health facility maps
Health delivery
Linking up primary, secondary, and tertiary referrals using electronic health records

Improve access using mobile health teams and telemedicine
Health research and education
Continuing education of doctors and professionals

Spread of health awareness

Enabling the design of new drugs
There is no doubt that IT can provide foundations for informed decisions to tackle these, and individual IT-based solutions do exist for all the examples listed. However, rather than pursuing piecemeal solutions, India should set its sights on developing an information based healthcare system within which transparent, cost effective and high quality solutions for specific problems can be developed for specific problems, and significantly assist in improving the state of healthcare in the country.
Of course there will be barriers to the adoption or increased use of IT in healthcare, which include infrastructural ones like power supply, telecommunications and connectivity issues, as well as poor IT awareness. But an information based approach will form the cornerstone for a modern healthcare system that will be more efficient and transparent and in the long term will result in better quality and coverage. A national health data network, electronic records, and standards will form the foundations of an information based healthcare system. The Health Hiway is a National Health Data Network.
Building the Health Hiway
The Health Hiway is a reliable, secure, national health data network that will form the backbone of a national health information infrastructure. The Hiway is -A "Network of Networks", built on the Internet, that makes patient health information available online to healthcare providers, when and where they need it
A "System of Systems", that includes Payer Related administrative information exchange, as well as clinical health information exchange

Includes infrastructure to define and support all necessary standards, policies, network services, and regulations and business rules
It will allow sharing of health information amongst consumers, providers, payers, regulatory bodies and health professionals. The Hiway will include mechanisms for dealing with multiple data formats, languages, input devices, and IT-readiness. It will impact on healthcare by –
Providing a uniform architecture for health care information that can follow consumers throughout their lives.

Bringing together technology developers with doctors and hospitals to create innovative state-of-the-art ideas for how health information can be securely shared

Implementing data and communications standards  for the secure exchange of health care information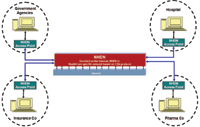 Standards will enable the use of IT to share medico-legal records, follow up referrals, ensure an efficient supply chain of drugs, keep nationwide inventories, exchange information seamlessly between hospitals and diagnostic laboratories and so on. Standards will specify what data are stored, how they are stored, and the mechanisms for sharing them. Development and maintenance of these standards will require the participation of public sector organizations and private enterprise. These standards will cover areas like electronic health records, drug databases and interactions, laboratory formats and technical specifications.
The Hiway will eventually help create electronic health records for all Indians, that will provide every patient, provider, and payer with the information necessary for optimal care, while reducing errors, lowering costs, and administrative overheads.
The Health Hiway seeks to improve patient safety and quality of care
The Health Hiway opens for claims submission traffic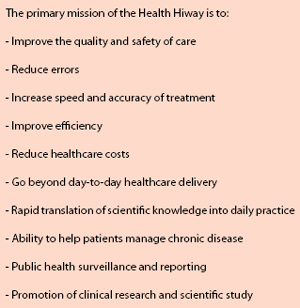 Developed countries have discovered that sharing patient health information has huge advantages, and can bring down costs, administrative and otherwise, associated with third party payment systems. For instance, in the US, for an insured population of 280 million, more than a billion claims are raised every year and administrative costs incurred by private health insurance companies is close to US$ 80 billion !!
In India, the 22 million people with private health insurance result in around 1 million claims. But the claims volumes are expected to grow exponentially due to the following reasons:
Overall increase in the number of persons covered under third party payment

Persons with health Insurance more likely to use hospital/physician services, even if not entirely required

Hospitals prescribing unnecessary or inappropriate procedures for financial gain

Frequent utilization of physician services will result in large number of smaller value claims

Physicians resorting to defensive medicine to safeguard themselves in the event of a malpractice suit, thereby causing an increase in number of procedures carried out

Opportunities to benefit from fraudulent claims
Health Insurance companies are already grappling with loss or claims ratios in excess of 100%, and will attempt to reduce these ratios to ensure profitability. Faced with increased claims volumes, they might
Reject claims, or require multiple resubmission of claims

Delay payments

Insist on eligibility verification ahead of treatment, so that patient's insurance eligibility is validated

Create increased administrative workload and costs for the hospital/physician practice

Telephone calls for eligibility verification/follow-up on payments

Claims preparation (in formats specified by Payer)

Claims submission (courier/fax charges)

Accounting (to keep track of payments received)

Collections (from patients – difference between bill and amount approved by payer)
Health insurance companies have already realized that electronic transactions will help them manage large volume of claims while keeping the costs down. What is less known is the impact that electronic transactions can have on provider organizations. A hospital that currently relies on paper, fax and telephone calls for insurance administration may not only be able to save money, but improve customer service by implementing electronic transactions for operations like pre-authorization requests, and claims submissions.
Electronic transactions can create tremendous value for hospitals
Electronic claims submission reduces rejections and the need to resubmit claims multiple times improves cash flow and reduces accounts receivable days because claims are paid more quickly

Electronic eligibility verification allows hospitals/physicians to easily validate patient's insurance eligibility on every visit, reducing the collection and billing costs for patients without coverage, and reducing bad debt

Electronic transactions reduce administrative staff telephone time

Electronic payment posting significantly reduces accounts receivable errors and improves customer satisfaction
Follow and connect with us on Facebook, Twitter, LinkedIn, Elets video