Open Source has been the much talked about during the last few years and we have everyone talking about it in just about any ICT conference or seminar. As they say "Necessity is the mother of Invention", so was CII-Shisha's tryst with Open Source philosophy.
Around 2 years back (early part of January 2006), CII-Shiksha, in its bid to bring in more relevant and appropriate technology tools chanced upon Open Source. The concept was new to us and so every move was deemed crucial. CII-Shiksha did a few experiments with introducing Moodle LMS to a select group of DAV ( Dayanand Anglo Vedic ) schools from Delhi and NCR. The response was excellent and very encouraging for us as here was something that teachers had been waiting for anxiously. A category of tools that could help them move beyond just using ready made CDs or presentation tools and make available to them tools that they could map to their teaching-learning process and help achieve the set objectives with the desired outcome.
The initial sucess of introducing open source tools propelled CII-Shiksha to explore more and provide a full range of open source tools and technologies to the teachers, thus enabling them to control their teaching-learning, both content-wise and delivery wise CII-Shiksha with a clear cut focus on empowering teachers with variety of e-Tools has trained close to 2000  subject teachers across India in various open source tools. The open source toolkit of CII-Shiksha includes a combination of  productivity and pedagogy based tools so that an appropriate relevance and usefulness could be brought in.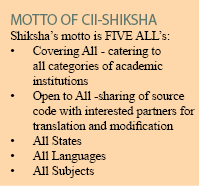 CII-Shiksha is helping teachers make a transition from a classroom teachers to being an e-Teacher by building the necessary capabilities in the teachers. Teachers, now have shown tremendous results on how they can make their teaching-learning more effective, if given the freedom to let out their creativity. The early description of content as just being a readymade CD is out of date. Now, the content refers to a teaching-learning resource. CII-Shiskha is helping the teachers to utilise their subject knowledge and sound awareness about pedagogy principles and then blend it with their technology capabilities to deliver the teaching-learning as they want it.
During the past one year, CII-Shiksha has introduced many interventions to encourage and promote e-Teaching as the preferred methodology for teaching-Learning. The teachers are being trained in various web-tools to help them build up various online learning platforms for their students. A free online portal (using open source), www.eshikshaindia.in has been setup for teachers and students to provide a sharing and collaboration platform for teachers and provide free learning resources for students.
Follow and connect with us on Facebook, Twitter, LinkedIn, Elets video