Public-Private-Partnership (PPP) provides an opportunity for private sector participation in financing, designing, construction, operation and maintenance of public sector Programmes and projects. Educomp Solutions Limited works very closely with various Governments, Ministry of IT, Ministry of HRD, and Govt. of India in the execution of educational programmes, teacher training and content development projects under the PPP model.
ASSAM: Winds of Change- Charting a new course for Education in Assam
North East India is a region with strong natural and human resources. However, it has remained backward in the field of communications and even after sixty years of Independence, the region has a poor economy and connectivity remains a problem. While various development schemes and tools have been devised over the years, the emergence of Information and  Communication Technology (ICT) as a tool of development across different parts of the world opens up new possibilities.

AMTRON on behalf of Govt. of Assam has moved ahead to tap these opportunities for High and Higher Secondary Schools across the state in phase manner by harnessing the potential of Information Technology to aid educational transaction to improve its quality education.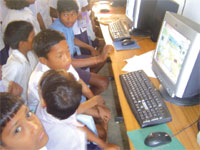 The Rajiv Gandhi Computer Literacy Programme-an innovative effort of Government of Assam in introducing computer literacy and computer aided learning in schools, was launched in the year 2003. RGCLP is a good beginning for disseminating education among rural children effectively and economically. The gap between people and information technology and education which exists due to lack of infrastructure facilities is now being bridged. A school in the most rural and remote area have been turn into an information-hub under this project.
Educomp Solutions Ltd. has been entrusted by the Government of Assam to implement the programme on Build, Operate and Transfer (BOT) basis in 100 numbers of High Schools under Phase-IV across 10 districts in the state.
As a part of the programme a state-of-art ultra modern computer lab is being constructed in the 100 schools wherein IT Infrastructure have been installed in one of the classrooms of the school and two Computer Faculties have also been deployed in each school. An interactive training has also been provided to all the Computer Faculties for transacting the classes covering both theory and hands-on sessions. Printed guidelines, manuals and lesson-plans have also been provided to the trainees for ready references. More than 60,000 students of Class V-X are being covered through the project. It not only contains school curriculum but each student are taken through an eventful journey of self discovery, positive relationships, and creative expression through an innovative methodology including observation, retention and implementation.
Educomp Solutions Ltd. has taken up the challenges in translating the dreams into reality by converting remote classrooms into an IT hub by traversing the hurdles which includes areas inhabited by ethnic tribes, militant and difficult groups. Our LABs are first in areas like remote forest in Kokrajhar [Assam-Bengal border] and in Char-reverine areas of Dhubri where in only communication is though country boats. It's a challenge for us and we are committed in this eventful journey
ORISSA: Impact of BICEP [Biju Pattaniak Computer Aided Education Project]
Educomp Solutions Ltd. has been selected by Orissa Primary Education Programme Authority (OPEPA) as an implementing agency to set up the Computer Lab & to provide the Multimedia Based Content CDs in Science, Mathematics, Computer Literacy and English in Oriya and provide Training to 600 teachers covering 300 Schools across the state.

(written based on contributions from Ibrahim Nafis, Lalatendu Mohanty, monika Talwar and Subrat Biswas) .