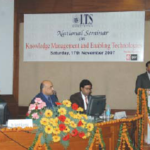 The National Seminar on Knowledge Management and Enabling Technologies was held at the Institute of Technology and Science in Ghaziabad, Uttar Pradesh on 17th November 2007. e-Gov was a media partner for the event.
The seminar began with a welcome address by the Chief Guest and Keynote Speaker, Dr. D.P Agarwal, member U.P.S.C, followed by three sessions, broadly divided, on the basis of theme of knowledge management (KM) and how technology enhances knowledge management. During the first session, discussions were held on the role of IT and knowledge management in addressing the issue of digital divide. While ICT can provide opportunities for development, there are inequalities between countries and between communities in the access to and utilisation of ICT.During this session, Satish Kaushal, Country Manager, IBM emphasised on empowering learning in the digital age, while Tanmoy Chakraborty, Global Head, TCS, spoke on bridging the digital divide through technology enablement. The session ended with Dr. S.N Rangnekar from IIT, Roorkee talking on the work force development.
The second session of the seminar was on knowledge management through innovation and technology. There are various tools and techniques for capturing and disseminating knowledge and information today. Although these tools are not yet available everywhere in the world, they are spreading rapidly and present a unique opportunity for developing countries to benefit most from the technological revolution now unfolding.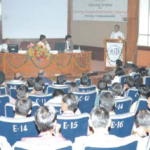 During this session Dr. M.M Pant, former vice-chancellor, Indira Gandhi National Open University, New Delhi, discussed the importance of knowledge management in education, after which, D. B.K Murthy, Director and Head –Industry Promotion, Department of IT, Ministry of ICT, Government of India, spoke on semantic web, while  G.S Krishnan, Group Head –IT and Secretary, National Knowledge Council spoke on innovation and productivity.
The final session of the seminar started with a panel discussion on the issues and challenges of knowledge management followed by V.K Jaitely, President STG (I) discussing industrial practices. Thereafter Dr. S.N Rangnekar talked about knowledge management and Shyam Motiyani, Project Manager, Innovation Department, CSC, Noida, on innovation and knowledge management.
The seminar ended with the distribution of certificates and scholarship cheques to the meritorious students of MCA from the institute.