Cisco, together with the National Institute of Smart Governance (NISG), hosted the 3rd Annual India Public Sector Summit on e-Governance between 29th and 30th October 2007, in New Delhi. The theme of this year's summit was 'Networked Nations: Transformational Change with e-Governance'. The summit focused on key priorities of the National e-Governance Plan, including e-Districts, unique identification, capacity building and leading transformational change. egov magazine was media partner for this event.
Inaugurated by R. Chandrashekhar, Additional Secretary (e-Governance), Department of Information Technology, Government of India, the summit saw the participation from various senior officials from the central and state governments in India and experts from around the world.
Speaking at the summit, Chandrashekhar said, "This forum provides an excellent opportunity with a backdrop of international experience for the Department of Information Technology to share and discuss its plans with leaders from the states and union territories who are responsible for implementing these plans in their respective jurisdictions. This forum helps us to design and evolve approaches and solutions that take into account both the specific circumstances prevailing in states and international best practices in order to address felt needs optimally."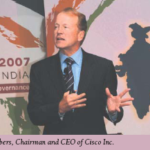 John Chambers, Chairman and CEO of Cisco Inc., in his keynote address, following the inaugural session said, "Governments worldwide have made significant progress in moving services online by implementing a network-based approach to increase access for citizens and improve productivity in national and local government. Effective collaboration with government and the development of universal broadband access lies at the heart of Cisco's strategy to support transformation of public services and drive socio-economic change across nations. The network truly can provide the platform for leading this transformation."
The two day summit included three-phased plenary sessions. The first phase included an introduction and update of e-District Pprojects, exploring the implementation issues  including ownership, governance, process re-engineering and ongoing sustainability, by Syedain Abassi, Director, Department of Information Technology, Government of India. This was followed by discussions on e-Panchayat and a talk by Simon Willis,  Vice President, Global Public Sector, Internet Business Solutions Group, Cisco on 'Integrated Service Delivery: The Global Experience.'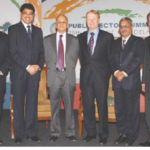 The second day of the summit started with an introduction by J. Satyanarayana, CEO, National Institute of Smart Government (NISG), and a key note address by Rajeev Ratna Shah, Member Secretary, Planning Commission, on a 'Unique Identifier for India-The National Vision.' The need to identify individuals arises for most government services, and the absence of a reliable system for such purposes has been an impediment in improving the targeting of development schemes and reducing leakages in the delivery system. This issue was addressed during the second phase of the plenary sessions that encompassed an overview of Technology Aspects of Unique ID (UID) implementation by Datuk Azizan bin Ayob, CEO of Commerce Dot Com, Government of Malaysia, after an introduction to UID initiative and the status of this project in India given by Radha Chauhan, Principal Consultant, Programme Management Unit, National e-Governance Plan (NeGP).
The final phase of the plenary sessions covered the capacity building plan for NeGP and next steps by R. Chandrashekhar. This was followed by a session on 'Managing Change in a Transformational Program: MCA21' by Y.S. Malik, Additional Secretary, Ministry Of Company Affairs and finally D.Scott Campbell, former CIO and Strategic Consultant, e-Governance (Canada) spoke on the leading transformational change.
The summit provided a platform for government decision-makers, those responsible for leading implementation, and international experts to exchange views.
Follow and connect with us on Facebook, Twitter, LinkedIn, Elets video