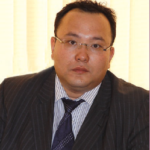 "IT-technologies development is one of the indicators of flourishing and readiness of a country for entering competitive world. Today Kazakhstan aims at joining 50 most competitive countries in the world." Says Kuanishbek Esekeev, Chairman, Agency for Informatisation and Communications, Republic of Kazakhstan, to egov magazine. Interested readers may contact Kuanyshbek Yessekeyev through Artyom V. Shamtsyan (artyoms@aic.gov.kz) Director, e-Government Center of Excellence of Republic of Kazakhstan.
What is the vision and mission of the National e-Government Programme of the Republic of Kazakhstan?

In 2004 e-Government Development Programme for years 2008-2010 was accepted in Kazakhstan. The main objective of the Kazakhstan e-Government programme is providing quick and high-quality access  to public services, enhancing efficiency of government bodies with the help of ICT, i.e. providing access to ICT for every user in everyday life.
To implement the existing objectives, the Agency for Information and Communication (AIC) was to perform a huge amount of preparatory work. Processes of such scale cannot be performed in a flash.  First of all we had to work out legal and methodological base development, which would allow the state, population and organisations, function in information society environment. Among the existing objectives we should mention developing and enhancing e-Services provided by state bodies; providing access to e-Government services, digital inclusion and enhancing educational level in ICT sphere.
First of all, AIC developed basic constituents of  e-Government infrastructure, optimisation of information infrastructure of the state bodies and providing e-Government information infrastructure security.
This year the agency has developed a project of new e-Government development programme for years 2008-2010. New goals have been set, we are advancing, and we have gained great experience in the sphere of interaction with state bodies and population of the country. The staff of AIC consists of young and efficient professionals who care for future of e-Government as it is our mutual grand enterprise, the success of which is an objective of vital importance.
Can you please tell us which of the projects under the National e-Government programme  have already been implemented?

First of all, programmes relevant both for AIC and the country in general, were implemented in 2006. On the 12th of April that year, e-Government web-portal (www.e.gov.kz) was launched which currently provides 900 information services. Laws "On Informatisation" and "On Amending Certain Legal Acts of the Republic of Kazakhstan in the Sphere of Informatisation" were developed and enacted. Interagency electronic workflow with digital signature has been implemented in 39 state bodies of the country, pilot model of National Authentication Centre for physical and legal entities has been developed and a pilot project on integrated transportation medium of state bodies has been implemented in the capital of Kazakhstan, Astana. Last year we had implemented, on an experimental basis, government databases "Physical Bodies" and "Legal Entities", in six regions of the country systems. "Land Register", "Address Register" were implemented, for 15 interactive services of state bodies software was developed and tested in the pilot zone (Citizens' Service Centres (CSC) of Almatinskiy and Saryarkinskiy regions, Astana) and setting up of 460 public access points was started. 11 classrooms for teaching computer literacy were opened in Almatinskiy, Zhambylskiy, South-Kazakhstan, West-Kazakhstan, Kyzylordinskiy and Atyrauskiy regions where more than 1500 civil servants have been trained by now. In 2006 three pilot projects on e-Akimats (government) development were implemented in East-Kazakhstan region, in Almaty and Astana cities. The objectives for the year 2006 were successfully achieved by AIC and now we have a number of issues of equal importance to be solved in 2007.
How far has Kazakhstan progressed in terms of the programme implementation?

By now process of those interactive services delivery for which this system was developed has been launched on the e-Government portal. According to the strategy of e-Government services development in Kazakhstan, the portal integrating the sites of all government bodies in the Republic was to pass four development stages. The start was given by the information stage which has been operating since last year: almost all of the state bodies have web-sites of their own where any user can get information concerning legal and organisational base of the given agency. Providing "live" electronic communication between officials and population is the main objective of the second stage of  e-Government development, interactive. Today on the government portal (www.e.gov.kz) we have launched new services which used to be available only in case of personally attending this or that government office. Very soon there will be no necessity for the citizens to stand in long queues and lose time waiting for residence certificate, matrimonial status certificate, submitting application for ID documentation and TRN in the citizens' service centres, for example. Interactive stage, which is now being implemented, pre-supposes implementation of personified e-Services for population. Now e-Government web-portal is integrated with the system of government bodies' electronic workflow and national databases. This year in March, a service of application submitting was launched on the portal due to which any citizen of Kazakhstan can apply to five Ministries of the Republic and get an answer to his question. Last year we developed a software and carried out integration with departmental systems for interactive services implementation. In answer to his application a person gets confirmation of the documents being ready at his mail address and goes to CSC to get them. This service is now tested in CSCs of Almatinskiy and Saryarkinskiy regions of the capital. By the end of the year the system will be improved. The documents authenticated by digital signature can be printed at home. Every day e-Government web-portal is visited by approximately 500 users. Almost all the Akimats and ministries opened virtual reception rooms. Visitors can download reference-document, get acquainted with legal base and find out addresses of various offices.
In the third stage of e-Government development, i.e., transactional, it will be possible to pay for various public services via government portal. AIC is planning to develop a payment system based on existing electronic transactional (payment) system of second-tier banks. Actually we plan to integrate these so far separate systems the way we did with the sites of ministries and departments, which now can be accessed by the user from the portal www.e.gov.kz.  The fourth stage, stage of information society, pre-supposes gradual increase of the portal users in number, that is, transfer to public services delivery (900 of them are to be represented on the portal in 2009) only in electronic form.

As Republic of Kazakhstan is a rather young independent country, do you consider e-Government to be the right means for the development of the country?

Undoubtedly! Our country is on the way of economic, social and political rise. Development of life activity spheres of our citizens is one of the main indicators of success and progress of a country. IT-technologies development is one of the indicators of readiness of a country for entering competitive world. Today Kazakhstan aims at joining 50 most competitive countries in the world. That is why development of the so called "electronic environment" for the population is actually a very important process, including not only content of state bodies and their services but the offices themselves which will function in the net. It is necessary that our citizens should use the contents for it to be demanded. Any developed information medium is useless without population using  the system.
How do you position Republic of Kazakhstan in the context of e-Readiness?

In spite of all success in the process implementation, we should not forget the existing issues which we have to solve by means of diligent work of AIC, the country in general, government bodies and companies we interact with. Today only 12% of the population in Kazakhstan has skills to use PCs. Only 8% of the population are active Internet-users. Among the most skilled users are students, managers, specialists and officials. Least skilled users are housewives and workers. There is a huge digital divide between urban and village dwellers.
The level of computer literacy of the population is determined by the number of Internet-users. There are only 3 million of them in Kazakhstan so far. The world wide web is mainly accessed from office computers and more rarely from home. Students mainly use services of Internet-café. That is why, since last year active measures on reducing tariffs for Internet access have been taken in Kazakhstan. When developing the programme and setting objectives on implementing e-Government in our country, we kept in consideration, what difficulties we will have to overcome and which issues we will have to solve. Today there are no issues which cannot be solved that is why, we can say for sure that our country and our citizens are ready to let different, more convenient and flexible relations with the state into their life.
What is the response from various stakeholders – government officials, private players and citizens- towards the new e-Governance initiatives?
As we are a state agency and our activity is closely connected with state bodies, we planned our work the way it would be most productive and fruitful. We feel strong back-up of the government following all the aspects of our work. It is the state and government that is primarily involved in the development of our country and facilitation of our people's life.
"Our Agency is now busy developing WAP-version of e-Government and we plan to launch it this year. This project will allow a more real access to e-Government for  all mobile phone users. Citizens will be able to apply to state bodies and get  answers. In the project of new programme, one chapter is dedicated to m-Government."
What are the major challenges you are facing in implementing the National e-Government Programme? What are the major lessons learned?
Here I would like to touch upon the topic mentioned in the previous answer, the digital  inclusion issue and increasing the number of users up to 20%.  According to official  information only 6% of the population can use computer without being helped. As for generation which avoided technologic boom, it totally "fell out" of informatisation process.  Last year Digital Inclusion Programme for years 2007-2009 was developed by AIC. Soon in  the cities and rural areas of the country, we will be initiating specialised classes and will grant  special certificates to the graduates. Last November, we began preparatory stage for implementing the Digital Inclusion Programme for years 2007-2009.
In four regions of the country – Atyrauskiy, Almatinskiy, Zhambylskiy and South- Kazakhstan- computer literacy training courses were started. They gave immediate positive results. Forty academic hours are delivered to each group within a fortnight. The education  programme was approved in last July by joint order of the Agency for Civil Service, AIC and Ministry of Education and Science. By July this year, in all the regions of the country, we will  open 512 computer classrooms with 15 "clever machines" in each of them. Akimats take  active part in the initiative and have already found necessary premises. 68 centres are  designed for training military servants and in 69 orphanages, there will be classrooms  providing 24 hour Internet-acces.
Each graduate of the state training course will take an interactive test (with this purpose  Ministry of Education and Science has opened a special centre of "remote access"). In case the  test is passed successfully, the graduate will get a certificate, guidance manual and electronic  textbook as a present. Any willing person possessing necessary knowledge can simply take the  test and get the certificate providing opportunity for further education. By the way, for  future IT specialists there are cost-free "web-universities" with tasks, tests and a real diploma.  The government also plans to open a distance education centre and officials plan to launch  this project next January. Government procurement for computer machines and managerial  aids has already taken place.
What are your plans for mobile government implementation and how important do you think it would be for Kazakh citizens?
Our Agency is now busy developing WAP-version of e-Government and we plan to launch it this year. This project will allow a more real access to e-Government for all mobile phone  users. Citizens will be able to apply to state bodies and get answers. In the project of new  programme, one chapter is dedicated to m-Government. When working at it, we analysed the  importance of this step from the point of view of facilitating access to e-Government services  for our citizens.
How do you foresee e-Government programmes to take shape in the Republic of   Kazakhstan in coming years?
AIC has studied the experience of Korea, Singapore, Italy, Germany and Estonia and not with  the help of theory from guidance manuals but through live communication with  representatives of these countries. Nowadays we already have some statistics concerning the  project implementation and we can compare our experience and gains with equivalent  projects of international scale. So, on the first stage of project implementation, our country  followed the path of Ghana, China and Thailand. Peculiar feature of the stage is in presenting  static information on web-sites of state bodies. The second stage in 2006-2007 gave  opportunity for getting information of a different kind: certificates, electronic form  submitting, e-Licensing, government procurement, filling-in declarations. This way is chosen  by such countries as Japan, Italy, Germany, Estonia and our state as well. Third stage is to be  implemented in the years 2008-2010 in Korea, the USA, Singapore, Canada and Kazakhstan.  It already provides opportunity for transactions: taxes, dues and fees and payments. As far as  we know, none of the countries have come to the fourth stage where e-Services prevail over paper ones.
Follow and connect with us on Facebook, Twitter, LinkedIn, Elets video