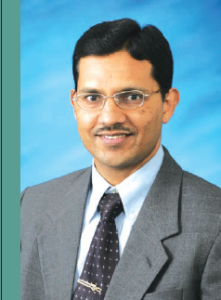 "In almost more than 50 countries NXP identification technologies have been deployed in mass scale projects. Till date more than 1 Billion chips have been shipped and used worldwide for various projects", informs Ashok Chandak  (ashok.chandak@nxp.com), Director, Sales and Marketing, NXP Semiconductors, in an interview with egov magazine

Please tell us about NXP secure identification technologies for the public sector?

NXP has several secure identification technologies targeted towards e-Government projects such as: Secure contactless smart cards chips, Secure smart MX controller chips, RFID's, Reader IC's and Near field communications. e-Government is about using technology to improve the way citizens use public services and exchange 'official' information. Its benefits  include faster and more convenient access to services, as well as simplified and more secure  transactions. Its scope goes beyond national and local government departments to cover all  kinds of institutions, agencies and companies. From online tax returns to electronic voting,  from healthcare to road traffic control, e-Government makes things more convenient, easy and secure.
What are the pillars of NXP for e-Government projects?
e-gov pillars

Insightful: We have a deep understanding of the sensitivity and complexity of governmental applications and projects. NXP is striving for the development of best-in-class secure chip technology to address today's and tomorrow's needs of governments and citizens.

Engaging: We are constantly improving the way of working within our teams in order to   establish an interface to the customer that is easy to work with and fully supporting the goals of respective governmental application and projects. Dedicated resources in the sales and marketing organisation are a key pillar for our success.
Inventive: NXP constantly improves design methodology and features of its leading secure chip solutions to guarantee strongest protection of sensitive private data along with highest performance in terms of transaction speed, power consumption, interface options as well as convenience for endusers.

Excellence: NXP is fully committed to deliver best-in-class product solutions and application  know-how to address and even exceed all of governmental smart chip technology based projects.

Which are the countries where your identication technologies have already been deployed?
In almost more than 50 countries NXP identification technologies have been deployed in mass  scale projects. Till date more than 1 billion chips have been shipped and used worldwide for various projects. The list of countries include the continents of USA, Europe, Asia including India.

How is your company responding to the increasing need for capability and security   in multi-application cards?
The success of multi-purpose cards depends on two things – security and privacy. Our NXP  solution based on Smart MX answers to those concerns! Developed from secure banking cards over the past 30 years, the NXP secure identification chip technology has now reached a stage  that enables highly secure electronic documents. Encouraging the paperless society and  minimising red tape, these ID credentials and publicservice access tokens contain a thin, secure smart chip which can also hold and run various applications securely separated by a  hardware firewall. Our latest smart chip platform with its state of the art encryption  hardware and data protection mechanism are being used in e-Government documents and ID credentials.To ensure that identification technologies are interoperable on a global scale, as a  member of the International Standards Organisation, Philips/NXP helped to develop ISO 14443 for contactless identification and ISO 7816 for contact smart cards. NXP also ensures  its solutions to conform to emerging regulations and requirements such as those from the  International Civil Aviation Organisation (ICAO) for e-Passports and the GSC-IS specification from the US government and Indian government Smart Card Operating System for Transport  Application (SCOSTA) needs.
NXP is the leading supplier of the chips for the multi application smartcards. For instance,  XP  is the sole supplier for the pilot project of multipurpose ID cards in India requiring 2  million units of Multi application citizen ID cards.

Can you share with our readers about your smart passport solution?
The world is moving to electronic (chip) based passports. NXP is theleading company with  more  than 80% of the countries use NXP chips for the passports. In fact, we are the only company that has close to 100% success rate at the interoperatability test. We work very  closely with the ICAO for implementing the chips based on these standards. NXP has the most  mature contactless technology that ensures the interoperability and reliable operation in  stringent environment. Worldwide, security and privacy are big issues for e-Government  service providers. But our ID solutions and secure smartchip platform are ahead of the rest in
addressing them.
Winning more than 80% of e-Passport  projects globally (status as of February 2007)
The world's first Evaluation Assessment Level (EAL5)+ certificate
The first CC EAL5+ security-certi- fied triple interface chip
Various memory options (from 09 to 144kb)
Various security hardware options
Thinnest smart chips delivery types available in the market today
How, in your opinon, can smart cards help improve efficiency and convenience in   some of the other areas of e-Government such as healthcare, education, and public and social service?
Sure, smart cards can make a major difference in the lives of the consumers and public sector  agencies. There are already use cases of smart cards in these segments, e.g. health cards  in Indian Defence Services, Taiwan, Germany. Some implementation on the Public  distribution system. The smart cards can capture the identity of the person including the  biometrics information. And then this can be used to make sure that the right person is able to receive the benefits entitled to him or her.

NXP is a global leader in silicon solutions for the identification market and leads in  contactless chips. Can you elaborate on the advantages of contactless versus contact chips?
For a country like India, contactless chips are the best option. It gives consumers a great  experience of making the transaction with just waving the contactless chip card in front of the reader. There is no need to insert in the card slot and no need to worry about the direction of  the card. It's easy to use. And Indian environment of dust, humidity, oil, hot weather, may  lead to contact chip malfunction. While for contactless chip the electronics is embedded in the  card and not visible as such it is safe from the hostile environment. The chip cannot be spoiled  due to electrical current through the contacts.
When it comes to security, operating range and communication speed there are huge  differences between our secure contactless smart chips, like SmartMX, and other types of  contactless chips commonly known as RFID chips or tags, Our e-Government chip solutions  based on ISO14443, are highly sophisticated, intelligent devices that securely store personal  data, helping to identify individuals and grant secure access to services. Contactless  technology has already proven in various citizen credential applications such as e- Passport, National ID, government and corporate identification cards.
What have been the key issues facing smart card solution providers in the smart card industry?
Though, smart card industry is still at an early stage of industry maturity cycle, there are  myriad of opportunities and more than hundred pilot projects have been done in India. Due to  boom in the mobile telephony, SIM cards have created major demand for the smart  cards/chips. In addition, driving licence and vehicle registration continues to be another key  application of usage of the smart cards.The major challenge is to scale up. Industry needs to  find ways and means to solve the problems of the consumers and government. Return on  Investment needs to be justified. Political implications to be managed. Interoperatability need  to ensured.
What is the political buy in for smart card solutions in India? What are some of your initiatives in partnership with the government of India?
Various departments of Governement of India are actively considering the smart cards deployment considering the value proposition. We have supported one of the initiative of local standards for smart operating system in India. The Operating system is known as SCOSTA. We continue to engage with the government departments to develop the market, expand the pie of the market size wherein many companies can coexist and do the business.
What are some of your future initiatives planned?
We need to step up the market development activity, create new markets for the smart cards   deployment. In addition to SIM for mobile phone and DL/RC application, several other applications such as identification, banking, tagging, fare collection, loyalty holds enormous potential. We need to take up major actions on the awareness and selling value proposition of smart cards to end users and bodies. I am looking forward to much more vigorous efforts from industry partners. Together we can achieve more.
Follow and connect with us on Facebook, Twitter, LinkedIn, Elets video