A conference focusing on RFID imple-mentation- standards, best practices and future context was organised recently at Mumbai, India. Titled as the 'Navigating RFID Adoption Roadmap' , the conference was one of the most successful and informative RFID Adoption conferences in India. Organised by Informedia India Pvt. Ltd., the 'Navigating RFID Adoption Roadmap' conference proved to be an exhaustive well of knowledge meted out by RFID industry leaders.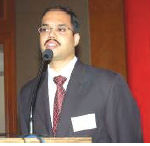 Eminent speakers from top-rung organi-sations in India like Ashok Leyland, Pantaloon Retail India Ltd. AVAANA, Infosys, etc. spoke on the future and implementation of RFID Technology in Indian industries. Senior distribution and marketing services manager of GlaxoSmithKline Pharmaceuticals spoke on the identification of the essential technology components and stated "There is a future for RFID implementation in Indian Pharma." The need for e-Pedigree technology and the importance of RFID technology in the Indian pharma scenario was also discussed. Speaking on the conference he said "The conference had a good mix of topics from very well-experienced and qualified speakers from the industry."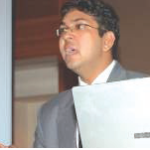 Also present among the eminent delegates was Akash Deep Batra from Infosys Tech-nologies Ltd. who discussed the advantages an organisation will have in extracting business value from RFID generated data. Mr. Akash has helped one the biggest retailers in the USA with RFID implementation.
Day two of the conference saw more of the industry top players discussing key issues especially relevant to Indian businesses such as data delivery to the end-user, team building for RFID project execution, RFID vendor management, etc. There was also a case study on the implementation of RFID in Pantaloon Retail India Ltd. which provided a practical insight into how RFID could enable a business to track its assets globally, technical insight on web based RFID solutions, etc.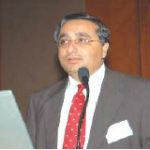 Bimal Sareen, CEO of AVAANA, and president of RFID Association of India spoke animatedly and effectively on the importance of achieving Return on Investment (ROI) in one's business and how this ROI could be achieved with the help of RFID technology.
The panel discussions at the conference were most effective and valuable for any queries that the delegates had with regard  to RFID technology, execution and implementation. Eminent panel speakers discussed key RFID related issues especially relevant to the Indian industries such as government mandates or barriers, consumer privacy with the implementation of RFID tags and readers, legal frameworks required to encourage the use of RFID for the growth of commerce and development while protecting consumer rights, learning from western RFID experiences etc.
This value packed conference proved to be successful on several fronts enabling both delegates and speakers to gain insight on the future of RFID in Indian businesses.
For details refer to:
http://www.informedia-india.com/client/index.aspx?id=conference&sub=program&ConfID=72
Follow and connect with us on Facebook, Twitter, LinkedIn, Elets video