Digital Government in Sri Lanka began in 1970's with ICT application in various government organisations. Four decades after many countries in the world are now using ICT to change the way government works, the author discusses e-Government in Sri Lanka by reviewing the potentiality and usage of ICT in selected government sector organisations.
Digital Government in Sri Lanka began four decades back. Today, Information and Communication Technology (ICT) has radically changed organisations, businesses, and societies in the world. Many countries in the world are now using ICT to change the way government works. As a result now people are expecting the same kind of service from their own governments. Many innovative governments in the world have identified the need and try to deliver excellent service by adopting ICT in government operations. This process is called Electronic Government. Various organisations and individuals define e-Government in various means. In simple terms, e-Government is the process of government organisations working collectively to use ICT as to provide citizens and enterprises with government services and information in an unprecedented manner.
Sri Lanka

This study discusses e-Government in Sri Lanka by reviewing the potentiality and usage in selected government sector organisations. The study also assesses the awareness of e-Government and its technologies in public sector organisations. It also focuses on e-Government readiness of public institutions by highlighting strengths, weaknesses, opportunities and threats with regard to electronic government in the country. 167 different institutions that have web presence were selected for the study to cover the total of 572 government sector organisations.
ICT and Electronic Government
e-Government has been defined in various ways. Simply put, e-Government is all about government agencies working together to use technology so that they can better provide individuals and businesses with government services and information. According to this definition the ultimate objective of e-Government is to provide better information and services to individuals and businesses. Traditionally government organisations provided information and services based on manual systems. The Center for Democracy and Technology and InfoDev (2002) states, that there are three phases of e-Government:
Phase One: Publish – Using ICT to expand access to government nformation
Phase Two: Interact – Broadening civic participation in government

Phase Three: Transact – Making government services available online.
Impact of e-Government on the Public Sector

Effective utilisation of ICT in government sector would result in higher productivity, low cost and customer satisfaction. As Prof. Samaranayake explains, "Exploiting Information and Communication Technologies to serve the citizen is one major objective of e-Government"(Ref: Global Information Technology Report, Oxford University Press, 2002). According to him the other objective of e-Government is improving efficiency, effectiveness, transparencey and accountability of government. Rather the impact of -Government is on every segment of the society. First of all e-Government increases government efficiency and will empower civil servants by ICT applications.
As a result general public will get quality, speed, transparency and responsiveness to services from the government. e-Government should make citizens' life easier by providing anytime, anywhere and anyhow services and information to the public and businesses. In this context, e-Government is all about redefining relationships among government, government organisations, citizens and businesses by systematic utilisation of ICT technologies.
About the Research

Sri Lanka initiated e-Government endeavours in 2003 by introducing the e-Sri Lanka Program.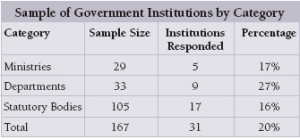 The data was derived from a survey of government sector institutions undertaken between April and August 2004. The aim of the survey was to reveal e-Government readiness in public sector institutions and to identify factors associated with strengths, weaknesses, opportunities and threats in respective organisations. The questionnaire was developed according to the author's literature review and knowledge gained by studying e-Government models of different countries. The institutions in the sample were selected from the official government web site: www.priu.gov.lk  Institutions from ministries, departments, and statutory bodies having web presence were included in the sample.
Issues of e-Government in Sri Lanka

The application and usage of ICT in public sector of  Sri Lanka is minimal due to several issues. The worst scenario is, even government institutions presently using computers do not really integrate them into their operations. "The government already uses computers in a modest way. Much of this is for traditional stand-along workstation applications, or for application within a single department.  As a result, the applications do not sufficiently yield productivity, effectiveness gains or enhanced service to the public" In what ways could e-Government be implemented in the country and what strategies should be adopted? This is the major issue and the challenge that face Sri Lanka today.
Challaneges and Opportunities of e-Government in Sri Lanka

e-Government readiness refers to the ability of government to successfully implement and carry out government services over the Internet. Government readiness describes the readiness of government to participate in and drive e-Agenda. The measurement of readiness is done through investigating awareness and usage of technologies related with e-Government. According to table titled Average Computer Usage, computer usage among government sector employees is low due to lack of resources. This is partly a result of the excessive number of employees in government sector. In addition there is no clear vision and strategy towards e-Government in these institutions.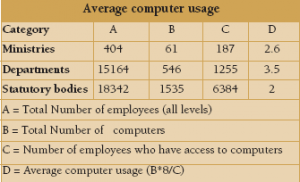 However in successful implementations like that in Andhra Pradesh (India), from the very beginning they planned everything on the stated vision and objectives of the e-Government. Recognising the need for technology-enabled service delivery and, as a part of its e-Government strategy, Government of Andhar Pradesh initiated an innovative broad based, enterprise wide approach to service delivery In Sri Lanka the excessive number of employees in these institutions was definitely a disadvantage and even be a threat when implementing e-Government in the country.
In general, government organisations, besides few exceptions, are not the front-runners for new technology. According to table, the highest computer usage per day is 3.5 hours by department's employees. The lowest figure is 2 hours by employees in statutory bodies. However more than one third of statutory body employees (6384) have access to computers.
It is apparent that public sector organisations in the country are not in the front using most of the tools in e-Government. This is a result of lack of proper leadership in public sector institutions with regard to e-Government. One reason for this situation is that e-Government in Sri Lanka is most often an externally driven process. Majority of respondents in the survey did not know much about the usage of  e-Government, WAN or LAN. The lack of support, enthusiasm and encouragement from prevailing organisational structures, for higher studies and lack of professional qualifications in IT were major bottlenecks to develop ICT in government sector, according to some participants.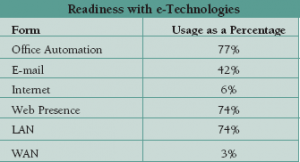 However government institutions, which use these tools already, gained the competitive advantage by having IT savvy culture within the organisation. The research on the web survey of government institutes revealed that some of the institutions are taking a more innovative approach to doing business with their citizens. This situation is an advantage for e-Government implementation.
Very low rate of Internet and e-Mail usage in government ministries and departments is a weakness on the other hand. However there are possibilities to further strengthen ICT application in these institutions. Government sector organisations' policies may negatively affect on application and usage of new technologies in public sector. However some tools in e-Government are widely used by statutory bodies. Government ministries' and departments' adoption to e-Government is slow, as a result of lack of utilisation of new technology related tools. Table titled Readiness with e-Technologies, six different technologies were found to be important in using e-Government in Sri Lanka. For  example internet usage among government sector employees is at a minimum level because, it is restricted to access the internet. However it is important to note that 77% of government sector intuitions are using some form of automation. It is also important to mention that 74% of organisations under the study have web presence.
However application of local languages is at extremely lower stage. Less than 5% of Sri Lankan public institutions provide information in Sinhala or Tamil languages. This is a major problem in e-Government of Sri Lanka, and that would create a barrier to take e-Government to the ordinary citizens of the country. Further more 74% of surveyed institutions had Local Area Networks. This is again a strength of government institutions transferring them to electronic world.
There are encouraging developments amidst lack of resources as well as opportunities with underutilised resources in terms of e-Government in the country. The main problem here is that whether it is possible to create innovative e-Government or empowered citizens in the absence of service provision over the internet.
It is again significantly low figure when we look at how many organisations connected are to wide area networks. There is no real commitment to facilitate people with access to e-Government in remote areas. On the contrary in India, many successful e-Government applications by regional governments have focused their serious attention on remote access through networking. As far as Sri Lanka is concerned this is a major weakness in implementing e-Government as infrastructure readiness is at very lower level in remote areas.
As a result there are opportunities to develop e-Government access to people in remote areas. Government sector institutions usage of Internet is low as 6% due to restrictions imposed by authorities. It is paramount important to expand the application of e-Government on service delivery and transaction facilitation for the public. Provision of online services and transaction facilitation are opportunities in terms of e-Government in Sri Lanka. Some institutions use Internet as a resource for their internal information requirements. However, these services are most of the time limited only to administrative and managerial level staff. Minor staff in some organisations were provided with training in computer usage. Some respondents mentioned that the training was a wastage of money.
Majority of the administrative officers in the public sector did not have a correct idea regarding e-Government. Therefore as a priority, highly politicised and bureaucratic organisation structure should be reorganised in such a way to successfully accommodate e-Government in the country. There must be a collective effort to achieve this goal by academia, policy makers, lending organisations, researchers, business community and society as a whole to reap the benefits of e-Government to the people of this country. Selected groups of employees in the public sector had frequent access to computers in their day to day work. Average computer usage for selected employees in government departments was high although other employees had relatively low access to computers. In the case of government ministries, the rate of computer usage was also low. For statutory bodies, the total computer utiliation was higher per employee usage was low.
The study further revealed that statutory bodies and departments in the country involved in web enabled information provision and web enabled grievance services to the public. 74% of organisations under the study had continued with web presence. However as a whole, in Sri Lanka only 167 intuitions have web presence out of a total 572 public sector organisations. The majority of these institutions limited themselves to a provision of web based information and most of their web sites were not updated regularly. For an example Sri Lanka's official web portal http://www.gov.lk/ has listed 42 government ministries but only 14 ministries do have real web presence. With the change of government in April 2004, no visible change is seen in e-Government activities concerned, though the e-Sri Lanka program has been continued with the support of the new government. It is envisaged that the re-engineering government program under e-Sri Lanka would help change the status and take Sri Lanka towards rapid development with e-Government success. Therefore, it is paramount important to change present government's attitude towards e-Government in a more positive manner in order achieve total transformation in the public sector.
Conclusion

e-Government in the country is at an initial level therefore it is an urgent need to do more and more researches on e-Government in Sri Lanka as to make sure that the country takes the correct path. In conclusion, we find that web presence and LAN connection alone do not guarantee public sector participation in e-Government. To be successful in e-Government, public sector organisations should have the correct vision, leadership, and selected strategies to implement e-Government with technologies such as wide area networks with access to internet, broad band access, mobile computing and more important wider usage of ICT through training and access to the community (employees as well as the public) in the country.