e-Sahayata
Delivering efficient information and service for citizens
Susant Kumar Panda
e-Governance initiatives in India has  taken a giant stride with the launch of the National e-Governance Plan (NeGP). The plan seeks to create the right governance and institutional mechanism towards ensuring citizen-centricity by adopting suitable standards and best practices. Under NeGP, a number of mission mode projects are being implemented throughout the country. Moreover, a number of independent initiatives are also underway in various states. e-Sahayata is one of the major e-Governance initiative in the state of Orissa being implemented through National Informatics Centre (NIC)'s Orissa State Unit.
e-Sahayata is an integrated single-window based information and service delivery system to offer various public related information and services. The information to be offered includes the information about the ongoing public-oriented projects and the information need to be provided under the Rights to Information Act. The services include all common services offered to the public by various departments of the government. In addition, e-Sahayata also includes computerisation of related government processes, grievance/complaint redressal, and government office procedure automation under its scope.
One of the major e-Governance initiatives in the State of Orissa, e-Sahayata is an integrated single-window based Information and Service delivery system to offer various public related information and services effectively
The objective of e-Sahayata is to primarily provide all the required information and services to citizens through e-Sahayata centres located throughout the state. e-Sahayata also aims to cater to the needs of  the government machinery by handling the office and inter-office automation needs.
e-Sahayata  Information  Kiosk
e-Sahayata information kiosk  is an integrated e-platform through which rural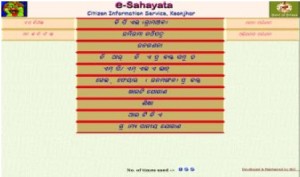 and urban population of the state can get desired information by means of Touch Screen kiosks suitably placed at state, district, sub-division, block and other locations. e-Sahayata information would also be made available on the Internet so that public could also access the information from any
cyber café or computer having access to Internet. The kiosk would also provide information on guidelines for obtaining any e-Sahayata related service, services related information and application status.
The information being currently provided through the kiosks include rural Below Poverty Line (BPL) list, land records information (ROR, Homestead Land), Census 2001, DRDA projects and programmes (Indira Awas Yojna, Samp-oorna Gramina Rojgar Yojana, Swarna-jayanti Gramya Swarojgar Yojna, and National Food for Work Programme), MPLAD / MLA LAD, Social Welfare schemes (Old Age Pension, SOAP, NOAP, ODP, NFBS), Children's welfare (Orphanage, ICDS, Mid-day Meal), Women's welfare (Mission Shakti, Short stay home, Working women's hostel, Family counselling, Swadhar shelter home), Civil supplies (Antodaya Anna Yojana, Annapurna, List of Retailers / PDS Centres), Education (SSA Works, High Schools, Ashram Schools), ITDA, and Rural Water Supply and Sanitation (Tube wells).
e-Sahayata Service Counters

The e-Sahayata service counter is a  one-stop, citizen friendly computerised service delivery counter to provide a wide range of services under one roof so that the citizens do not have to run around various departments for obtaining
various services. The list of services, their specified delivery time and the documents and fees to be submitted is displayed at the service counter for public intimation.
Janavani: Public Grievance Redressal initiative
The objective of Janavani is to provide an Internet based Grievance Redressal and Information interface for the citizens. Janavani aims to capitalise on the emerging Information and Communication Technology (ICT) framework to provide efficient, effective, accountable, responsive and transparent grievance redressal system to the public. Janavani is a pioneering attempt to usher in the
era of e-Governance in the various districts of Orissa.
One of the major e-Governance initiatives in the State of Orissa, e-Sahayata is an integrated single-window based Information and Service delivery system to offer various public related information and services effectively
Janavani has been developed considering the needs of the common citizens in terms of not only lodging the grievance but also to help them see the online status. Moreover, it also attempts to integrate the concerned administrative functions in the same unified application. Thus, Janavani provides both G2C (Government to Citizen) and G2G (Government to Government) e-Governance features.
e-Sahayata Office*Suite

The objective of  e-Sahayata Office*Suite is to computerise the various office procedures such as file/document related transactions, maintenance of registers and help create a digital office repository of the various orders, circulars, notifications, decisions, minutes etc.
e-Sahayata Status
The project is currently operational at the districts of Keonjhar, Dhenkanal and Koraput of Orissa. Implementation is in process for Jagatsinghpur, Jharsuguda, Rayagada and Sambalpur districts. Janavani is operational at all the blocks and district headquarter of Khurda. Office*Suite application and the Government Feeder applications are currently under development.
Orissa's PRIASOFT bags award
PRIASOFT (Panchayati Raj Institutions Accounting Monitoring Software), a web-based e-Governance application implemented by Panchayati Raj Department, Government of Orissa, was amongst 20 Indian e-Government applications to be recently awarded  by Microsoft.
PRIASOFT, which is an e-Government application having G2C as well as G2G interface, addresses the monitoring of funds at 3-tier Panchayati Raj Institutions (PRI) level under different Account Heads on a month-end basis. It also contains the database of Self Help Groups (SHG) created for different key activities. It facilitates the State/District level functionaries to monitor the financial health of each SHG through bank linkages and savings, advance and stock position.
The citizen section of the application provides financial information to the public whereas the government section captures data and generates MIS reports in the specified format as per the need at the State, District, Panchayat Samiti and Gram Panchayat levels. The report is operational since 2003.
Follow and connect with us on Facebook, Twitter, LinkedIn, Elets video