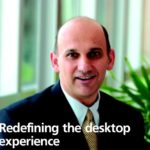 "In this 'New World of Work', organisations are always on and ever connected. The 2007   Microsoft Office System opens new possibilities for personal, team and organisational productivity and partner marketplace growth. We have redefined the desktop experience and are delivering a single platform for business intelligence, collaboration, enterprise content management, enterprise project management and enterprise search capabilities," concurs Michel Gambier, General Manager – Information Worker Business Group, Microsoft Asia Pacific, in an interview to Prachi Shirur of egov
Please tell us about the objectives behind the launch of 2007 Microsoft Office System.
People are at the heart of any organisation's success be it in public or private sector. In this  'New World of Work', organisations are always on and ever connected. The public sector  environment too is becoming more and more dynamic – communication is changing,  collaboration is vital, and decision makers expect information at their fingertips. These types of demands present new challenges and incredible opportunities for technology.
The 2007 Microsoft Office System opens new possibilities for personal, team and organisational  productivity and partner marketplace growth. We have redefined the desktop experience and  are delivering a single platform for business intelligence, collaboration, enterprise content  management, enterprise project management and enterprise search capabilities.
What are the features of this new Office solution?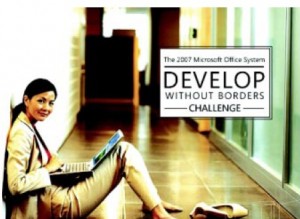 The 2007 Microsoft Office system is a major release of many new products, technologies and  services. It includes programmes, servers, services, and solutions that operate together to increase individual impact, simplifying collaboration, streamlining business processes and content management, and improving business insight.
This will enable agencies and enterprises to work smarter and more efficiently. One of the key innovations that users worldwide will experience is the new user interface of the popular  Microsoft Office programmes. The overriding design goal for this new, results-oriented user  interface is to make it easier for people to find and use the full range of features these applications provide so they can deliver better results faster. We've made it easier to find powerful features by replacing menus and toolbars with a Ribbon that organises and presents capabilities in a way that corresponds more directly to how people work.
We also wanted to preserve an uncluttered workspace that reduces distraction for users so they can spend more time and energy focused on their work. The streamlined screen layout and dynamic resultsoriented Galleries allow people to spend less time trying to get the    application to As a result, with the new Office user interface, information workers will be able   to produce high-impact presentations, effective spreadsheets, and powerful desktop database applications. [For more details on individual feature enhancements, please visit http://www.microsoft.com/office/ preview/ui/overview.mspx]
 What additional value will the 2007 Microsoft Office provide for government and enterprises in better managing and organising documents and collaborating with others?
Many agencies currently have disparate systems among social welfare and other industries thus limiting inter-agency communication and collaboration. At the same time many business processes within agencies remain unautomated because information technology has not delivered a cost effective solution for that automation. This also creates inefficiencies as people spend time searching and accessing information and processing redundant data, and even duplicating work. In fact, it is estimated that people spend 30% of their working time looking up, arranging, managing, and distributing information.
The innovations in the 2007 Microsoft Office user interface aim to significantly decrease the time taken to execute information work tasks. For example, the new tabbed interface across Office 2007 applications provides contextual information so people can get to the right  information more quickly, and the Instant Search capabilities of Office Outlook 2007 allows people to search through email, email attachments and RSS updates quickly. Attachments can also now be previewed within one click directly from within Office Outlook 2007, saving  users time and effort. This is especially critical as it is estimated that by 2010, the average  knowledge worker will receive no less than 50 times as many emails as in 1997. The 2007  Office system will also provide a rich set of tools that lend greater collaboration among agency  staff and between agencies by expanding agency borders, and bringing dispersed groups  together in a virtual agency. For instance, information workers can create a virtual team  environment using Office Groove 2007 workspaces for quick collaboration and knowledge  sharing online and offline. They can create a centralised repository of templates and documentation, orchestrate workflows and initiate ad hoc discussions with other agency workers using wikis and blogs built in Office SharePoint Server 2007. All of these will not only  reduce the time and costs of generating performance reports by centralising information  and automating workflow, but also empower employees with the ability to work  seamlessly online or when disconnected from the network.
 How will it enhance e-Government initiatives of the public sectors in different countries?
e-Governments use technology and webbased tools to streamline and/or improve their  processes and save budget dollars. Yet many policymakers still use outdated environmental or  societal conditions as the basis for government programmes and policies. This is where the  2007 Office system can come in to help agencies cope with the lack of timely, reliable and  objective information needed to make smart decisions and analyse the long-term impact of legislation.
The powerful presentation aids with enhanced graphics and formatting tools in Office  PowerPoint 2007 enable effective monitoring of overall performance in real time and  identification of performance is sues by providing business intelligence tools. The charting  engine in Office Excel 2007 can also create rich visualisation enhancements to data collected  for research and analysis reports and presentations to decision makers, and in-depth  diagramming and visualization tools. Centralised data and analysis reports via Office SharePoint Server 2007 also provides the transparency into project and programme operations and resource allocation needed for making decisions based on alignment of project  performance with budget and organisational goals and overall strategic initiatives.
A scalable communications platform allows for quick access to crucial information for  emergency response. Office Groove 2007 provides field units and onscene response teams to  share information with central offices without the need for reliable connectivity. Situation- specific data can be centralised through Office SharePoint Server 2007 to provide rolesbased
access to the right information when it is needed.
The Office SharePoint Server 2007 also acts as a repository to house agency's digital information for citizen-facing online libraries, thereby enabling optimised citizen access to  information, and faster response to citizen  requests.
Agencies will be able to track and analyse trends in programme performance through applied  conditional formatting and rich visualisation themes in Office Excel 2007 and Office Visio  2007. By analysing and evaluating relationships between key performance indicators and tangible strategic objectives in real time through Centralised Report Centre sites in Office  SharePoint Server 2007, agencies have an integrated platform for information workers to  effectively monitor their environment and provide timely proactive responses to  opportunities, events or crisis.
What about its compatibility with the Windows Vista launched earlier this year?
Windows Vista will be made available to businesses, together with the 2007 Microsoft Office  system and Exchange Server 2007 towards the end of 2006. With Windows Vista and the  2007 Microsoft Office system, Microsoft is delivering the platform for the next decade that will  drive significant change for everyday users. These products working in concert will help  businesses empower their people to make great contributions in four key areas – simplified  communications and collaboration, better content protection and management, finding  information and improving business insight, and reducing security risks and deployment costs.
All this within a familiar Microsoft environment, therefore mitigating any potential end-user reservation or resistance to an upgraded Office system.
What security protection will the new Office 2007 provide to the users?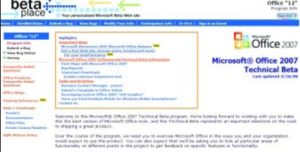 Information work happens at all levels of government – an individual working in a cubicle,  employees joining forces to collaborate as a team, a leader making strategic decisions for a  department, personnel responding to an emergency. This means that the need to protect data  from viruses has become part of the everyday business of working on computers and sharing  data with colleagues.
The 2007 Office system products have many in-built tools and features to help secure  information, websites, and data. For example, to gain control over content lifecycle and keep  data more secure, Office SharePoint Server 2007 provides content authors and auditors with  protection for sensitive data via document versioning controls and content expiration and archive settings. Forms and templates can also be protected from unauthorised changes by  implementing Information Rights Management (IRM) in 2007 Office system applications.
These come over and beyond the security features and enhancements in Windows Vista,  which has been designed to make Windows PCs more secure and online experiences safer, such  as User Account Control and Windows Defender, to name a few.
What are your plans for popularising this new product?
The joint launch of Windows Vista, the 2007 Office system, and Exchange Server 2007 is  potentially the biggest and most strategic launch in the history of Microsoft. For the last  several months, we have been working very closely with early adopter customers, our  partner ecosystem and our internal teams to prepare for the market introduction of these  products. Our beta testing process participation has been unprecedented with several million people worldwide testing these products in a wide range of scenarios. In the coming months, Microsoft will be investing in major marketing and sales programs consistent with the impact  we expect these products to have in the marketplace. These investments will include activities  such as launch events, advertising campaigns, online marketing, retail marketing,  joint marketing campaigns with partners, customer one-on-one briefings and  proof-of-concepts engagements, designed to articulate the value of these products, and inspire people around the world at work and at home to use their computers in new and innovative  ways!
Follow and connect with us on Facebook, Twitter, LinkedIn, Elets video