The largest national level project in Thailand, Project Population Registration (PPR), began 20 years ago with the vision and dream of one man, Surachai Srisaracam. The mammoth project collected, updated, computerised and centralised the entire nation's population data, presenting an unique 13 digit identification number and identity card to each Thai citizen. Identity cards with smart chip also have now been introduced.

The centralised database serves as a basic infrastructure for e-Government services and consists of the residential records database, the ID card database, the election database, the marriage and divorce database, etc. It took two years for him to set up the management, staff and facility to truly begin work on a centralised database. Documentation, computer feed forms and data entry came in from over 1000 locations in 76 provinces. Mobile units travelled across the country to make a soft copy of all data to send back to the centre. The hard work and dedication of the project team won them Computerworld Smithsonian award in 1990 and many other awards for using IT to improve the management of mankind.

But the story does not end here and the project is yet to reach its final goals. Two years back, the brainchild and Director of the project, Srisaracam was shifted and promoted to the position of Vice Governor of Sisaket province. Sine then the project is lying suspended and Srisaracam is hopeful that he would come back to finish the

project successfully. "I am really upset that the project is suspended now and cannot accomplish the final goals.

I am looking for a come back. I have 9 years more in this service. If I get a chance to come back and we push it, I think within 5 years we can finish", says Surachai Srisaracam in a candid and heart-warming talk with Anuradha Dhar of egov.
"e-Government in Thailand need not be a mega project because we have already invested a lot and we now just need integration. We already have the concept and the infrastructure. We can do better than people coming from overseas because we know what all we have."

Could you tell us about the objectives and implementation plan of Central Population registration project?
It is the basic infrastructure of the new era of public administration. To implement e-Government to the people, we need centralised population registration database. Without this, we cannot develop e-Government services for the people. Otherwise the country cannot develop into a developed state. The identity system or citizen authentication system or Smart Card is the need of a country in the new era.
It was not easy to create and computerise a central database for a country with 60 million population. The Central Population database is the result of 20 years of hard work of the team. The objective of the project was to have population profile in terms of population registration database. It is done under the Civil Registration Law. We have 50 million houses in Thailand and each house was given a unique 11-digit number.
Then each citizen was given an identification number of 13-digit. The design of the system took 2 years. The house registration document was created 40 years ago but it was not updated. We took 5 years to capture all the data and took 4 years to centralise and computerise the database. We now have1000 registration centers all over Thailand in 76 provinces and all these centers are connected online with the central database. Regular changes from these centers are updated and maintained in the central database.
We have also created Khonthai.com, a portal for Thai citizens. It is the gateway for people to get services from the government and can certify their registration document, and ID card online.

Smart Card has just been introduced and is into the first stage. 10,000 cards have already been issued. But it still has to get utilized and for that, system needs to develop first. At present, it just contains basic information. How to utilize is going to be the next step. It is still in the half way and we have to work more on this project to utilize smart card to deliver e-Services.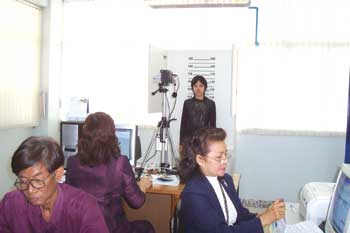 What are the factors that helped to successfully manage and implement a project of this magnitude?
Efficient management is the key. A good design and architecture has to be there. It is also important to ensure that the vision and
policy are made very clear to the government. Detailed plans on the implementation of the project and the return on investment are all marked out. This helps to circumvent political involvement, which may hinder the process and the success of the project. At last, most important is good leadership and hard work of the team. We worked, lived and played in office for so many years for this project.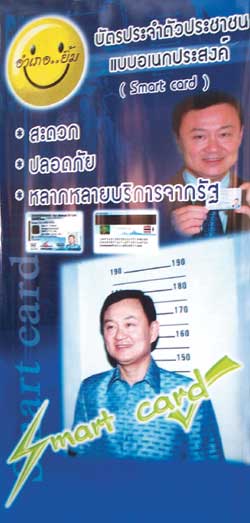 What challenges and problems did you and your team faced to implement such a huge nation-wide project? How did you overcome them?
We realised long ago that to implement a huge national long-term project, lots of problems would come along. A thousand problems arose, which we had overcome over the past 20 years.The first problem, which we faced, was limitation of technology.
You can imagine the level of technology, infrastructure, education level of the people 20 years ago. We overcame this by smart design and careful planning.

The other challenge was management. How to motivate a large staff to co-ordinate and support the project?
As you know teamwork is required for success of any project. Another challenge was how to convince the government. It was difficult to show them what benefits would happen to the country once this project gets implemented in terms of improved government efficiency, etc. If they recognise that and they share our vision about what will happen 10 or 15 years later then only they would support and approve the budget. This is very difficult, but we overcome that.

"I am really upset that the project is suspended now and cannot accomplish its final goals. I am looking for a come back. I have 9 years more in this service. If I get a chance to come back and push it, I think within 5 years we can finish. Then I will spend last 5 years of my service to transfer technology to other countries."

Support of the people is very important because people have to recognise the benefits of the project when we implement for them. It was a big challenge to explain to people what benefits will happen to them in short-term and long-term in terms of national security, national development, improved services.

Follow and connect with us on Facebook, Twitter, LinkedIn, Elets video