Ariba, Inc. is the leading Spend Management solutions provider. Ariba helps companies develop and leverage spend management as a core competency to drive significant bottom line results. In today's intensely cost-conscious environment, choosing the right spend management provider is crucial. Ariba is the pioneer and a proven leader in creating powerful Spend Management solutions for major companies worldwide—including many of the Fortune 100.

In an exclusive interview with egov, T. Sivakumar, Group Director, Ariba India, provides  insights about Spend Management solution, difference between the typical e-procurement  approach and endto- end approach and where is Ariba placed in this entire sector.
How is the response of Indian government to the Spend Management Solution?
Excellent. In fact, I would say it is overwhelming at this point in time. We would be focusing  on a couple of forward-looking state governments on this concept. They very clearly  understand that this is not just e-tendering system which will give them the benefit they  want. They clearly understand that the benefit in the entire approach is to really tackle not  only in the tendering and sourcing stage but also right upto the procurement compliance. Till  the time the buyers place the order after the contract and pay the supplier and get the  services as per the contract, the cycle is not complete and the savings does not really come to  the government kitty. And the transparency factor is not established right through the value  chain. So, to a large extent they clearly appreciate it. The second aspect in which they clearly  appreciate it in this approach is bringing in synergies across different functions in the government. They realize that there should be some synergies across the different  government departments such as public health care, public works department or the  education and so on, because at the end of this debate, money is going from one particular  organization. And therefore, that particular conceptual approach, which we brought in, is really being taken up well by these governments.
Is Ariba trying to implement Spend Management with Andhra Pradesh, which is successfully implementing the e-procurement?
Andhra Pradesh has started with e-tendering and reverse option as they call it, as their focus,  which is not Spend Management. Yes, they have got benefits. I am not denying that they  have done a great job. But having said that, the whole idea of implementing Spend  Management for any government is to get multitude of those benefits if you are able to attract  the end-toend process. So we are not currently talking to them because they are  already using something, they have a concept in mind already. Our primary focus is outside  those governments that have done reverse auction or e-tendering. And that is where we actually see a huge amount of by-in from them. Here we need to give all the three things to  them that they want- savings, transparency and process implementation. This end-to-end process also needs to give the huge advantage to the end customer, supplier or the citizen for  that matter. So it is a huge benefit right down to the value chain, actually. And that is why we see a huge buy-in.

"Spend Management initiative will start showing results within 3-6 months of embarking on it, whereas if you look at any of their e-governance initiatives, it takes at least a year or a two for the system to be up and running before you start seeing discernible benefits out of it."
Till now Ariba has been working with the developed nations like the US, it's for the first time you are into a developing nation like India. What are the challenges you   are facing to implement this kind of solution in India?
I completely agree to your question. But having said that we are not new in India. We have been here for the last 5 years and we are the market leader in Spend Management in the enterprise sector in India, very clearly. We do not know the estimate but we have the market  share of 65-70% in that particular area. But the interesting thing is that when we move down  to the government, there are new challenges that we faced in the past. One is to break  the mind-set that this is not the e-tendering system. This is not a customizable system. There  are some best practices, some standard methodologies that people can follow. What we see in  India today is most of the governments are not benchmarking themselves across states to  Andhra Pradesh, to Karnataka. They want to benchmark themselves with the best in the  world. So that really opens up to the global phenomenon here. And though we have not done  any work with the government in India so far, which I am sure we will be doing shortly, but  the interesting thing is that most of the IT Secretaries and the Chief Secretaries are very  much interested to know how they can bench mark to the best in the world. So from that perspective, I think the mindset is changing, people definitely are appreciating it.

How is the response of other Asian countries compared to India? Have you explored the market there?
Absolutely. South Asia has a year and a half advantage over India in this area. For example,  there is very large installation of Ariba in South Asia. Ministry of Defence in Singapore is the best example that I can site right now, publicly disclosed example. They are saving tons of money on a monthly basis, so their response is overwhelming.
Also Read: IT accelerated judicial administration
How do you see the market for Spend Management in South Asia and India? What is your plan?
See it is an estimate, we believe that at least 20 more states would be going in for massive  e-Governance project in the next 2-3 years. This is an estimate from the press reports that we gathered. It is up to Ariba to see how it can really contribute and actually go and grab in this  particular market. This is a very fast growing market. The extent of benefit that these  governments can get out of the procurement solution and e-governance space is probably the  highest in the entire e-governance value chain because these results are very tangible. We  are very comfortable to say that if the governments implement the e-governance and Spend  Management properly, there is 400-500 crores of the savings up the take. So it is easy to get  these numbers in on a year to year basis.
We are talking to a lot of opinion leaders apart from the IT Secretariat, the Chief Dignitaries,  in the government. Second is that an enhanced focus in this sector, because we can clearly see  not just the opportunity but huge value addition that we can do for our governments.

In India, the government mindset is still that they do not work on computers, so do you provide specific training on the ground, on these kinds of solutions?
I agree absolutely. To the extent of change management, you will have to do a little bit of  additional work in India, there is no doubt about it. But there are two broad focused areas for  both developed nations and India. For instance they also have a standard procedure for  procurement like we have the CVC guidelines in India. So one, is to try and map this process,  to that. The second is the extent of training and handholding and more importantly, commitment to ensure that every single spend is managed through this system. To that extent, the extent of training that you require is slightly more for the governments out here.  And we are aware of this because currently we have some standard training programs both  from the process side as well as in the technology side. Both are equally important. The other  interesting thing on the technology side is, if you take any analysis report, Ariba has been  declared as the most-user friendly system across the globe, so to that extent, a person can start  working on the Ariba template after just an hour of basic training.
Do you think the National e-governance Plan is helping these kinds of solutions and the private players to work with the government and will they bring more public and private partnerships in the future?
Absolutely. It is a very good step that the government is taking. And some of the guidelines  that they have put up are very interesting. They are focusing on quality, on time-bound implementation and they are clearly advising private sector. I think this is the step in the right direction.

In India, different states are moving in different directions, there is less of    coordination amongst the states so how do you, as a private player, see this scenario in India, where it is heading?
See, if you look at e-governance, it is a very broad spectrum. The 'P' that we would be focusing  in Spend Management, is procurement related, one important part of the entire project. While  we clearly see there is some leaders- Andhra Pradesh, Karnataka, Tamil Nadu is very  closely catching up. Rajasthan, Gujarat, in the north are catching up right now. Very  clearly, there is a pack of leaders and a pack of followers right now. That will take some time,  but what is noteworthy is that having seen the leaders doing certain things well and certain  things not well, the followers are becoming even wiser. Yes they are definitely moving in
"What we see in India today is most of the governments are not benchmarking themselves  across states to Andhra Pradesh, to Karnataka. They want to benchmark themselves with the  best in the world. So that really opens up to the global phenomenon here."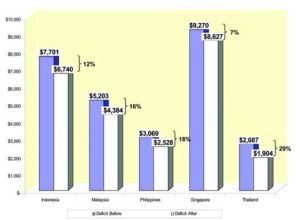 different directions but that how any country would go about. Even in the US, the situation is  the same because it depends upon lot of local factors, support factors, technology adaptation  factors and so on and so forth. But what is common in this, I think 'P' is broadly common. But  yes, different governments are trying to oppose it. Some of the governments are forward  looking to say look this is the concept so give me three, four or 5 years old map and take me to  the end of the concept. There are some governments, that have a very short term vision, they  just comply with some of the regulatory governance that they have, so they just  quick-fix the solution.  And there is also the classic tussle between classic solution and the  western class solution. A lot of people still are very comfortable with customizing a package  according to their requirement, which is not sustainable. These are some of the conceptual  differences, which they still continue to have but I think that will continue to exist.
Is there any other player who has moved into the government enterprise sector, and created awareness to this end-to-end solution, apart from Ariba in India?
To the best of our knowledge, no. There are a lot of point solution providers. The majority of  them are in the e-tendering and reverse option space. There are a plethora of them but to the  best of my knowledge, there is none who can bring in an end-to-end concept. Because  basically, they need to know Ariba and Ariba is clearly 3-4 years ahead of its competitors  elsewhere not only in India but globally in terms of our conceptualization of Spend Management.
Also Read: Enforcing "rule of justice" through e-Governance
Do you find the progress slow in India as compared to other countries?
Today most of the e-governance projects are going at a brisk pace. And like private players  they are working on a tight time plan. To that extent, I would partially agree with you but  not totally, because right now, I clearly see a sense of urgency in many of the governments  that we are talking about. They also know that this is a clear area where they can  immediately get tangible benefits. This particular Spend Management initiative will start  showing results within 3-6 months of embarking on it, whereas if you look at any of their  e-governance initiatives, it takes at least a year or a two for the system to be up and running before you start seeing discernible benefits out of it. In this case, the service provider hosts  most of the technology. It is not actually purchased by the government. So most of the governments are benefited very clearly. So I think the pace is pretty good right now.
What is Spend Management Solution?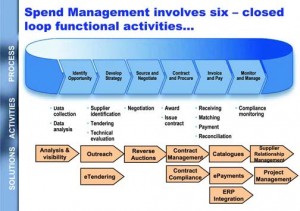 Spend Management (SM) is a new category of solutions that is designed to enhance company's  sourcing and procurement strategy. By allowing companies to combine their analysis,  sourcing, contracting, procurement and reconciliation processes into a single, cohesive  system, SM provides closer visibility over its spend. Spend management helps companies to  efficiently manage their purchasing functions and thereby gain a competitive advantage and improve bottom line results.
With the adoption of Spend Management, governments can not only save costs but also  increase operational efficiency dramatically. The savings in turn will help the government to  invest in other productive areas for improved and tangible returns.
Spend management also marks an evolution in egovernance with a government to Business  (GtoB) approach that allows e-transaction between government agencies and private  businesses. This change actually brings more accountability, transparency, and fairness to all government business transactions.
Follow and connect with us on Facebook, Twitter, LinkedIn, Elets video