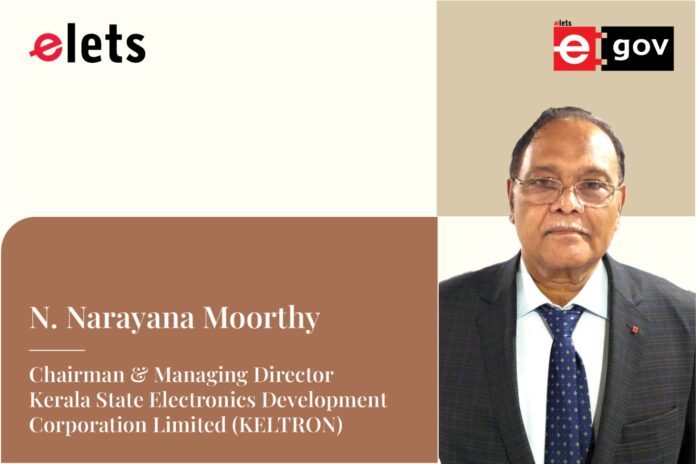 KELTRON has been a key player in shaping India's IT landscape, contributing to ISRO missions, naval defence, AI-based traffic solutions, and government software development among other significant initiatives. N. Narayana Moorthy, Chairman & Managing Director, Kerala State Electronics Development Corporation Limited (KELTRON) discusses the company's incredible works in an exclusive interview with Krishna Mishra of Elets News Network (ENN).
KELTRON has played a pioneering role in developing India's electronics industry. What do you see as the key opportunities and challenges for growing India's indigenous electronics manufacturing capabilities going forward?
Keltron – the pioneer electronics development company in India, established in 1973, was instrumental in the early development of electronics in the country and subsequently played a crucial role in the growth of Information Technology in Kerala. Since its inception, KELTRON's reputation has grown over the last 50 years, and today it is a key partner in many flagship projects in India. To mention a few, it supplies electronic modules for ISRO's Chandrayaan 3, Aditya L1 mission, and various launch vehicles, strategic devices for Indian Naval Defence, AI-based camera enforcement and traffic solutions, software development for various Government Departments, affordable digital programmable hearing aids, UPS systems for several Nuclear Power stations, Amazon hybrid cloud data solutions, and commercial-scale supercapacitor manufacturing with ISRO technology.
India's electronics industry has seen significant growth in recent years, with the government's "Make in India" initiative (2014) aimed at encouraging domestic manufacturing and The National Policy on Electronics (2019) targeting foreign investment attraction. KELTRON has played a significant role in this growth by developing indigenous technology and manufacturing capabilities. Keltron has the potential to develop our state into one of the Electronics Hubs of India, focusing on manufacturing activities in Power Electronics, Strategic manufacturing, Supercapacitor Production, IoT-based projects, AI-based enforcement systems, etc. With Government of Kerala's financial support, the company has also initiated the modernisation of its manufacturing infrastructure at various units and the establishment of an indigenous Research & Development department at Keltron Equipment Complex, Karakulam, Thiruvananthapuram. The State Industries department has also given prime importance to recruiting skilled and competent manpower to enhance the company's human resources.
As part of the Kerala Government's motto of Industrial Development – 'Responsible Industry – Responsible Investment', Kerala aims to transform into an eco-friendly, productive, and investment-friendly destination for industrial development. The emphasis is on Industrial infrastructure development, capital availability, entrepreneurship, and the use of modern technologies. Being a Government of Kerala Undertaking, KELTRON shoulders responsibility with all the stakeholders for creating a robust ecosystem for the development of electronic Industry in Kerala.
The major challenges for the development of indigenous manufacturing capabilities include dependence on imports, competition from established private players, infrastructure development, technology adoption, government procedural controls, especially E-tender norms, delays in the supply chain of electronic components, recent price hikes of electronic components, and R&D funding. Policy decisions need to be taken by the Government to make KELTRON the System Integrator for State Government IT Projects and the preferred supplier/ Project implementation agency for all Government Requirements/Projects related to electronics to enhance turnover.
Kerala has ambitious plans to become a major digital hub. How is KELTRON partnering with the state government and the private sector to support this vision through initiatives like the Digital University and Electronic City?
KELTRON submitted a Master Plan Document to the Government of Kerala in September 2021, with a Projected Investment Outlay of Rs. 375 Crores. The Master Plan envisions that the investments need to be completed within 4 years to achieve the target of Rs. 2000 Crores in 10 years (2021- 2031) with a net profit of 100 Crores. These investments, along with other business growth initiatives, can generate employment for an additional 1250 persons. The major focus of the Master Plan is modernising the infrastructure of various production units of Keltron, along with new initiatives. The existing capacity of KSEDC human resources and technical expertise is to be fully channelled to improve productivity, technology diversification, and facility upgrading. The manufacturing percentage of the company is to be gradually increased to 40% of the total turnover in the next 10 years from the current 17%. The core domain areas for business development are Power Electronics, Strategic Sectors (Defence & Space), Traffic Enforcement Solutions, and IT Solutions.
As part of increasing our capability in Data Centre Management, a Hybrid Cloud Environment in collaboration with Amazon Web Service, Outpost has been established at KELTRON. Keltron is the first organisation in Kerala to implement Amazon's Cloud Computing and Secure Data Storage services. Thus, this facility at KELTRON has the advantage of local presence across the State, availability of certified resources, redundant connectivity gateways to the internet, and seamless integration of KSWAN and KFoN networks at its Data Centre. Considering the importance of Cyber Security and Cyber Forensic, KELTRON has entered into a ToT Agreement with C-DAC for the manufacturing of Digital Forensic Kiosk. "AI-Based Vehicle Presence Detector" is jointly developed by KELTRON Communication Complex, Monvila, and IT Business Group, Vellayambalam, aiming at a costeffective solution for hassle-free road traffic, automating vehicle detection and counting.
Keltron acts as an extended arm of Kerala's IT Mission. E-health project, Janamaithri, Crime Mapping, Rail Maithri, GIS implementation, Harithamithram, Networking of Treasuries, Wetland inventory assessment, and monitoring system are some of the e-governance projects executed by Keltron.
KELTRON is working on multiple technological fronts, including avionics, green energy, and healthcare devices. Which of these areas do you see as most promising for the company in terms of revenue growth and employment generation in the coming years?
Space Electronics: KELTRON has proudly partnered with ISRO right from the early SLV/ASLV missions, the successful PSLV and GSLV Launch Vehicles, and the historic CHANDRAYAN Missions, Aditya L1 Mission up to the present time through the development of the heavy GSLV Mark III to launch 4-tonne satellites into geostationary transfer orbits. KELTRON'S contribution is present in all the critical subassemblies and their testing, which includes Launch Vehicle Navigation and Guidance Computers, Stage Processing Modules, Control Electronics Modules, Inertial Sensing Unit's Power Modules, DC-DC converters, Resin electronic module, to mention a few. The participation extends to the family of ISRO satellites as well.
Solar: Keltron Solar Division has commissioned more than 250 projects in off-grid as well as on-grid settings. More than 10 MWp of solar installations have been carried out in the country by the solar wing ever since its emergence. The Solar wing has been successful in the design and installation of unique projects like dam-top and canal-top solar plants, along with conventional ground-mount and rooftop solar projects. Some of the major projects implemented are 3MW – Ezhimala Naval Academy, 3MW —Barapole Canal top project, 1 MW — Ramakkalmedu, 50KW – Ponnani, and 400 KW — Banasura Dam. Keltron is recognized as an Empaneled Agency for grid-connected solar projects by the state Nodal agency ANERT.
Medical Electronics: In the Healthcare sector, Keltron is mainly focused on the development and manufacturing of hearing aids and the development of the Cochlear Implant System in association with DEBEL and C-DAC. Also, under ToT from Sree Chitra Institute of Medical Sciences & Technology, the development of Baby Warmer & Baby Bassinet is in progress, for the use of preterm babies.
As Chairman, what are your key priorities to strengthen KELTRON's strategic position and take the company to the next level of growth and profitability over the medium term?
Going forward with the Master Plan Document and adopting the latest technological advancements in the product line, strengthening the R&D Wing, equipping the Manufacturing Infrastructure with state-of-the-art facilities using Government Plan Fund Support, and enhancing the skill sets of the existing resources will be the prime focus.
Also Read | Kerala leading the IT revolution in Governance
The present policy of the Government of Kerala permits the formulation of Joint Ventures with private industries in setting up manufacturing units in key electronic technologies. We have already formed a JV – Keltron-Krasny Defence Technologies Pvt Ltd. Also, efforts are underway in setting up a PCB manufacturing plant and semiconductor assembly plant (OSAT/ATMP). To meet these objectives, the company has recruited more than 180 technical personnel, mostly engineers, and the induction of new human resources can help the company achieve our vision of reaching a target of Rs 2000 Crores by the year 2030.
"Exciting news! Elets eGov is now on WhatsApp Channels 🚀 Subscribe today by clicking the link and stay updated with the latest insights!"
Click here!