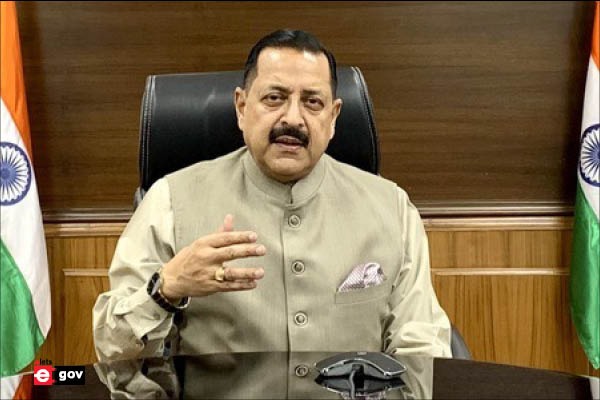 Dr. Jitendra Singh, Union Minister of State (Independent Charge) for Science & Technology, MoS PMO, Personnel, Public Grievances, Pensions, Atomic Energy, and Space, inaugurated the Capacity Building Plan (CBP) for government employees today at the Department of Personnel and Training (DoPT) headquarters in New Delhi.
The Capacity Building Commission (CBC) collaborated with the DoPT to unveil this comprehensive initiative, aimed at enhancing the skills and competencies of government officials and optimizing their deployment. Dr. Jitendra Singh, while addressing the launch event, highlighted that the CBP is a new endeavor spearheaded by Prime Minister Shri Narendra Modi to promote officer training and streamline the placement of officers and staff, focusing on transforming government offices.
"Prime Minister Shri Narendra Modi has underscored the importance of eGovernance, which fosters easy, economic, and environmentally friendly government operations. 'Easy' signifies elaborate processes, 'eOffice' leads to economic efficiency, and the elimination of paperwork not only saves time but also contributes to environmental sustainability. The administrative reforms initiated by PM Modi are geared towards establishing an efficient, transparent, and corruption-free administration," Dr. Jitendra Singh remarked.
Furthermore, Dr. Jitendra Singh revealed that the Karmayogi Prarambh module has been integrated into the induction training for all government employees. This module has also been implemented for new recruits who recently joined government service, as part of the Rozgar Mela, where over 51,000 youths received appointment letters from PM Modi during its sixth edition held yesterday.
Dr. Jitendra Singh urged the CBC to continually update and revise the training modules, citing the rapidly evolving landscape of technology and artificial intelligence. He emphasized, "In this age of technology, the doubling time for knowledge has shrunk from five years to less than a year."
Commending the CBP for its iGOT (Integrated Government Online Training) modules catering to government employees at all levels, from Assistant Section Officers (ASOs) to Joint Secretaries (JS), Dr. Jitendra Singh suggested that a similar training module be developed for ministers as well.
The CBC Chairman, Shri Adil Zainulbhai, informed the Minister that they have introduced 700 courses on the iGOT platform. Of the approximately 3 million Central Government employees, 1 million are in the Railways, another 1 million in Central Armed Police Forces (CAPFs), and the remaining 1 million in various Ministries and Departments. He noted that 80% of the skills being imparted are related to functional and behavioral skills, while the remaining 20% are domain-specific, focused on particular tasks and roles. The overarching goal of Mission Karmayogi and iGOT is to transform 'karamcharis' (government employees) into 'Karmayogi' (skilled and empowered individuals).
The launch of the Capacity Building Plan marks a significant step towards enhancing the capabilities of government employees and fostering efficient governance in India.
"Exciting news! Elets eGov is now on WhatsApp Channels 🚀 Subscribe today by clicking the link and stay updated with the latest insights!"
Click here!