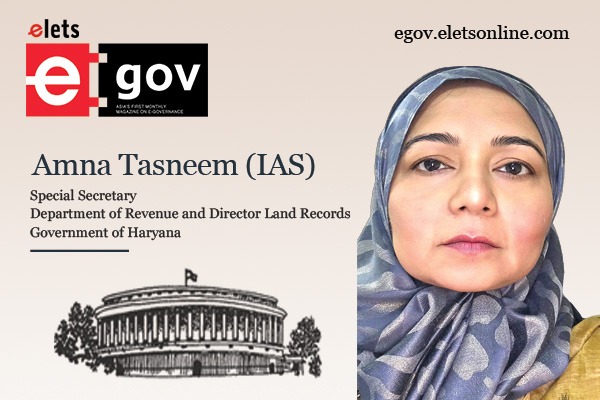 Modern Revenue Record Rooms have been set up in every district Mini Secretariat as well as the State Secretariat. These rooms feature the scanning and digitization of historical manual Revenue Records, accessible via Web RRRMS Software, shared Amna Tasneem, IAS, Special Secretary, Department of Revenue and Director Land Records, Government of Haryana, in an exclusive interaction with Priya Yadav of Elets News Network (ENN).
What have been the reasons that have spurred the government to digitise land Records in the state?
Sustainable growth in both urban and rural areas hinges on effective land management. By upgrading land registration systems, streamlining the process of property acquisition, and improving methods for resolving disputes—coupled with technological advancements and the adoption of state-of-the-art technologies— transparency and accessibility in land administration can be significantly enhanced.
Traditional methods of maintaining land records were outdated and risky, as these vital documents were susceptible to damage from neglect and dust accumulation. Furthermore, the need for manual retrieval of these records exposed them to additional wear and tear.
What are the initiatives taken by the Haryana government for digitization of land records?
Several innovative initiatives for efficient land management and property management have been taken up by the Haryana Government.
The state government has undertaken initiatives in the following areas:
Land Records
SVAMITVA
Registration – Integrated online Revenue Management System – Web HALRIS
Mutation of Property Records
Building permits
Payment of property tax
e-Bhoomi – purchase of land voluntarily offered by private land-owners, for Government projects
What are the key advancements and benefits of land record reforms in Haryana, particularly in relation to the digitization and preservation of historical Revenue Records?
Modern Revenue Record Rooms have been set up in every district Mini Secretariat as well as the State Secretariat. These rooms feature the scanning and digitization of historical manual Revenue Records, accessible via Web RRRMS Software. Over 30 crore documents across Haryana have been digitised and stored on the MRRR server. Soon, these records will be accessible to the public for both viewing and downloading, eliminating the need for in-person visits to access historical Revenue records. This digital availability will be particularly helpful for citizens involved in legal cases where historical records are demanded by the courts.
The traditional physical records are also being preserved in a more modern way; they are being bar-coded and stored in galvanised metal boxes, organised within a QR-coded rack and management system. This method minimises the risk of deterioration caused by frequent handling and human contact. Each Revenue Record Room is equipped with a Front Desk, staffed to prevent unauthorised or unnecessary entry. If either a Revenue official or a citizen requires copies of specific records, the front desk personnel can provide these by accessing the scanned and digitised versions, negating the need to manually search through physical files. The bar-coded system in place is fully searchable through specified query criteria.
How has the system of land records changed in rural and Agricultural areas?
Digitization of land databases through survey-resurvey is being carried out through the Haryana Large Scale Mapping Project. Haryana is a leading agricultural producer and is a state that can be called the Bread Basket of India. However, farmers have been struggling with land data that is rooted in a century old system, with maps that have an accuracy of 30 square yards area.
With a view to energise the agricultural sector through more precise records, Haryana took the pioneering step of comprehensively mapping the entire state, achieving geo-referenced maps with an accuracy level of 10 cm or less. In doing so, Haryana became the first state in the country to utilise modern drone imagery for digitising cadastral maps, complete with geo-spatial data, and collaborated with the Survey of India as the implementing agency. A MoU was signed on March 8, 2019, between the state government and the Survey of India to carry out the project across Haryana. The project deliverables include geo-referenced base maps, ground truthing, extraction of 2D/3D features on maps, and linkage with existing property records in urban areas as well as the creation of property records in rural Abadi areas, which historically lacked such documentation. The ultimate goal is to integrate cadastral maps with land records through the use of BhuNaksha and Web-HALRIS platforms.
Could you tell us in detail about the SVAMITVA scheme undertaken by the Government of Haryana?
Haryana became the first state in the nation to declare a village as Lal Dora Mukt. Village Sirsi in Karnal was declared as the first Lal Dora free village of the country on 26th January 2020, with the entire Lal Dora being mapped and property records created for rural Lal Dora.
Having entered into an MOU with SoI, Haryana conducted surveys of all areas in village Lal Doras, in which the Revenue Department worked in close coordination with the Development and Panchayat department of the state.
Marking of boundaries on ground was carried out after due notice to land owners and residents of each village. Survey class drones (UAVs) were used for carrying out aerial imaging, which was then ortho-rectified. Features were extracted for each property within the Lal Dora, and these maps were then surveyed on ground for truthing and collection of ownership data. Claims and objections were invited as per process laid out in the Haryana Panchayati Raj Act.
Henceforth, high quality maps were prepared for records. The data under SVAMITVA in the state is given below:
1. 6259 villages were declared Lal Dora free as on 10th August 2023.
2. Drone mapping and data processing completed in all 6260 Lal Dora Villages
3. 25,16,695 property titles conclusively finalised as per CRID portal
4. 24,42,193 property cards distributed in 6259 villages and these titles have been linked with Parivar Pehchan Number (PPN).
5. 4,01,791 Lal Dora (Abadi Deh) property deed have been registered under the Registration Act, 1908
Tell us how Mutation of Property Records has changed in the state?
The archaic practice in Haryana of Revenue officials manually entering mutations only when requested by landowners has been modernized. Effective from July 6th, Haryana has implemented automatic mutation generation for four key types of land transfer deeds that are required to be registered—namely, sale deeds, gift deeds, family transfer deeds, and mortgage-with-possession deeds.
In this new system, the moment a property transfer deed is registered for any of these four categories, a draft mutation is automatically generated by the system. This draft pulls in the data of all involved parties, property specifications, and other pertinent details directly from the registered deed. The draft mutation is then made publicly accessible online, allowing any individual with concerns or objections about the property transfer to raise them.
Also Read | Drone applications in rural development Charting new frontiers
Objections can now be submitted directly through the online portal, following a structured workflow that routes them to the Circle Revenue Officer (CRO). The CRO receives daily notifications about such cases and is obligated to investigate these objections, either approving or dismissing them based on their merits. If no objections are made against a mutation, the CRO is required to approve it ten days following its generation. This eliminates the need for citizens to make frequent trips to Revenue department offices at the village or tehsil level to request mutations or approvals. It also eases the workload of staff who previously had to manage cumbersome registers for mutation, as well as officers who had to host public gatherings in villages to approve mutations.
The underlying regulations have also been suitably amended to facilitate this change without any legal complications. Automated mutations are now synchronizing Deed Registration with Land Records of Rights, generating mutations instantly upon the registration of a deed. Consequently, citizens no longer need to consult Revenue and Land Administration officials for mutations.
"Exciting news! Elets eGov is now on WhatsApp Channels 🚀 Subscribe today by clicking the link and stay updated with the latest insights!"
Click here!