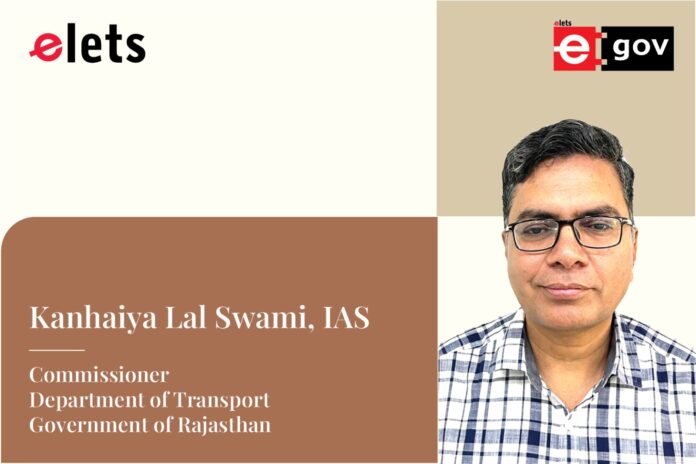 Rajasthan has taken a pioneering step by integrating portable weighing machines with the e-Challan system, enabling enforcement officers to issue overloading challans instantly using e-challan POS devices, shared Kanhaiya Lal Swami, IAS, Commissioner, Department of Transport, Government of Rajasthan in conversation with Krishna Mishra of Elets News Network (ENN). Edited excerpts:
How do you envision leveraging smart mobility solutions to not only enhance citizen convenience but also boost revenue streams for the state of Rajasthan?
As per the Chief Minister's budget announcement, the Vehicle Location Tracking System (VLTS) has to be implemented in Rajasthan State. It will be used as an electronic enforcement tool for all commercial vehicles. It is an ambitious project which will ensure not only the safety of women and children in public transport vehicles but will also be used to enforce vehicles in various modes including:
Enforcing speed limits and issuing fines for speeding to enhance road safety and boost revenue.
Monitoring public passenger vehicles for permit violations (routes, schedules, etc.) and issuing fines for non-compliance to increase revenue.
Locating tax-defaulter vehicles and taking enforcement actions to recover unpaid taxes, leading to revenue generation.
Verifying vehicle presence at Automated Fitness Centers by mapping their coordinates, ensuring compliance.
VLTD (Vehicle Location Tracking Device) has been successfully installed in 3,246 private ambulances. These ambulances are currently under monitoring at the Road Safety War Room and the Transport Commissioner's Office.
The implementation of NIC-ITMS (National Informatics Centre – Intelligent Traffic Management System) in the state has proven effective in enforcing Motor Vehicles Act violations such as Speed Limit Violations (SLVD), Red Light Violations (RLVD), and the use of CCTV. Additionally, the No Parking App has contributed to smoother and safer road traffic flow and has also generated revenue.
A comprehensive e-Challan system has been developed, integrating with Abhay Command and Control Centers and NIC-ITMS server, aligning with Rule 167-A of CMVR, 1989, for electronic enforcement. State-of-the-art Traffic Monitoring Centers (TMC) have been established on the Kishangarh-Bhilwara Highway, with plans to implement electronic enforcement at 25 identified junctions in 'One Million Plus' cities under Rule 167-A. Strategic placement of interceptors/speed detection mobile units is also in progress, targeting challans for improper use/non- implementation of reflective tapes.
How does the Transport & Road Safety Department strike a balance between revenue enhancement initiatives and the implementation of measures to ensure road safety and accident prevention?
The Transport Department in Rajasthan serves as the central authority for road safety initiatives. They conduct year- round enforcement campaigns targeting issues such as helmet usage, wrong-side driving, and reflective tape adherence. Additionally, dedicated Flying Squads and digital interceptors are strategically deployed based on road accident analytics generated by iRAD, aiming to enhance road safety while generating revenue. Ambulance deployment is also informed by iRAD's GRID system, focusing on accident-prone areas. To further coordinate efforts, District Road Safety Committees, chaired by the District Collector, have been established, involving stakeholders from departments like PWD, Police, and Health, among others. Furthermore, the integration of Intelligent Traffic Management Systems (ITMS) on highways aligns with the Rajasthan Road Safety Road Map 2020, endorsed by the Hon'ble Chief Minister, of Rajasthan, through the state government's budget declaration.
ITMS implementation in the state is being used to enforce MV act violations which results in smooth and safe road traffic as well as revenue generation. The different modes of NIC-ITMS are already functional ensuring road safety as well as revenue generation, which are as follows:
Integrating ITMS with 25 digital interceptors has enhanced road safety by capturing over-speed violations and issuing notices to vehicles, resulting in increased revenue collection.
Furthermore, integrating ITMS with ANPR-enabled gantry cameras across Jaipur, Jodhpur, and Kota districts serves to capture not only over-speed violations but also other traffic offenses, effectively generating challans against violators for improved traffic management.
Using the NIC-ITMS mobile app to capture No-Parking and other traffic violations also results in smooth and safe road traffic as well as revenue generation.
Dehli-Vadodra-Mumbai expressway is also going to be integrated with NIC-ITMS, which will ensure road safety and revenue generation.
How has the Transport & Road Safety Department of Rajasthan devised innovative strategies to enhance revenue generation while ensuring the safety and efficiency of road networks?
The National Informatics Centre (NIC) is currently considering the implementation of an e-Detection system, which aims to automatically issue e-Challans for vehicles found on the road without the required Motor Vehicle documents such as Tax, Fitness, Insurance, PUC, Permit, Non-Use, or those on a blacklist. This system utilizes vehicle information collected from various toll plazas.
Also Read | Boosting Economic Growth Through Effective Revenue Management
Rajasthan has taken a pioneering step by integrating Portable Weighing Machines with the e-Challan system, enabling enforcement officers to issue overloading challans instantly using e-challan POS devices. In addition, with the upcoming implementation of the Vehicle Location Tracking System (VLTS) in the state, there are plans to further enhance its functionality by introducing various innovative ideas such as:
Tilt Alert: When a vehicle triggers a tilt alert, it indicates that the vehicle has likely been involved in an accident or faced an unfortunate incident.
Ensuring Physical Presence at Automated Fitness Centers: By mapping the GPS location of the vehicle to the nearest fitness center, we can verify the actual physical presence of the vehicle at that location.
Capturing Permit Violation: The system will identify deviations from the registered route or failure to follow the permit's timetable for vehicles with permits. Enforcement agencies will then take appropriate actions to address these violations.
Can you provide examples of how the integration of cutting-edge technologies, such as toll management systems or real-time traffic monitoring, has improved revenue collection and road safety outcomes?
The establishment of a Road Safety War Room in Rajasthan has significantly contributed to long-term road safety improvements. This initiative has seamlessly integrated emergency response services, including 112, 108, and 1033, ensuring a timely and coordinated response to road incidents. Additionally, the issuance of gazette notifications and guidelines mandating CCTV camera installations in Bal Vahinis has enhanced surveillance and safety. The implementation of NIC-ITMS for enforcing Motor Vehicles Act violations has not only improved traffic flow and safety but also generated revenue. This comprehensive approach leverages existing electronic enforcement infrastructure in Rajasthan to create safer and more efficient roadways.
What is your vision for the future of road safety management within Rajasthan's transport sector, considering upcoming technological advancements and policy shifts?
The government is currently in the process of establishing an Integrated Traffic Management System (ITMS) worth Rs. 100.99 crores on three National Highway stretches, Shahjahanpur to Ajmer (NH 48 & 448), Bar-Bilara-Jodhpur (NH 25), and Sikar to Bikaner (NH 11 & NH 52) as part of the Gati Shakti project. This initiative is being undertaken through RajCOMP Info Service Ltd (RISL). Additionally, there's a focus on strengthening institutional mechanisms at the state and district levels to enhance road safety and traffic management.
In a forward-looking approach, the integration of urban ITMS with city surveillance is being explored to improve overall urban mobility and security. Furthermore, plans are underway to integrate mining (e-ravanna) with ITMS-eChallan, allowing for streamlined monitoring and enforcement of traffic regulations. The introduction of the RAJCOP mobile app, enabling citizens to report traffic violations, is set to contribute to road safety and revenue generation.
To enhance road safety further, the establishment of a State Institute for Road Safety at HCMRIPA is being pursued, facilitating regular capacity- building programs. The government is also committed to implementing road safety and Electric Vehicle (EV) policies. Additionally, various policies, including those related to CNG, public transport, and road safety, are in the finalization stage, aiming to ensure safer and more efficient road networks. Budget allocations for 2021-22 include measures such as the Integrated Traffic Management System to address over-speeding and overloading on highways, Portable Weighing Machines for checking overloads, and procurement of electronic equipment for the Police Department, all contributing to road safety and traffic management efforts.
"Exciting news! Elets eGov is now on WhatsApp Channels 🚀 Subscribe today by clicking the link and stay updated with the latest insights!"
Click here!