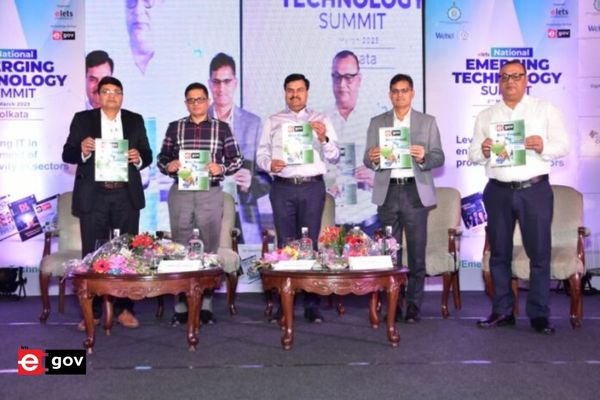 The Elets National Emerging Technology Summit, held on March 2nd, 2023 at Taj Bengal brought together technology experts, entrepreneurs, and policymakers from across India. The summit, organized by Elets Technomedia Pvt. Ltd. in association with the Department of IT & Electronics, Government of West Bengal was a great success, featuring lively discussions, insightful presentations, and engaging networking opportunities.
The one-day event covered a range of topics related to emerging technologies, including blockchain, artificial intelligence, quantum computing, and more. The summit began with the lamp lighting ceremony and the launch of Elets eGov special magazine on 'Emerging Technology'. The summit featured an inaugural address by Shri Rajeev Kumar, IPS, Principal Secretary – IT & Electronics, Government of West Bengal. The summit featured keynote addresses by some top industry professionals. The speakers shared their experiences, insights, and perspectives on how emerging technologies are transforming industries and driving innovation.
In addition to the keynote speeches, the summit also featured several panel discussions on topics such as: Leveraging Technology for citizen empowerment and last mile inclusion, Technological way forward for ensuring a green and sustainable environment, Innovations & best practices for enhancing Citizen Experience, Ensuring knowledge & empowerment through effective eGovernance.
The summit also included an exhibition area where technology companies showcased their latest products and services. Attendees had the opportunity to meet with representatives from these companies and learn about the latest trends and innovations in the industry.
Commenting on the success of the summit, Dr. Ravi Gupta, CEO of Elets Technomedia Pvt. Ltd., said, "We are thrilled with the turnout and engagement at this year's summit. The conversations and ideas that emerged from the discussions will undoubtedly shape the future of emerging technologies in India and around the world. We look forward to continuing the conversation and exploring new frontiers in technology."
The Elets National Emerging Technology Summit 2023 was supported by WEBEL and CS-COE, West Bengal as the host partners whereas Blu Cocoon Digital acted as Associate partner for this event. LTIMINDtree graced the event as Digital Transformation partner, whereas SCHOOLNET was presented as exhibitor among several other sponsors.