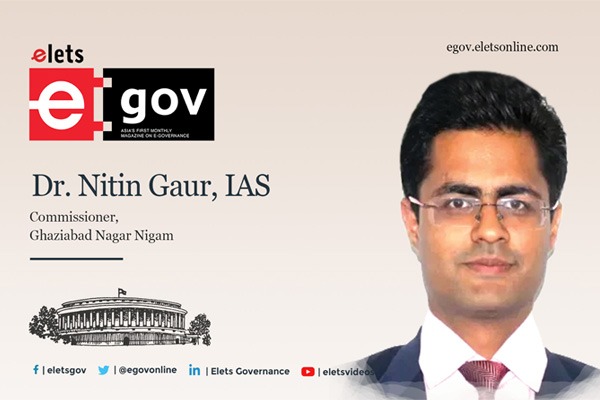 Ghaziabad Nagar Nigam is the first Nagar Nigam in the country to have issued green bonds. It has implemented all stages of GRAP (Graded Response Action Plan) in letter and spirit. It has adopted various best practices to make Ghaziabad a clean, green and pollution free city, shares Dr. Nitin Gaur (IAS), Commissioner, Ghaziabad Nagar Nigam in an exclusive interview with Ritika Srivastava of Elets News Network (ENN).
Edited excerpts:

Could you please elaborate on the best practices of Ghaziabad Nagar Nigam?
Ghaziabad Nagar Nigam caters to a population of around 25 lakh and an area of around 210 square km. Since it is very close to Delhi and various pollution control bodies have a very strict vigil on it. So, we are very particular about our efforts in reducing pollution.
We have implemented all stages of GRAP (Graded Response Action Plan ) in letter and spirit. We have adopted another best practice of issuing green municipal bonds. We are the first Nagar Nigam in the country to have issued green bonds. As a result, data and systems are maintained as per global standards. Apart from this, all our departments are giving their 100 per cent in whatever fields they are working.
How Ghaziabad Nagar Nigam is planning to make Ghaziabad a clean, green and pollution free city?
For making Ghaziabad city clean, green and pollution free, we have to cut pollution from the source. As far as source reduction is concerned, we have asked all the industrial units to comply with GRAP regulation. The violators are being prosecuted and fines are levied upon them. As far as citizen cooperation is concerned, we promote green drives like plantation drives. Apart from this, we are developing Miyawaki forest on more than 10 hectares of land here. These are measures which have been reducing pollution and at the same time increasing greenery.
Furthermore, we are also strengthening our garbage transportation and laying stress on improved door-to-door coverage, wherein vehicles can go to households and collect waste. The Nigam is also promoting aggregation of waste into dry waste and wet waste
What ICT initiatives have been taken for the smart ecosystem for the city's growth?
If we talk about ICT, we are effectively using it for public grievance redressal. We have our integrated command and control centre where four to five operators are available around the clock who address complaints received on Nagar Nigam helpline numbers. So, these have been our primary usage of ICT. Apart from that, we are using it for house tax also. We are using ICT for our online payment gateway and we have formed various groups over social media to take complaints from citizens, redress them and convey to citizens to take their feedback. Apart from that, we pay utmost importance and attention to government redressal systems like IGRS, CM portal or JAN SUNWAI.
What projects are in the pipeline to beautify Ghaziabad and make it the foremost city of NCR region?
To beautify Ghaziabad, we have to first reduce the visible garbage. You must be aware that Ghaziabad has got third prize in the entire state for doing exceptional work in the removal of garbage from the vulnerable points. When garbage is removed, it contributes a lot towards beautification. Apart from that, wall paintings, street lighting, greenery, and maintenance of the green belt are other steps that we have taken towards beautification of our city. Recently, the Ghaziabad Municipal Corporation permanently removed waste dumps from 122 locations throughout the city as part of a major cleanliness initiative. The Corporation improved the GVP in addition to permanently removing them. At the same time, the Nigam also ensured public participation in this big move.
Would you like to illustrate any of the challenges the government is facing in overall city's development?
Yes, we have challenges of a floating population, increasing population and infrastructure always remaining in a catchup mode. Apart from that, sometimes we have a crisis in funds allocation also but we try our best to relocate funds where it is needed the most. We also need cooperation from citizens and various civil society organisations to contribute in their own bit rather than being dependent on the government. We also need citizens to respond and contribute towards government schemes.
What is the vision of Ghaziabad nagar nigam for 2023, the plans for its transformation and sustainability?
We are eying towards execution of a big project which is being set up in Hapur district's Galand. This will consume all the solid waste of Ghaziabad, Hapur, Loni and few more municipalities. Apart from that, one bio CNG project is also coming up and we hope this will see daylight in 2023.