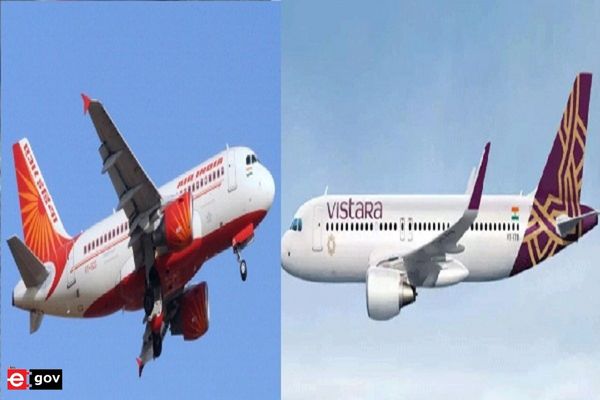 Vistara Airlines and Tata-owned Air India will be combined by March 2024, the firm stated today. With an investment of about 2,000 crore, Singapore Airlines, which has a minority stake in Vistara as part of its joint venture with Tata, will hold approximately 25% of the expanded Air India.
As Tata Sons rebuilds a massive aviation arm of its business, the restructuring will result in a larger fleet and more routes operated under the Air India name. Tata now controls 51% of Vistara, with Singapore Airlines holding the remaining 49% of the joint venture established in 2013.

The objective ever since Tata acquired Air India for 18,000 crore as part of a government disinvestment around a year ago has been to merge all its aviation brands under that name.
According to a release from Singapore Airlines, the two owners of Vistara "hope to conclude the merger by March 2024, subject to regulatory clearances." Additionally, Tata owns the low-cost airlines Air India Express and Air Asia India, which will combine under the Air India name by 2024.
This will take the fleet size to 218, putting together Air India's 113 with Air Asia India's 28, Vistara's 53, and Air India Express's 24. It will then be India's largest international carrier and second largest domestic carrier, Tata Sons said.
According to reports, one of the biggest orders in aviation history, for 300 narrow-body jets that would be delivered gradually, is likely to be placed. In the next five years, Air India plans to quadruple its current fleet of 113 aircraft, according to its chief executive officer.
"As part of the transformation, Air India is focusing on growing both its network and fleet, revamping its customer proposition, enhancing safety, reliability, and on-time performance," said Tata Sons chairperson N Chandrasekaran.