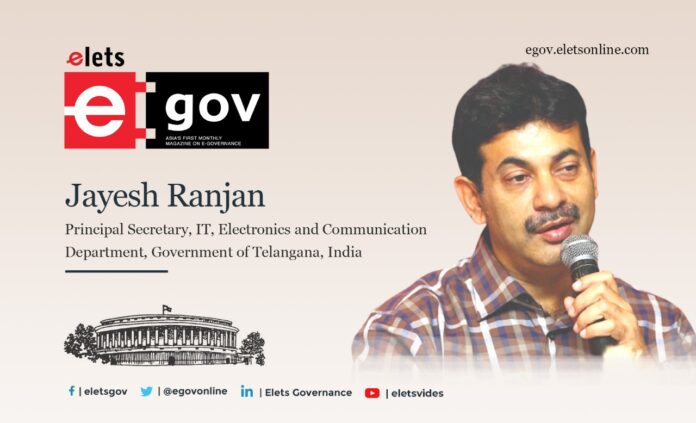 Telangana Government has recently adopted the "Cloud First Strategy" with a cloud adoption framework that helps the state to make use of cloud-based technology in a complex environment. To know more about the emergence of AL and ML in the state of Telangana, Ravi Gupta, Founder & CEO, Elets Technomedia and Editor-in-Chief, eGov Magazine, had an exclusive conversation with Jayesh Ranjan, Principal Secretary, IT, Electronics and Communication Department, Government of Telangana, India.
Telangana government is at the forefront of embracing emerging technologies such as Artificial Intelligence. What are the initiatives the state government is taking to position itself as a global hub of AI?
We have built a platform of emerging technologies to attract the stakeholders' attention. But it doesn't mean that the year of AI activities has ended or is going to end by 2022.
Also Read | Establishing data resilience for a hybrid cloud strategy
Recently, G-20 had an event in Bali, that focused on technology, and 5 AI-based start-ups have been taken from India to showcase the range of AI activities happening in the country. Four out of them were from our program. We are very bullish on AI and continue to invest in it. This year we launched an AI application for remote voting. Earlier remote voting was not in the realm of imagination. But in March 2022, we were able to demonstrate the technology on a large scale in a small town called Khammam, which is close to Hyderabad for 3500 voters. AI played a very important role in that. Artificial Intelligence helped in voter identification of the right person, and address the challenge of tampering with votes, where AI was used to stop people from tempering the votes.
We have also used blockchain as the technology to ensure that no tampering can happen with the voting system. This has been the highlight of the adoption of AI and blockchain in the current year.
T-Hub, along with Telangana State Innovation Cell (TSIC) collaborated with Amazon Web Services (AWS) to launch India's first-ever drone-tech accelerator program, AWS Dronetech Accelerator. Please shed light on the initiative.
Our partnership with AWS is quite diverse. Our state data centres are quite old and many of the legacy databases were hosted on them. While there are other cloud service providers, we choose AWS, as it is ahead in terms of scalability, security, etc of any other service providers. There is a team provided by AWS that helps us migrate our IT workloads to the cloud and accelerate our eGovernance plans. The Aarogyasri Health Care Trust (Aarogyasri), the Greater Hyderabad Municipal Corporation (GHMC), and the Telangana State Department of Information Technology, Electronics, and Communications (ITE&C) are the first state organizations to migrate workloads from on-premises to AWS.
During COVID-19, we also had monitoring tools that were operated by AWS. Apart from this, AWS also has several other specialities in terms of agriculture, drone, space tech, etc which are important to us as well.
Also Read | AWS is enabling population-scale government platforms in India
T-hub (Technology Hub) is a Hyderabad-based innovation centre that also serves as an ecosystem facilitator. In July 2022, T-hub along with Telangana State Innovation Cell (TSIC) collaborated with AWS to launch the AWS Dronetech Accelerator aimed to help entrepreneurs with the tools and skills needed to drive the adoption of drone technology in India.
Kindly share your point of view on the current scenario of big data analytics and its future. How do you see the usage of AI and ML?
Our aim for the future is to become like Estonia, as it has a concept of presence less, contactless, paperless, and anytime, anywhere governance. We have already begun this, transport department services for citizens in many places have been made citizen-friendly. Another example in India will be the renewal of driving licenses in Telangana. The process is similar to that of Estonia which means you can renew the license from anywhere even if you are outside the state. Similarly, we wish to achieve many such milestones in our services
How is Machine Learning (ML) shaping the IT industry today?
The software that we use for facial recognition now has an accuracy of over 97 percent, and 5 years back accuracy was about only 74 percent. So, the journey from 74 percent to 97 percent, happened due to Machine Learning (ML).
What are the future plans and the overall journey of the Telangana government, and how Amazon Web Services can play a big role in this, as it is the most trustworthy cloud service provider, so what is the roadmap of this journey?
We want to move everything to the cloud except a few databases and applications.
One example that I can highlight here is the Aarogyasri Health Care Trust which facilitates health insurance implementation for catastrophic illnesses for families below the poverty line and is run by the state government of Telangana. After decades of usage, it had outgrown its on-premises data centre. We migrated the program's infrastructure to AWS in less than 5 months with zero downtime. Since then, updates and feature deployment have happened with virtually zero downtime, compared to as long as 24 hours of downtime using the on-premises system.
Using AWS, Aarogyasri experienced improved uptime, helping more than 500 Telangana hospitals to focus on prioritizing patients rather than resolving outages. Aarogyasri also uses AWS to encrypt the Aarogyasri Scheme's sensitive patient health data at rest and implement an audit trail. The audit trail enables Aarogyasri's administrators to monitor and record user activity for compliance and identify unauthorized access to confidential data, especially patient health details.