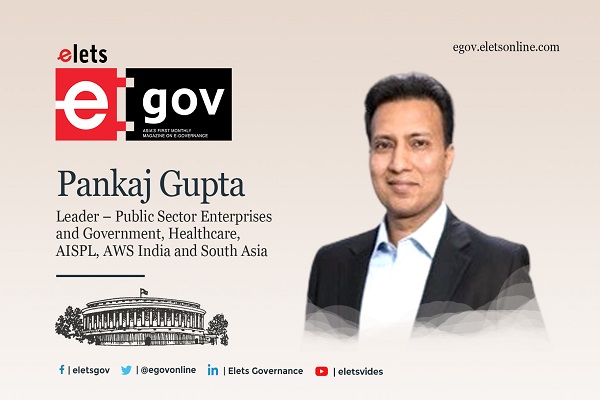 AWS cloud today offers endless opportunities in the ever-evolving technology driven world. From speed to agility, from scalability to flexibility, AWS cloud has made a paradigm shift in transforming the governance and administration in the country. Pankaj Gupta, Leader – Public Sector Enterprises and Government, Healthcare, AISPL, AWS India and South Asia tells Anuj Sharma of Elets News Network in a telephonic interview.
Q1) The massive digital transformation that India has witnessed in the last 7 years is mainly attributed to the incredible leverage of cloud computing. Has India overtaken the pace of transformation viz., other countries?
India has successfully built some population-scale digital platforms. As a citizen of India, we have Aadhar, the largest biometric identification program through which billions of people in India have a digital identity. Nearly one hundred billion transactions have taken place through NPCI-developed UPI. COWIN application, which was developed on AWS, facilitated 2 billion covid 19 vaccination- the largest vaccination drive in the world. Another digital platform like DigiLocker acts as a central wallet to keep important documents like driving licenses, PAN card, academic documents, etc.
AWS Cloud, the platform on which COWIN was built, provided the government with scalable, elastic, agile, and secured infrastructure features which made them go for AWS Cloud. And if you see the numbers, they are mind-boggling. COWIN is the fastest application to register 200 million users in just 4 months.120 million  registered users on DigiLocker with 5.6 billion authentic digital documents.
Today India talks of "Make in India, Make for the World". And taking these solutions, population-scale platforms as digital public goods, the Government of India has announced that they have open-sourced COWIN, which means that any developing countries who want to adopt or emulate the same will be given the required information.
E-Sanjeevani is another platform that was developed only in 19 days by C-DAC by leveraging the AWS cloud. During the Pandemic, when the entire OPD or doctor's clinics were shut down, a dire need for this platform was felt particularly to help rural people availed health-related facilities in those cataclysmic times. This platform has really changed the paradigm as it facilitates video consultation with doctors, live chat functionality, and e-prescriptions. This platform when launched was used only in 4 states, but, today it is used across states. Today, rural people from the confinement of their rooms can consult doctors online which has made their life easy.
On 16th January, when COWIN platform was launched, only 1.9 million people were using it as it was meant to be first used by frontline workers and healthcare professionals. But on 17th September, the number reached to 25 million as government decided to do that on mass scale.
So, all these population-scale platforms could be built only because of technology like AWS cloud.
Q2) Going with the same population-scale adoption of cloud computing, a NASSCOM report states that apart from contributing $380 billion to the economy by 2026, it will also create 14 million direct and indirect jobs. Your thoughts.
We are at tectonic shift in terms of adoption of cloud technology. Though cost is always an evaluating factor for customers to evaluate cloud but the real reason for the massive use of cloud these days is the factors like speed, scale, agility, and innovation.
Think about the older days when building even simpler platforms used to take a few weeks. And then factors like creating peripheral platforms, database, compute, networking would further add to the timeline. But leveraging AWS cloud, these platforms can be built only in a few minutes/seconds. For example, eSanjeevani was built only in 19 days. But, using AWS cloud, you can deploy thousands of services to the platform in just one click or two. So, speed and agility are really the transforming factors.
Cloud offers you the platform to innovate and experience at a different pace altogether. It helps you build new applications at extremely fast speeds.
During Covid when the entire country was completely shut down and people's movement was restricted, , eGov foundation collaborated with us to generate e-Pass and we built that service only in 5 days. And as far as data points are concerned, 50 thousand organisations were evaluated to generate the e-pass, and around 600 thousand e-passes were generated which again proves the amazing speed and agility the cloud provides. Cloud also gives you flexibility, elasticity as well as innovative option. The global reach of AWS cloud is phenomenal. Presently, we have covered 27 regions and 87 availability zones and we want to expand it to 21 more Availability Zones and 7 more regions. As a result, any organisation operating anywhere in the world can expand their reach with a click of a button.
As far as challenge is concerned, the main challenge we are currently grappling with is the shortage of a future-ready workforce. For this, we are looking to train around 29 million people worldwide by 2025 and have already trained 2.5 million people in the Asia Pacific region. We are also running various online training programs using which one can become trained in cloud computing operations. Our Program AWS Skill Builder, is a collaboration platform of 500 plus online courses to train people about cloud credit, cloud computing, and cloud technologies. Through AWS Educate, we are working with academic institutions to integrate AWS cloud in the main syllabus at the University level. AWS re/Start is a 12-week-long instructional course that aims to train underprivileged and unemployed people.
So, we are really working in the direction of building a future-ready workforce to contain any challenges associated with skillsets requirements in the handling of AWS cloud.
Q3) Do you have any plan, like other global cloud providers, to set up a skilling centre in collaboration with state government or any private organisation?
We worked with National Skill Development Council very closely. They are running their core platforms like Skill India portal, Skill Development Management System, Skill Management Accreditation Training (SMART). We are working with Delhi University, which built, Samarth eGov to empower higher education institutions. Our aim is to provide the flexibility and the choice to the students to use the online learning platforms. We also have MOU with AICTE in terms of proliferation of AWS education programs.
Q4) In order to utilise fully and reap the harvest of cloud computing, the government of India has launched an ambitious initiative- "GI cloud" which is also referred to as "MeghRaj". Apart from optimum utilization of the infrastructure, it aims to speed up the development and deployment of e-Gov applications. What is your take on this?
All the examples of our institution and program were made possible only because AWS is MeitY empaneled cloud provider. So, opening our data center in 2016, we were the first global hyper-scale cloud provider to get fully MeitY empaneled and since then it has been great working with the government of India, state governments, educational institutions, or non for profit organizations.
Under PMG DISHA, the government collaborated with us to offer population-scale skilling and training. So, in that mission alone, our AWS cloud trained around 46 million people in India. The government was happy in using our AWS cloud technology as it offers them reliability, flexibility, scalability and agility features.
We worked with the Telangana government and helped them in their massive migration of e-office data to the AWS cloud. We effectively addressed their performance issues in terms of latency and scalability. Now, 33 districts' e-Office of Telangana have been deployed to AWS cloud. We moved around 47 terabytes of data to the cloud though it was quite a complex process. Migrating to the cloud, the e-Office of Telangana has been operating smoothly and efficiently ever since.
Q5) In the ever-evolving technological world, cloud computing comes with its own set of challenges and needs careful scrutiny by regulators due to its multidimensional nature. How can we effectively tackle these challenges, especially the security aspects?
Security is always our top priority. The AWS core infrastructure is built to satisfy the security needs of population-scale platforms. AWS architecture is the most secure and flexible cloud computing environment in the world today. They are more than 280 control compliance services available with the customers to secure their data. So, Data Ownership lies completely with the customers.
We also provide 98 security compliance certifications. Security features like PCI DSS which is about the payment card industry, HIPAA in healthcare, FedRAMP in the US are being provided by us to give confidence to the customers in using AWS cloud technology. The encryption feature offered by us in all 200 services enhances the security aspects of data because even if somebody steals your data, they will not be able to make sense of that. We also look at the security aspect in shared responsibility model. That means securing the cloud from virtualisation level to post operating system or the physical security of the cloud, AWS takes care of all these aspects. But, when it comes to securing data in the cloud itself, we are providing customers with 280 security governance complainces, 98 security standards, configuration management, access control, best practices, tools etc using which customers can take care of security aspects of their data.
As far as faster adoption of AWS cloud, I think, organisations have to take the lead. Cloud has to be top down goal in any organisation. Cloud is not about all and nothing. You can't really boil the ocean. You have to pace your migration.
We help the organisation by assessing their portfolios and then suggest the way forward. The organisations have to devote atleast 12 to 24 months in terms of shifting or lifting application and refactoring or replatforming their applications.