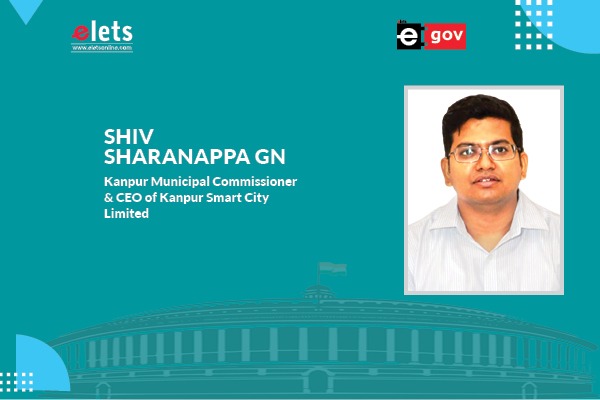 Once known as the Manchester of the East, Kanpur city is known to be the leather hub of Uttar Pradesh. Kanpur Municipal Commissioner & CEO of Kanpur Smart City Limited, Shiv Sharanappa GN, spoke to Tarannum Manjul of Elets News Network (ENN) about projects changing the face of the city.
What are the major projects undertaken by Kanpur Smart City Limited (KSCL)?
All the initiatives being undertaken by Kanpur Smart City Limited are broadly classified under 5 umbrella projects namely Sampann, Sachal, Sakriya, Satat & Swasthya, depending on the nature and purpose of the project. The major projects under the Smart City Mission include:
•  Integrated Command and Control Centre (ICCC)
•  ICT-based Solid Waste Management (SWM) project
•  Development of Smart Road (Phase-I) in Kanpur
•  Supervisory Control and Data Acquisition (SCADA) system for Electricity
•  Water SCADA
•  Upgradation & beautification of Nana Rao park in Kanpur
•  Electric Bus Charging depot at Ahirawan and Fazalganj bus stand in Kanpur
•  Facade and Tower Illumination of Heritage Lal Imli Mill, Kanpur
•  Open Air gym (outdoor) at various locations in Kanpur
•  Development of Visitor Gallery, Media Lift and Exhibition Hall at Green Park Stadium
•  Projection Mapping at King Edward Memorial Hall, Phool Bagh, Kanpur
•  Convention Center at Chunni
Ganj, Kanpur
•  Modernisation & Development of Palika Stadium at Kanpur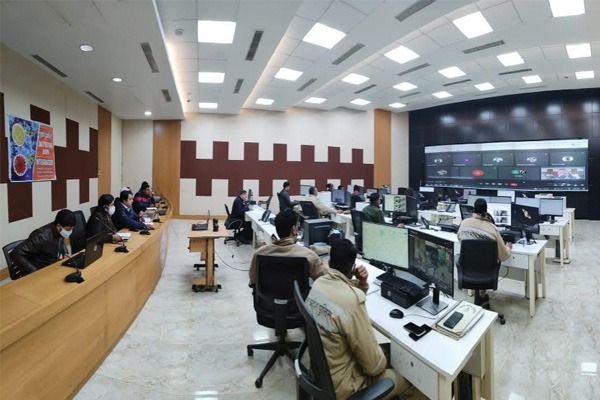 Apart from the above, many other projects and several awareness campaigns along with cultural events are organised in the city from time to time.
Also Read | Khidkiya Ghat Redevelopment A window to boost tourism in Varanasi
Waste management is always a big issue in any city. What has been done under Kanpur Smart City Project?
Solid Waste Management is one of the major areas of concern for Kanpur Smart city and is being regularly worked upon and monitored by the requisite professionals. Collection, transportation and processing of municipal solid waste was a challenge taken up by KSCL, along with Municipal Corporation Kanpur. It was assessed that high priority work was needed for efficient collection and transportation of municipal solid waste. Hence, SWM is being undertaken as a separate project by Kanpur Smart City Limited.
The complete Solid Waste Management Project has been divided into two phases. Phase 1 of the project has been completed with an expenditure worth Rs 46.30 crores. After the implementation of the project, Kanpur Municipal Corporation now collects segregated solid waste from all 110 wards. The collection is monitored via a mobile application by the corporation, which has led to cleanliness in the city. Through this app, the feedback of city residents is also recorded and every complaint is addressed immediately. Phase 2 is yet to start.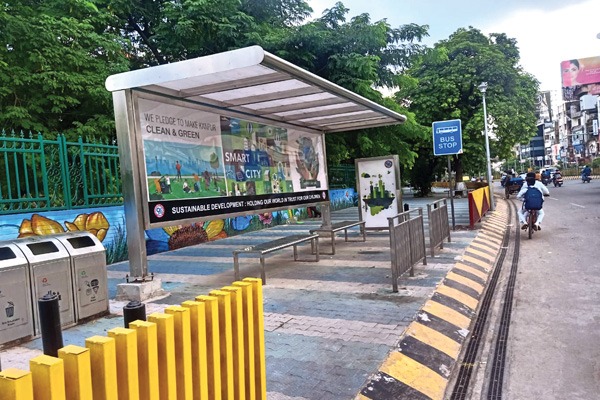 How are you improving response time to citizen services using technology?
In order to improve response time to citizen services, the following initiatives have been undertaken by KSCL:
•  Citizen-Centric Application: A single platform for multiple kinds of citizen services via website mobile app.
•  Citizen Services & Relationship: There are certain services, such as complaint management, birth & death certification, licence (Hawker, Guamsta, and Health), RTI & venue booking etc. that help citizens save time and money.
•  Citizen Tax Payment & Billing: Citizens can make payments of the taxes/charges i.e. property tax & payment for licence and booking of vacant venues etc. They can also check the balance and status of the transaction using transaction id/reference number. This can be done through the website and mobile application as well.
• Citizen Service & Mobility: Kanpur city has been facing parking issues for many years. KSCL has identified and developed smart parking at 42 locations to address the issue.
Currently, we have started the facility to book smart parking at 5 locations, through Android app and online. The citizens can make payment via net-banking/UPI/MSwipedevice to book the parking slot without any hassle.
Also Read | Lucknow Smart City Project- Changing the face of the city of Nawabs
What were the biggest challenges in Kanpur and what has been your approach to overcome them?
SWM was one of the biggest issues faced by the city. The huge amount of solid waste generated in the city was managed through setting up of transfer stations in various parts, the procurement of hopper tippers/RC bins/wheelbarrows for the door-to door collection of solid waste. Moreover, compactors were also procured to compact the collected solid waste to SWM Plant for further processing.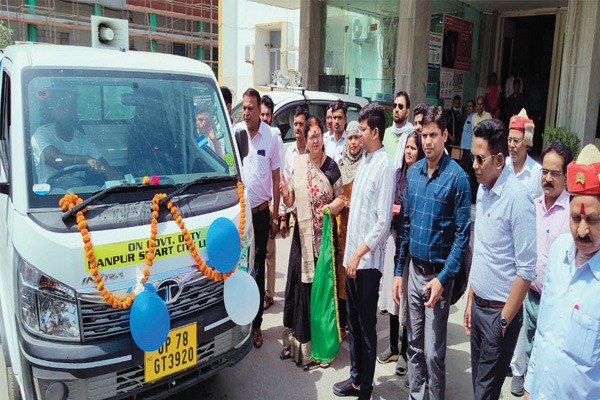 Traffic is another important issue. The Integrated Command Control Centre (ICCC) was set up to manage the city traffic efficiently & effectively. It has facilitated CCTV surveillance at various locations. The Integrated Traffic Management System is being implemented throughout the city. Moreover, Air Quality Monitoring Sensor is also being used to monitor air quality.
Kanpur also faces the issue of water leakage/wastage. It is managed through the WATER SCADA system, which ensures centralised data availability of raw water, clear water, and process plants. The centralised data facilitates better analysis, enables corrective measures for water supply and betterment of the quality. The water leakage/wastage issue will be controlled with continuous monitoring & operation. Furthermore, newly installed valves & filter beds renovation works will increase water production.