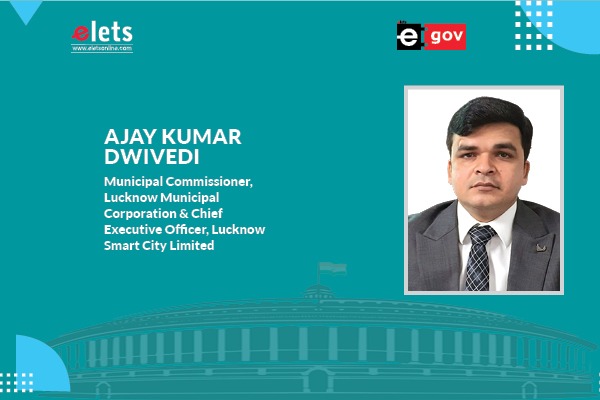 The Lucknow Smart City Project is one of the biggest projects in Uttar Pradesh. Ajay Kumar Dwivedi, Municipal Commissioner, Lucknow Municipal Corporation & Chief Executive Officer, Lucknow Smart City Limited spoke to Tarannum Manjul of Elets News Network (ENN) about how the project is changing the face of the state capital.
What are the major projects undertaken by Lucknow Smart City Limited (LSCL)?
Lucknow Smart City Limited (LSCL) has undertaken 41 projects with a total outlay of Rs 930 crore. These projects are spread over 4 themes – Jeevant (Livable), Swachh (Clean), Sugam (Mobility) and Samruddh (Prosperous). While some of these are synched to Area Based Development (ABD), many are pan-city projects. LSCL has undertaken many initiatives in collaboration with Lucknow Municipal Corporation and other stakeholder departments to provide easier, convenient, efficient and affordable access to municipal services in the city.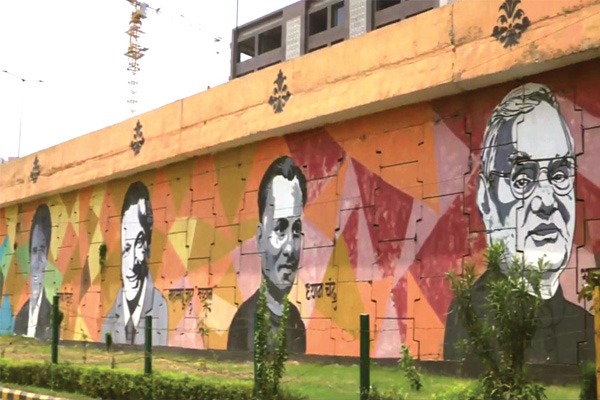 We have set up a state-of-the-art central control room under the Integrated Traffic Management System (ITMS) for 24×7 live monitoring of city traffic. A field surveillance system, comprising various kinds of cameras and electronic detectors, and a public address system (PA system) have been established at key traffic junctions in the city, for management and control of traffic. Besides, automated traffic lights have been installed at more than 150 traffic junctions for regulated traffic flow. E-challan has also been initiated to inculcate traffic discipline among commuters.
Coordinated service delivery has always been a challenge as multiple agencies and line departments are involved in the city for municipal service delivery. A state-of-the-art Integrated Command and Control Centre (ICCC) has been established for 24×7 monitoring and control of various municipal services being delivered by various agencies in the city. Air quality is monitored on a 24×7 basis with the help of 11 Air Quality Monitoring systems connected to ICCC through electronic sensors. We are making considerable savings on electricity bills by centralised electronic monitoring of street lights. Civic services such as solid waste management, street sweeping and sprinkling are now monitored at the door-to-door level through electronic surveillance.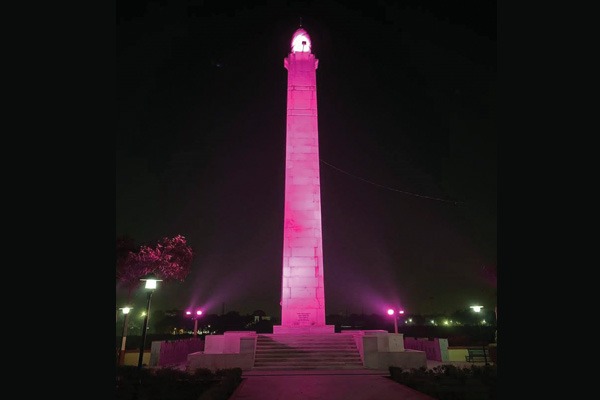 Smart Road project (9.68 kms) has been undertaken in the ABD area with provision of pedestrian footpaths and underground utility ducts. Soon, hanging wires on these roads would be a thing of the past. 33 key traffic intersections have been identified for junction improvement, traffic decongestion, and beautification under the Urban Nodes Project. With the growing aspirations of residents, public parking has become a new challenge. Multi-level car parking is under construction at Chakbast and Collectorate Campus with more than 600 equivalent car spaces (ECS). Stage Carriage (city bus services) are provided by Lucknow City Transport Services Limited (LCTSL). About 100 EV buses are proposed to run in the city. As supplementary measures, LSCL has constructed more than 40 modern bus shelters in the city and the partial funding support for development of five EV charging stations.
A unique initiative in the form of the Telemedicine Centre-cum-Health ATM Project has been undertaken under the e-Health initiative in collaboration with Sanjay Gandhi Postgraduate Institute of Medical Sciences (SGPGI) to provide preliminary health checkup services and prescriptive telemedicine services to the residents of Lucknow. Under this project, we are establishing 100 Health ATM Kiosks throughout the city. To make cities safer for women, the Ministry of Women and Child Development in collaboration with the Ministry of Home Affairs has launched Safe City projects in 8 pilot cities across the country, including Lucknow. LSCL is the nodal agency for implementing the project in the city. A state-of-the-art Integrated Smart Control Room is being set-up for 24×7 monitoring of crime incidences against women at 200 vulnerable stretches in the city. Real-time crime incidences shall be captured with the help of Artificial Intelligence (AI) tools.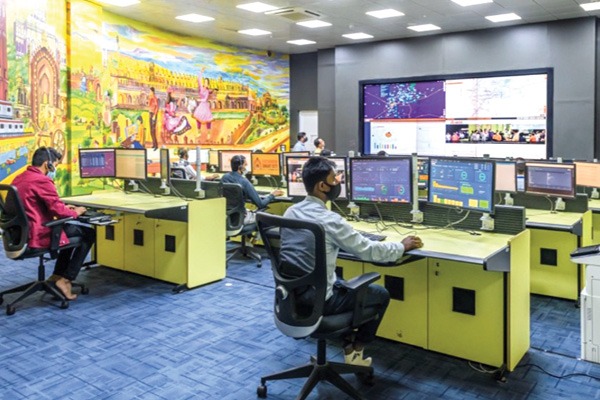 Enabling provisions have been incorporated in every relevant project to cater to the needs of Divyangs (physically challenged). For visually impaired students, we have opened Smart Braille Classes using a friendly electronic device (Annie) that can make learning engaging.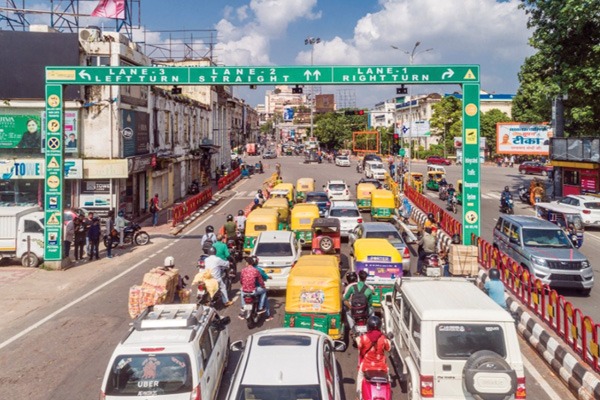 The major projects under different themes are Sewerage – Strengthening and Augmentation of Network, Solid Waste Management (SWM) – RFID/ QR Code/Barcode, 1.5 MLD STP-cum- water recycling project, construction of public and community Toilets at 5 locations, renovation of government primary schools & KD Singh Babu stadium, procurement of road cleaning equipment and dustbins of different capacity under decentralised garbage collection system etc.
Waste management is always a big issue in any city. What has been done under Lucknow Smart City Project?
Lucknow Smart City along with Lucknow Municipal Corporation (LMC) have initiated a Garbage Collection and Management system to ensure optimal collection, transportation, and processing/ disposal of waste. The NFC tags have been installed in 49,750 households to ensure door-to-door waste collection and monitoring. Bin Level Sensors (BLS) and Vehicle Tracking and Monitoring System (VTMS) have been deployed for coordination and tracking of SWM vehicles. 20 portable compactors, having a 6 cubic metre capacity, have also been installed on street corners for localised garbage collection.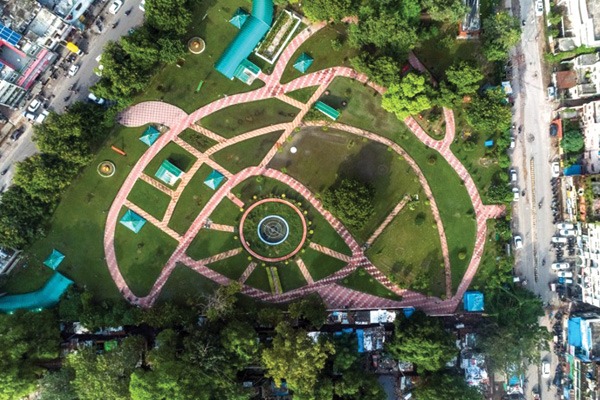 Further, the Municipal Corporation of Lucknow is continuously monitoring & tracking the project. The entire waste management system is integrated with ICCC for real-time monitoring on a pan-city basis. This project has led to effective solid waste management starting from the household level till disposal at Shivri dumping ground. Through these initiatives, the city secured 12th position out of 470 cities of the country and also topped as the cleanest city of the state under Swachh Survekshan 2021.
How are you improving citizen service response time using technology?
LSCL has launched a mobile-based citizen app (Lucknow-One) to enable citizens to access a range of civic services using their smartphones.
Lucknow-One mobile application is accessible from the Google Play Store and Apple Store free of charge. Some of the app's features are:
Citizens can register complaints regarding electricity supply, water supply, stray/dead animals, roads, housing, healthcare etc
Helpline number for Lucknow Police, ambulance service, women's helpline, children's helpline, and senior citizen helpline
Information about nearby ATMs, parking lots, schools, community centres, public toilets, hotels etc
Online booking facility for water tanker and community hall
Booking for pre-wedding shoot, film shooting & family dinner in Kuriya Ghat through the app
The Lucknow-One app has made it easy for the urban local body to track, manage, analyse service delivery and solve issues for effective delivery of its mandate for citizen convenience. The complaint redressal system also has the escalation matrix, which keeps concerned officials on alert to resolve the issue at the earliest. The Nagar Nigam Call Centre makes a follow-up call to the complainant. Overall, Lucknow One app has transformed into a voice-raising platform for its citizens to report civic issues.
What is the biggest challenge in Lucknow and what has been your methodology to overcome it?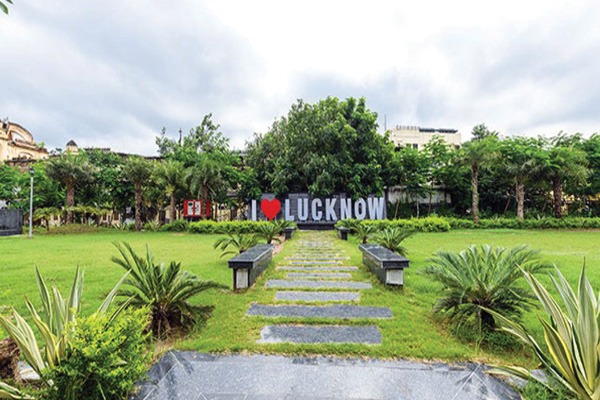 The biggest challenge is the accumulation of legacy waste and its efficient disposal. Taking this as a threat, Lucknow Smart City with Municipal Corporation Lucknow has implemented an ICT-enabled solid waste management system in the city on a public-private partnership (PPP) model. Another challenge faced by the city is the sewerage system and its final disposal, for which LSCL has taken steps to set up new Sewage Treatment Plants (STP). It has developed 1.5 minimal liquid discharge (MLD) STP at Hathi park, wherein treated water is currently being used for gardening purposes, and another one at Avanti Bai hospital and Balrampur hospital, wherein treated water is used for hospitals captive consumption. Furthermore, Lucknow Smart City has also taken up a new 42 MLD STP project. LSCL has also undertaken strengthening, and augmentation of sewer network lines under which 9201 manholes have been constructed with 38,649 HH connections, apart from strengthening of nallahs, wherein 2.22 km of work has been completed out of total drain length of 6.07 km.
Also Read | Lucknow Becoming Smart, Sustainable & Liveable
We are also planning to reuse treated wastewater from various STPs for plantation and gardening purposes, washing of vehicles and fire control, etc. We are targeting private sectors like industries and real estate players to make use of this wastewater on a chargeable basis to make the project self-sustainable.
Lucknow, as well as the entire world, is facing the scarcity of groundwater. To mitigate this issue, the Lucknow Smart City has planned to recharge groundwater via a rainwater harvesting system. This will help in replenishment of already dwindling groundwater resources in Lucknow. Under the project, 20 institutional/ government buildings have been identified for installation of rainwater harvesting system. For conservation of energy, we have implemented the Solar Rooftop Project over 7 government/institutional buildings, having a total capacity of 392 KWp. Lucknow Smart City is also focused on better utilisation of the available open spaces by installing open air gyms at 2 parks and creating more such facilities at 9 locations. We have also undertaken renovation of 5 parks for children and families and created free public WiFi hotspots at 22 different locations having high footfall like hospitals, bus stands, educational institutes and major markets.