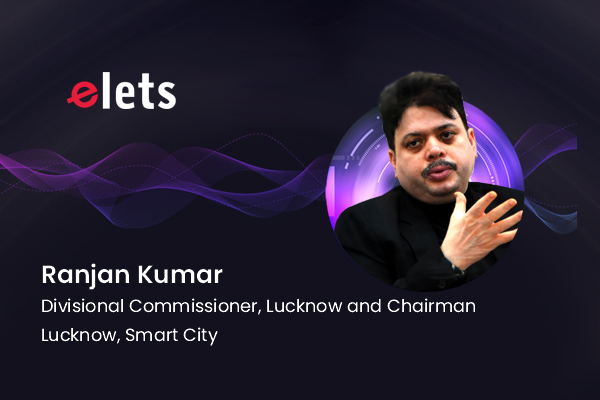 With the launch of the Centre's flagship Smart City Mission, the urban development and city planning in India have seen a transformation opening arms to adopt technology interventions to optimise city operation and services. Lucknow is one city that is known for its rich culture and heritage. However, the "city of Nawabs", with the Smart City Mission, striding to be a smart, sustainable and liveable city. Addressing Lucknow's development, Ranjan Kumar, Divisional Commissioner, Lucknow and Chairman, Lucknow Smart City, interacted with Ritika Srivastava and Adarsh Som of Elets News Network (ENN) in an exclusive interview.
Smart cities mission envisage the creation of technology-enabled, futuristic, intelligent & sustainable urban habitats which are able to leverage new-age technologies to anticipate citizen demands and offer proactive solutions. How is Lucknow Smart City (LSCL) faring on this front?
Lucknow, the capital city of Uttar Pradesh and a smart city under the Ministry of Housing and Urban Affairs (MoHUA) Smart City Mission, has multiple agencies working day and night to make the city more citizen-friendly, smart, sustainable and liveable.
The civic authorities have been constantly working to improve resource management by adding connectivity and intelligence within the existing infrastructure. We have a plethora of technology interventions being used all across the city. Apart from empowering the existing infrastructure, we are also leveraging technology to hold analysis to find out gaps and loopholes. As a result of an analysis on similar lines, it was found that stress on physical and social infrastructure is increasing. This calls for a necessary action to fill in the gaps in demand and supply. Therefore, the civic body is working towards revamping and empowering physical and digital infrastructure to address the issues and realise the holistic transformation of the city.
Lucknow is a heritage city. Considering this fact, we are harnessing the tourism potential of the city through smart solutions aiming to make Lucknow a tourist hub. Also, the efforts aim towards transforming the city as an important tourism economy and providing an outlook that the city is anchored with heritage and culture offering quality living standards.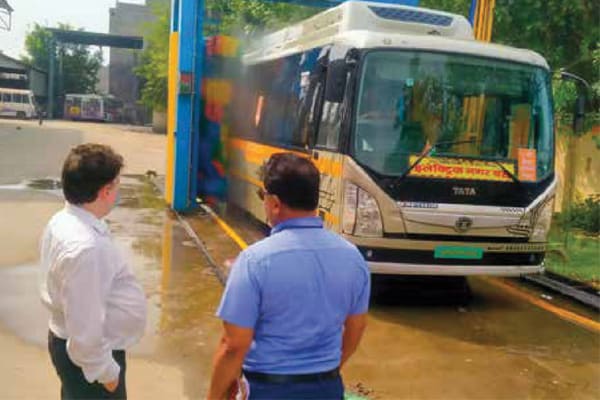 The strategic focus and blueprint for Lucknow smart city development comprise of four major areas:
Jivant Lucknow – Under Jivant Lucknow we are taking measures to enhance the overall livability of the city. The city has numerous AQI sensors installed across for better air quality monitoring. These feed data to the smart city's Integrated Command and Control Centre (ICCC). Further, the authorities are working to integrate various services. The integration of government civic services on one platform will ease the lives of the citizens. So we have an ambitious plan to integrate every service wherein a citizen when visiting our portal or using our mobile application will find a theme-based dashboard offering all types of civic services on one platform.
Sugam Lucknow – Under Sugam Lucknow, traffic and transportation is the focus area. Implementation of smart mobility solutions including smart bus shelters, smart parking solutions, integrated traffic management system (ITMS), and more are in the line of projects that the Lucknow smart city is working. Our ITMS system is already in place. We have introduced many electric buses to our fleet and have received an overwhelming response from the people. Also, the charging infrastructure for the buses had already been set up to ensure seamless operations of the e-buses.
Swachh Lucknow – Under Swachh Lucknow, our focus is on making the city open defecation free (ODF), addressing challenges of poor sanitation, water pollution, solid waste management and keeping clean unorganised and inaccessible open spaces. In this regard, the smart city authorities have been making recurring efforts not only to make Lucknow smart but clean, healthy and a liveable city. We are implementing technology-based solutions to achieve the level of sanitation in the city. We are using an automatic vehicle tracking system, also RFIDs have been integrated. For solid waste management, we have smart services and we are planning to make it more holistic and trying to reach out to most households to have a complete door-to-door collection of garbage. Further, we have placed twin bins in public places and market areas to ensure waste segregation at the source. Due to our technology solutions, we can monitor the entire process from collection of waste to its disposal from the control room.
Samruddh Lucknow – Under Samruddh Lucknow, the Smart City is harnessing the city's heritage, culture, handicraft and connectivity to boost tourism. We are creating tourist spots and also bringing many stakeholders who are interested in being a part of the move by sharing their innovative ideas on further strengthening the tourism industry in the city.
What are your ongoing projects, initiatives and investment opportunities? What are the key focus areas which you would like to take in mission mode to make Lucknow the no. 1 smart city of India?
We have multiple projects already ongoing. We have envisaged projects like utilising wastewater in cleaning railways stations, bus stations, and other such areas to reduce groundwater depletion. Further, we have a plan to keep rainwater harvesting as the main focus. Also, we are coming up with a solar plant in 35 acres of area.
Apart from infrastructural developments, the Lucknow Smart city is also coming up with training centres for migrant labourers. We have realised that there is a need to provide a slew of services for migrant labourers and come up with a skill development plan for them. The skill development plan will have two levels.
The first will be for self-awareness wherein the person would be helped to identify his/her skills and then, in the second phase, will be provided options to work and upskill accordingly. At these centres, apart from skill training, we will also provide a Yoga centre. The civic body has inked an MoU with a training centre. With this move, we aim to produce 15000 good and well-trained employees.
The smart city is trying to be an enabler for the poor and underprivileged children to take up remote learning options and smart classes under the Government of Uttar Pradesh's 'Abyudaya Yojana' which is a free coaching scheme for entrance and other such examinations. This scheme became popular among students in a short span of time and over two million people have registered for the scheme. Further, we are planning to come up with innovative solutions for increasing commercial spaces to cater to the needs of the citizens. Also, the smart city will be developing numerous parks and open gyms to make the city more green and liveable.
Apart from this, as we celebrate "Azadi ka Amrit Mahotsav", the 75 years of India's independence, we are identifying 75 mohallas, 75 market places and 75 streets where women can feel safe even during night hours. For this a lot of steps are being taken, for example, instaling street lights, and more such initiatives. With our constant efforts to bring in development in various areas of civic administration and operations, we aim to make Lucknow a safe, resilient, smart, clean sustainable and liveable city.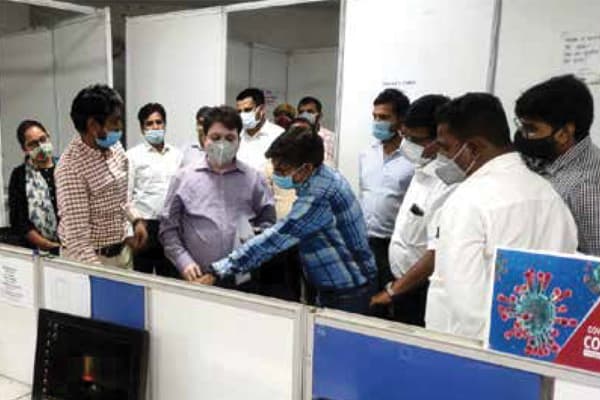 How did the pandemic impact the operations of LSCL and what were your key initiatives to navigate the crisis? How did you leverage ICCC to tackle the COVID-19 situation?
During the COVID time, the ICCC became a strong means to connect people, identifying and tracking those in isolation, connecting with families of the patients, and more. This posed an effective solution to overcome the biggest challenge in the city which is coordination. There are 100s of medical facilities across the city so coordination was the key.
Apart from this, we had to create SOPs to ensure seamless processes in the foreground. During the first wave, the Chief Minister's Office (CMO) passed directions to make use of ICCC to streamline communication, surveillance and monitoring of the entire situation.
All of our staff worked towards answering the crisis on war-footing. We had 24×7 running call centres and initially we also had a culture of "Hello Doctor". In the background, we had integrated many doctors so people, when in need, can contact the centres and get connected with the doctors. Further, we called each and every household for the status of patients in home isolation. Those found to be COVID positive were prohibited to move out.
Without smart city solutions, it was not possible to reach out to so many people. Through these solutions, we were able to bring ICU footage from medical colleges and hospitals. This helped the city administration to monitor the medical facilities and staff.
During the second wave, we went a step further and developed dashboards for every hospital to show the availability of beds. This allowed people to get a clear idea about the status of hospitals and prevented them from wasting their time and energy in going from hospital to hospital searching for beds. We were providing ambulance services from ICCC; Over 2000 doctors were working from the ICCC. Moreover, the administration kept a close eye on civic operations throughout this period.
Without the ITMS it is hard to imagine the monitoring and management of traffic movement. Apart from aiding the civic body in monitoring the traffic movement, such a system also helps in providing safety to women. In this regard, we listed 45 events including talking to women inappropriately, manhandling a woman, etc. These will be captured by the camera and through AI feed it will generate an alert on the UP112 system of the state's police force with the video footage of the camera. The alert will be raised to the nearest UP112 centre. The officer on the receiving end will make the decision based on the video footage on the action that needs to be taken. He can also discard the alert in case it's a normal event. However, he needs to mention each alert raised on the day in a daily report before he leaves for home. Such smart cameras also pose as a great tool to raise alerts from dark zones or corners and lanes which do not have optimum lighting.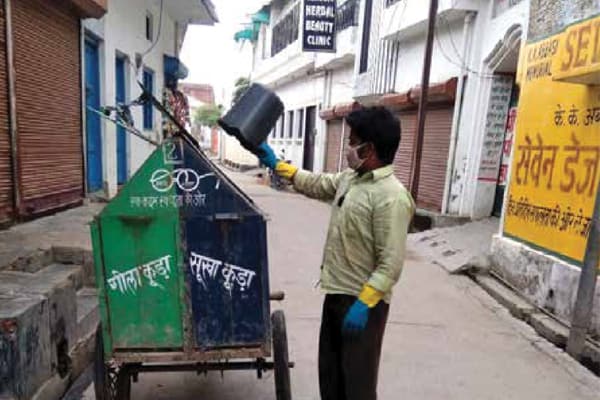 What are your views on PPP opportunities in smart cities? How is Lucknow faring on this front?
With regard to PPP model, we need to work more on that front. We're planning to develop a big marketplace and space for advertisements and services all across the city. We're looking to strengthen digital space in the city and improve our revenue inflow as well.
Moreover, the people in the city will get a more modern feel. We aspire to become the best city in the world. Further, Lucknow is also coming up with a health ATM system. Any person visiting the health ATM will get telemedicine advice from doctors. In the coming 10 years, we are looking forward to improving the health of the citizens holistically. The first health ATM has been set up at the Lucknow Smart city office.
We are in the phase of making a city development plan with an aim to make Lucknow a city that caters to the headquarters of national banks, corporates, media companies, and more. As far as my take is concerned on the PPP model, I believe that most technologies, solutions and plans are already available but what is needed is an innovative idea to leverage these and make the city as citizen-friendly as possible. I envision building a big shopping complex with open spaces for people to walk and socialise, brand outlets, food courts, and all facilities like clean washrooms, etc. Such a facility will not only provide open public spaces but will also add a modern touch to Lucknow city.
I feel solid waste management is a grey area where with the help of private- public partnership (PPP) we can address some of the major issues. Many cities in developed countries have this concept of smart dustbins which have been set up by private firms. So I feel the PPP model can be utilised on the solid waste management front for the greater good of the city and the citizens.