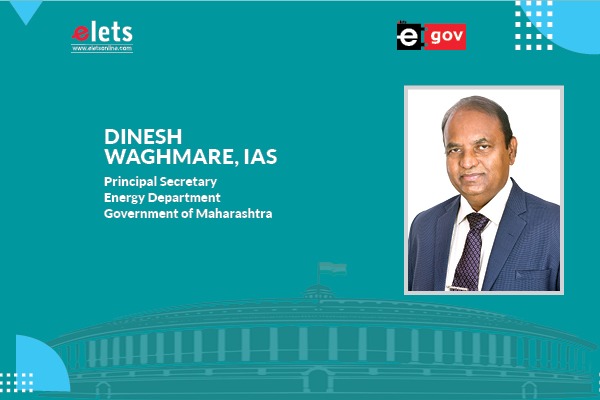 The Power Sector is going through a revolutionary phase and this decade would cast definitive changes in the overall conduct of the businesses of power generation, transmission and distribution, writes Dinesh Waghmare, IAS, Principal Secretary, Energy Department, Government of Maharashtra.
The very purpose of unbundling of erstwhile State Electricity Boards mandated in Electricity Act 2003 was to enforce accountability among the three verticals which is still missing in power distribution albeit due to various social and political constraints which are even beyond the control of operators and regulators. Growth and transformational changes in other sectors such as telecom are really astonishing and certainly give a lot of confidence to the power sector if taken the right steps.
Verticals of the Power Sector
Operational efficiency in each of the three verticals of the power sector, i.e., generation, transmission and distribution, is the key to sustain, survive and grow in this era of fierce competition. From the available data/ records of all the three verticals, it's clear that the black hole is a distribution wing. The rate of return on capital employed is so poor that it is becoming very difficult to bring in new investments for development of infrastructure, energy accounting, increasing availability and reliability of power supply, etc. Private players are interested in grabbing shares in metropolitan and major cities. However, consumers in remote and far-flung areas are still at the mercy of state utilities. Despite periodic pertinent efforts of Central and various state governments to assist with big financial help for reduction in losses, and to improve billing efficiency for sustainability of the sector, there is hardly any encouraging success barring a few exceptions. In the last two decades, huge financial assistance has been given to the distribution sector through various schemes to lessen the financial burden, but to no avail.
Also Read | "India en-route to achieving 450 GW of solar power capacity by 2030"
Adopting Smarter Technologies
With changing times, consumers expect reliable and quality power supply with timely redressal of complaints. With the advent of IT and mobile technologies changing our day-to-day lives, consumers also expect utilities with accurate metering and billing free from any errors, with facilities for quick and easy remittance. All of this can be possible only by adopting innovative and smarter technologies to curb human intervention, to provide better services to consumers, in terms of handling complaints and automating the consumer's redressal mechanism. During the COVID pandemic, the need for emerging technologies arose during strict lockdown, when DISCOMs faced extreme challenges to carry out routine activities such as metre reading, bill payments, operation, and maintenance while safeguarding the health of its staff. Emerging technologies (IT-enabled solutions/inventions) can help DISCOMs in managing operations, especially, reduction of AT&C (Aggregate Technical & Commercial) losses, optimise power purchase cost, grid monitoring and system reliability, as well as asset management.
Reduction of AT&C Losses
The average AT&C Loss of India is around 20% which is the biggest challenge before DISCOMs. Higher commercial losses are mainly contributed by inaccurate billing, theft, and non-payment of bills. The first step to reduce the loss is accurate measurement/ recording of the same. By adopting Advanced Metering Infrastructure (AMI) solution, DISCOMs can accurately measure and record energy consumption/losses, improve billing efficiency, stop fraud and metre reading errors leading to decrease in commercial losses. Smart metres which provide consumer data, will help to perform analytics on consumption pattern, assets performance, load profiling, and transformer loading, which can lead to enhanced operational efficiency and consumer satisfaction.
Smart Energy Meter is the foundation block for building Smart Grid. During the lockdown period, many areas of DISCOMs which were provided with smart metres were able to bill about 95% of their consumers remotely. Prepaid smart metre can also resolve the issue of low collection efficiency. In the majority of the Central and state level Power Transmission utilities, the losses are well within the limits set by regulators, being purely technical loss. Although there is still a case for improvement, but that is with substantial investments in modern technologies like Statcom, SVCs, Series Compensated Lines, use of HTLS conductor etc. A judicious review needs to be taken before implementation of such technologies being capital intensive.
Optimisation of Power Purchase Cost
The power purchase cost for a DISCOMs is in the range of 75% to 85% of its total expenditure. Accurate demand forecasts will help DISCOMs reduce their power purchase costs. Advanced analytics and sophisticated weather forecasting models will improve demand and supply side forecasting, especially of variable renewable energy sources. Co-related with historical purchase data, DISCOMs can accurately predict short, medium, or long term power purchase demand, thereby optimising their power purchase portfolios.
Grid Monitoring and System Reliability
The National Electricity Plan discusses the importance of using emerging technologies such as Supervisory Control and Data Acquisition (SCADA) Systems or Energy Management Systems (EMS). SCADA has been implemented in all state transmission and regional grids at major EHV substations and SLDCs. While adoption of SCADA and Distribution Management System (DMS) in distribution is still underway. DISCOMs under the Restructured Accelerated Power Development & reforms Program (RADPRP) scheme launched in 2008 implemented SCADA in selected urban areas only. With growing attention on Smart Grids, ADMS which covers SCADA, Distribution Management System and Outage Management System, will certainly help in grid monitoring and improving system availability and reliability. Also, these technologies can help in monitoring of grid using Phasor Measurement Unit (PMUs) and Wide Area Measurement Systems (WAMs) which can enable dynamic monitoring of EHV grid and control such as automatic response to grid disturbance through integrated protection scheme and auto-islanding of particular important areas. Distribution grid monitoring can also help in monitoring distributed generation.
The Revamped Distribution Sector Scheme (RDSS) has been launched by Government of India to bring the AT&C losses to the tune of 12-15% by 2024- 25. The major scope of the scheme includes installation of prepaid smart metres to selected consumers, communicable metres for Feeders and Distribution Transformers with advanced Information and Communication Technology (ICT) to analyse the data. The scheme also includes the SCADA system for cities and Distribution Network strengthening. MSEDCL (Maharashtra State Electricity Distribution Company Ltd.) is planning to replace 60% consumer metres with smart metres in due course. The Substation Monitoring System will also help in real time monitoring and demand side management at micro level for DISCOMs like MSEDCL, who cater the mammoth consumer demand through more than 4000 distribution substations spread across the state.
Asset Management
DISCOMs in India are facing deep financial stress due to operational inefficiencies and their inability to use their growing assets or networks at optimum levels. Enterprise Assets Management (EAM) will help in solving operational problems and asset optimisation. EAM includes asset management, planning & scheduling maintenance and can be integrated with SCADA, ERP and GIS. This will help utilities in maximising the value of their assets as evident from RAPDRP scheme. Advanced technologies can help in better asset management which requires special attention when large CAPEX schemes are implemented by DISCOMs which envisage improvement of quality and reliability of supply. In the EHV transmission sector, many of the state transmission utilities have adopted the concept of State Asset Management Centre resulting in judicious use of available resources, better outage management, centralised parameterisation of control and protection schemes and grid disturbance analysis. MSETCL has taken up the MTAMC project covering 9 numbers of 400 kV substations and control centres in the first phase and will be commissioned shortly. The second phase of this project may be extended up to all 400 kV substations and important 220 kV substations.
Also Read | Making Power Infra Smart & Sustainable
Futuristic Technologies
In India, distributed generation such as solar rooftop, grid connected small scale wind and solar projects are coming up in rural areas. It will be challenging to monitor such distributed generation located in scattered areas.
In developed countries such as Australia and USA, a concept of virtual power plant (VPP) is being well tested. VPP is a cloud-based distributed power plant that aggregates the capacities of heterogeneous distributed energy generation for the purpose of enhancing power generation as well as trading or selling power on the electricity market. Implementation of VPP in India may also be not too far. The use of drones or Unmanned Aerial Vehicles (UAV) is now being adopted in the EHV power transmission sector because of their advantages. Drones support real time monitoring and helping to manage the network.
MSETCL is the first transmission utility to make use of drones. Remote Airborne Inspection and Scanning System (remote-controlled drones) are introduced for patrolling of EHV transmission lines, which not only saves time required for doing such works, but also results in accurate, recordable/ reproducible, reliable data about the present status/condition of EHV lines. These drones are fitted with thermographic as well as normal vision ultra-high resolution cameras which provide clear and minute details of transmission line towers and substations. By exclusive use of the data picked up by RAISS/drones, many of the lacunae/shortcomings in the existing system are pointed out which after due remedial measures avoids breakdowns/ interruptions in the system.
Considerable saving is also observed in time and manpower requirements when compared with conventional ways. As such, there would be significant saving in the O&M expenses by RAISS/drones.
The times are really challenging for the Power Sector. We hope that this time too, we will be successful in overcoming the various hurdles in our path to ensure quality and reliable power supply to the consumers at reasonable cost.