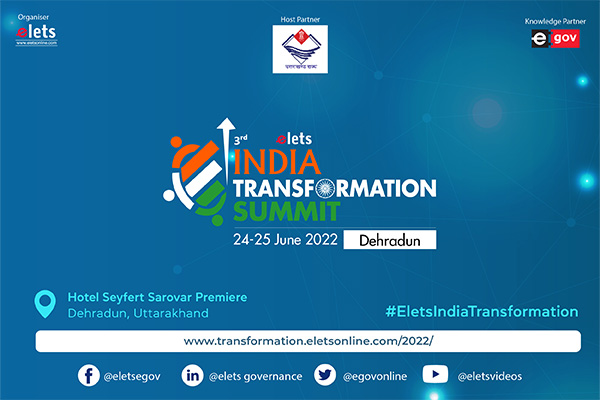 With a vision to fuel innovation & collaboration in the country's growth roadmap, Elets Technomedia is back with its 3rd edition of 'India Transformation Summit' on 24-25 June at Dehradun.
The two-day summit will be organised in association with Uttarakhand IT Department. Pushkar Singh Dhami, Hon'ble Chief Minister of Uttarakhand will grace the summit with his presence as Chief Guest.
Sowjanya, Secretary (IT), Government of Uttarakhand will join the summit as Program Mentor and Dr. Ashish Kumar Srivastava, Additional Secretary (Information Technology), Government of Uttarakhand will be the Program Chair.
It will witness the participation of eminent speakers in more than 14 power-packed knowledge sessions. Industry experts from across the country will also gather to showcase their innovative solutions.
The summit will serve as a one-stop platform for senior policy-makers and industry leaders to delve upon opportunities to build a more collaborative & empowered AatmaNirbhar Bharat.
Moreover, the summit will explore emerging opportunities in the state of Uttarakhand and its potential to become the sunrise state of 21st century India.
Key Themes:
IT & eGovernance
Smart Cities & Urban Development
Industries & MSME
Transport & Infrastructure
New & Renewable Energy
Water & Sanitation
Sustainable Tourism
Health & Wellness
Higher & Technical Education
PSUs
Key Participants:
Central and State Government Officials
Niti Ayog & Policy Think Tanks
Industry and PSU Leaders
Embassies & International Agencies
Development Agencies
Policy advocacy groups
Thought Leaders
Thinkers & Innovators
India has witnessed a wave of transformation across sectors with an inclusive growth approach, leveraging disruptive technological innovation. The widespread adoption and integration of advanced technologies have been playing a vital role in making the country a thriving base for innovation in today's digital era.
In the current situation, the economic and social uncertainties generated by the Covid-19 pandemic have further precipitated the need for tech-driven transformation for a better future. A dozen disruptive technologies can add up to $1 trillion in GDP by 2025, says a report by Mckinsey.
Join the summit to witness innovative strategies transforming and innovating the development journey of the country.
For details, visit: https://transformation.eletsonline.com/2022/